Mesh Flats Are The Stylish Way To Bring The Sheer Trend To Footwear
Can we tell what someone's personality is like by their shoes? Interestingly, there's research to support that we can in some instances. According to a 2012 article in the Journal of Research in Personality, we can make fairly accurate impressions of people based on a "mere thin slice" of information, like shoes, if we have enough context to do so. Specifically, the article showed that observers associated comfortable shoes with a sense of calm and being "even-tempered."
Advertisement
While only some may have accurately picked up on these cues, flats are something to consider if you're looking to exude a sense of calm while staying fashionable and comfortable. And if you're in the market for a specific flat, mesh flats — especially ones that give your toes room to breathe — are ideal for comfortable dressing.
They had a moment in the late '90s and early 2000s and fit perfectly with the sheer looks we're seeing now. Mesh flats may either look structured and ultra-modern or evoke more throwback images, especially when worn with vintage sunglasses, an oversized tote, and a headscarf. Whatever you're drawn to, here are some mesh flats we think will boost your wardrobe.
Laced-up mesh flats
These laced-up fishnet mesh flats are like the modern, summer version of Oxfords. If you are drawn to these, you might have an appreciation for modern preppy fashion. And depending on how you style them, preppy may very well be how you are perceived. Of course, this may or may not be accurate, as our public image does not always match our private one. But if you're in the mood for preppy, it's good to be aware of what pieces communicate that so you can be sure to convey the message you want. 
Advertisement
Embellished ballet mesh flats
They say shoes can make or break an outfit. Sadly, a great outfit may suddenly lose something when the shoes aren't quite right. But on the other hand, a great pair of shoes can turn a blah outfit into something photo-worthy. If you are wearing leggings, jeans, or sweatpants and want to bring your 'fit to the next level, try a pair of embellished ballet mesh flats. They manage to be both dainty and opulent and look modern when worn casually. 
Advertisement
Minimal mesh flats
If you are looking for something more understated, try a pair of minimal mesh flats. They give you the shape of a beloved ballet flat minus all the fussiness. Plus, they work well with any outfit you would pair with ballet flats. Pairing the understated shoe with a bright color like red adds a fun pop to these comfortable and modern flats.
Advertisement
Leather ballet mesh flats
A pair of Mary Jane ballet mesh flats are charming — but with black leather and fishnet fabric, it's sure to bring out your inner rebel. These flats give classic charm with an edge and will make the most bland outfit stand out. It oozes cool and collected and can add depth to bright colors.
Advertisement
Mesh flats with ankle straps
Estrop/Getty Images
Shoes come in such a variety of styles that it is not difficult to find one that closely reflects our self-image, or at least the image we want to project. And if you're going for a bohemian vibe, these ankle-strapped mesh flats are it. They give worldly-woman vibes and would be great on vacation, site-seeing, or some other culturally-rich activity.
Advertisement
Mesh booties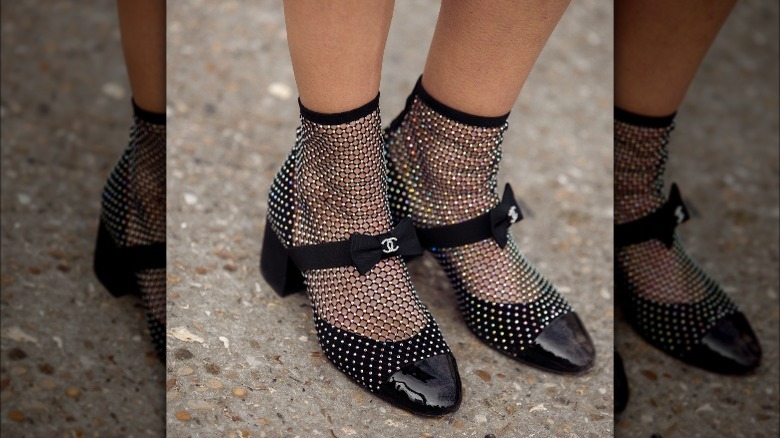 Raimonda Kulikauskiene/Getty Images
While these technically fall under the category of block heels, they are low enough to feel like a flat — and they may be just right for those of us who prefer a little height. These embellished mesh booties are another updated version of Mary Janes and are great if you are enjoying the quirky sock trend as much as we are. But if you don't have booties, you can always improvise. To get the mesh look with only a pair of regular ballet flats, wear them with short fishnet socks. It instantly gives you the mesh flats look without having to purchase them, and it's a great way to style flats in the winter months!
Advertisement