7 Ways To Style Flats In The Winter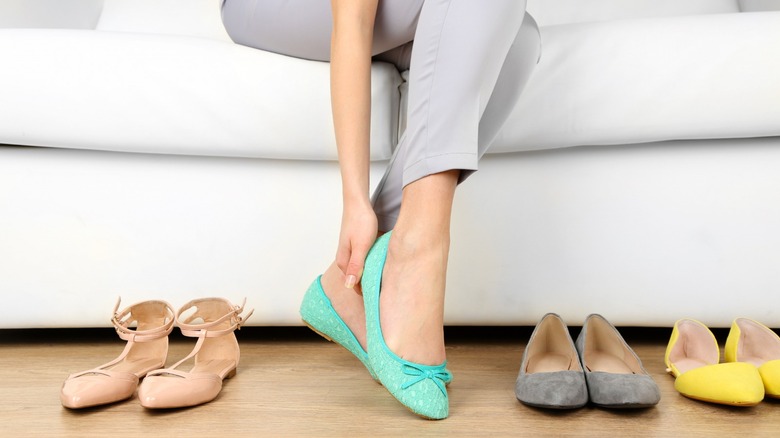 Africa Studio/Shutterstock
If you've been following fashion trends lately, you're probably aware flats have officially made a comeback. As a matter of fact, according to Glossy, ballet flat sales increased by 76% between 2021 and 2022. You may have already jumped on the bandwagon, strutting around town in your latest pair. But what about when winter hits? You may have chucked them into your closet until springtime, but did you know you can actually transition ballet flats into winter? Yep, you don't have to hide your favorite flats away during the colder months — you can wear them year-round. 
Advertisement
It might seem impossible, given the weather some states have already experienced this winter; however, by styling them the correct way, you can have your cake and eat it too. With that being said, if you're dying to wear your flats this winter, here are seven ways to style them without freezing your toes off. 
Let your furry flat flag fly
If you haven't invested in a pair of furry flats yet, now's as good a time as any. Obviously, anything fur-lined is sure to keep you warmer in the wintertime, and flats are no exception. The key is to pick out a pair with a back to them (winter is not the moment to break out your mules). To prevent ruining the fur — and potentially developing foot fungus — it's worth grabbing a few pairs of low-cut liner socks and leaving the bare feet for sandals.
Advertisement
Chuck on your a cute pair of socks
Socks with flats? Isn't that kind of like socks with sandals? It might seem that way, but unlike the forbidden dad trend, wearing a cute pair of socks with your flats makes more sense than you think. The trick is to pair your flats with thin socks and stay away from thick, chunky materials, which can really downgrade the look. We personally recommended wearing socks with loafers and a pleated skirt or trousers. Take this as an opportunity to embrace your inner prep-school vibe.
Advertisement
Level up with loafers
Loafers are higher and more durable than your average flats, meaning they're a much better choice for the wintertime, especially if there's snow on the ground. (To clarify, we mean a light layer of snow.) If you really want to stay warm, add a chunky pair of wool socks to the look. This way, you can look chic without exposing your feet to the possibility of frostbite. If you're feeling daring, opt for wearing tights and layering the socks overtop.
Advertisement
Reach for your favorite tights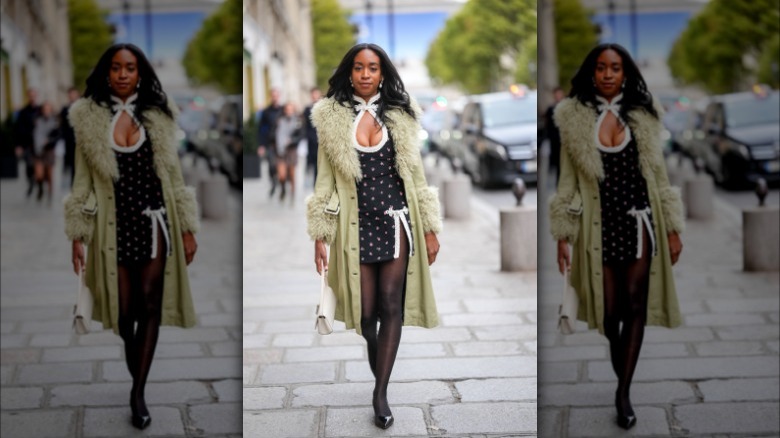 Edward Berthelot/Getty Images
This is a classic look that can be worn in both the autumn and winter months. Putting on your favorite pair of tights with a good pair of ballet flats is an easy way to style them for colder temperatures. You could really have some fun with this combo with a pair of patterned tights, or step outside of your comfort zone and try fishnets — why not? They're a little risque, but the ballet flats balance them out, so you can still wear this look during the day.
Advertisement
Keep it comfy with sweats
Who said flats can't be casual? You can absolutely wear sweatpants and flats, especially in the winter. Not only is it comfortable, but you can look stylish without having to put in much effort. To keep the warmth in and the cold out, sweats that cuff at the bottom is your best choice. In order to avoid looking frumpy, chuck on a basic t-shirt and leather jacket. Doing so is really going to vamp up the look; just don't forget the accessories!
Advertisement
Layer on some leg warmers
Leg warmers aren't just for dancers; anyone can rock 'em. If you choose to wear flats in the winter, they're an absolute must. Leg warmers come in a variety of materials, but as you can guess, the thicker the better. Try showing them off with a good pair of loafers and your warmest sweater dress. It's cute, simple, and, most importantly, warm. The greatest part is that you can layer them over tights or leggings to really insulate your body heat.
Advertisement
Pair with your longest jeans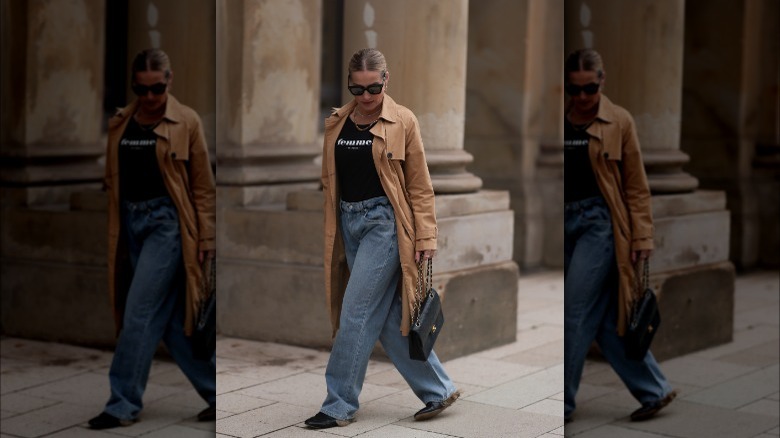 Jeremy Moeller/Getty Images
If you're going out during the colder months, you have to cover your ankles, no question. This is where jeans come in, and we aren't talking about your cropped boyfriend jeans. You need a nice pair of denim where the bottom hem at least hits the ankle. If you're in an area without snow or slush, bell bottoms would make an excellent choice to wear with flats. For a '70s-inspired look, add a hip-length trench coat and vintage baker-boy hat.
Advertisement