How To Transition Your Ballet Flats Into Colder Weather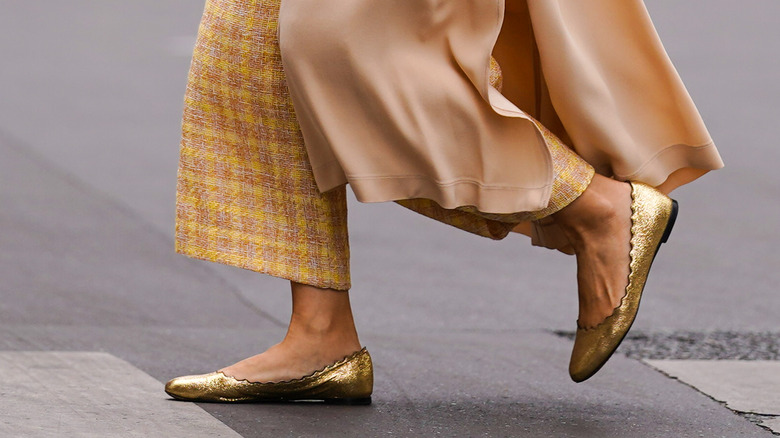 Edward Berthelot/Getty Images
Ballet flats are available in a variety of styles and expose parts of your feet to the elements of nature in one way or another. In that regard, they can be considered the perfect shoe for warmer weather. However, during colder months, this may present a problem.
Normally, shoes like nice, warm boots are better suited for frigid temps. So, how exactly can you style your flats for the fall, or even winter, so that you stay warm but still look chic? Luckily, the fashion industry is where creativity can run wild, and fashion rules are meant to be broken every now and then. Meaning enduring colder weather does not have to mean sacrificing style.
There are a couple of key styling tips that can help you extend the wear of your favorite ballet flats. With just a little bit of planning, your feet can continue to be stylish into the changing seasons and stay cozy and warm.
Layering is key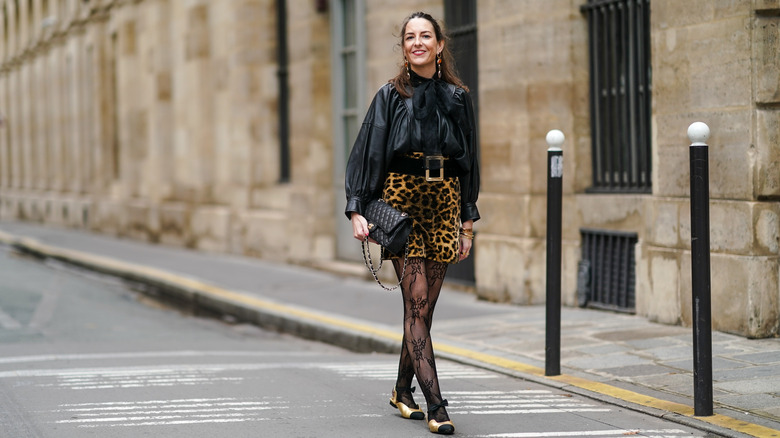 Edward Berthelot/Getty Images
The key to cold weather fashion is layering. MasterClass recommends wearing at least three layers that are tight-fitting — to "help prevent wind chill" — and choosing fabrics like wool, merino, and cashmere. Apply this layering strategy to ballet flats by pairing them with tights or socks.
Not only is wearing tights with flats a cute look but it's also a foolproof combination (via Popsugar). Tights come in a variety of styles, colors, textures, and fabrics, so it could be fun to play around with different looks. And when you're ready to switch it up, consider wearing socks with your flats, and have fun with it. Fashion blogger Kay Harms, of Dressed for My Day, said, "When your socks are exposed, wear them as an accessory and choose a color that will add interest and style." 
If you want to stick to bare feet inside your flats, pair them with a warmer outfit to balance it out. Anna Buckman with The Zoe Report says wearing your flats with sweats can elevate them, and full-knit looks — like a sweater dress paired with a cardigan — can add warmth overall. And, yes, fabric choice matters. "Heavier, more luxe textures in your outfit will make up for the slightly summery style of ballet flats," she said.
Materials make a difference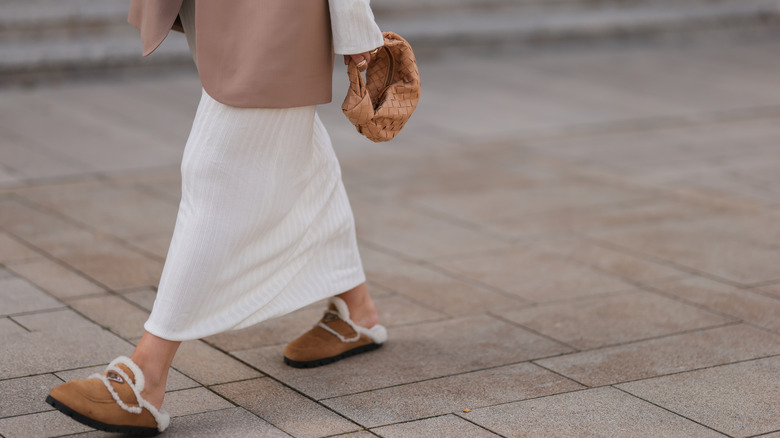 Jeremy Moeller/Getty Images
Just like choosing rich, thicker fabrics during the colder seasons is a must when it comes to your outfits, you can also carry that same concept over to your flats. When temps drop, avoid ballet flats made of woven leather or mesh fabrics because they could let too much cold seep through, according to Anna Buckman of The Zoe Report. "Instead, opt for luxe materials like velvet, suede, or leather — not only will they be warmer, but they'll also pair better with the cozy fabrics in your outfit."
And furry flats can go "a long way in keeping your toes warm," according to Popsugar. "Shoes that have some sort of faux-fur material in them are one of the best options for flat lovers in the wintertime."
Although it seems ballet flats are more suitable for warmer months, with a little creativity you can wear them all year 'round.