Behind Meghan Markle's Wedding Day No Makeup-Makeup Look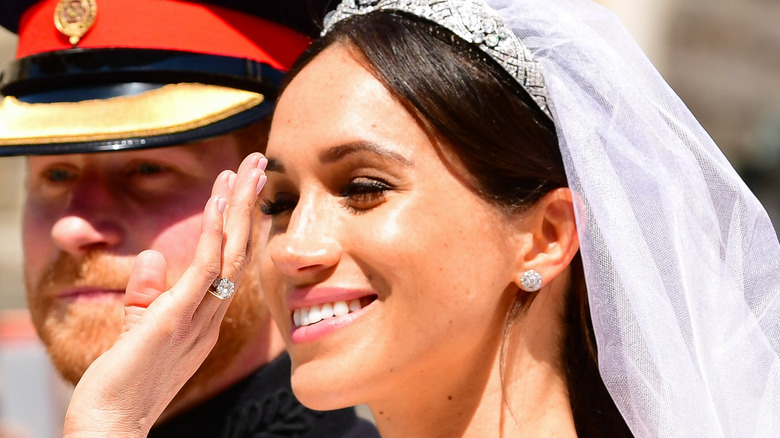 James Devaney/Getty Images
Whether or not you're a royal watcher, you're likely familiar with Meghan Markle, who became the Duchess of Sussex upon marrying Prince Harry. For her big day, Markle chose to go light on her makeup, opting for a "no makeup" look. Makeup artist Daniel Martin, who has remained close with Markle through the years, has opened up about her choice of makeup since the wedding. "We literally did her makeup trial over text — I didn't even have time to see her," Martin told Grazia. "I just wanted her to look and feel as best as she could."
For the exchanging of vows, Markle donned a wedding dress designed by Clare Waight Keller under the House of Givenchy, as noted by Brides. "The dress epitomizes a timeless minimal elegance referencing the codes of the iconic House of Givenchy and showcasing the expert craftsmanship of its world-renowned Parisian couture atelier founded in 1952," read a statement from Kensington Palace. Similar to her collaboration with Martin for her makeup, Markle worked with Keller to design the dress to her liking.
Even if you don't have the glowing, dewy skin of the duchess, you can still achieve a similar appearance with your makeup using a few key techniques.
Creating the perfect no-makeup foundation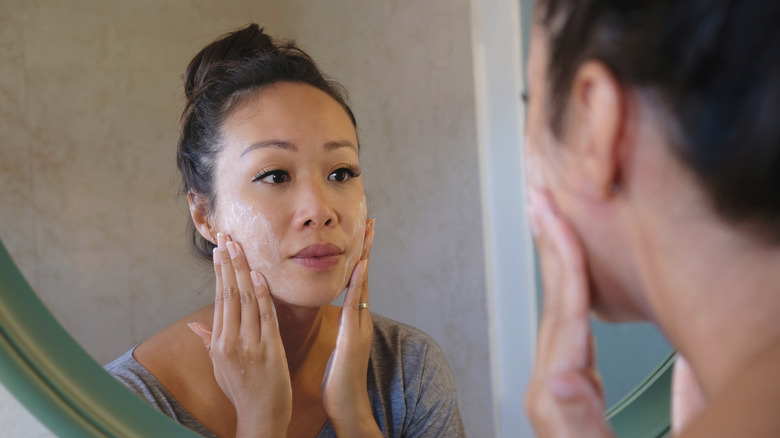 Kanawa_studio/Getty Images
Makeup artist Daniel Martin had been working with Markle well before she was known as the Duchess of Sussex ­— the two met while she was on the set of "Suits," per The Knot. When he was asked to do her makeup for the royal wedding, Martin knew that he wanted to go natural to bring out Markle's best features. "I love her freckles," Martin told Grazia. "She has incredible skin so it was easy — it was a visceral reaction."
Prep was everything when it came to achieving the look that Markle ultimately donned while walking down the aisle. Martin was said to have used a toner, as well as a water-based moisturizer to create the foundation for the rest of her makeup. To protect her skin from the sun, a Korean sunscreen was applied as well.
For the perfect foundation, Martin also likely exfoliated the duchess' skin. "I always start by exfoliating — that might be the most important step!" Martin said while speaking to Harper's Bazaar, explaining how he helps Markle create her flawless look. Before you exfoliate your own skin, remember to choose an exfoliant that works with your skin type. For example, you may want to start with a mild chemical exfoliant if you have sensitive, dry, or acne-prone skin until you can rule out any risk of irritation, per the American Academy of Dermatology Association.
Foundation and concealer are all you need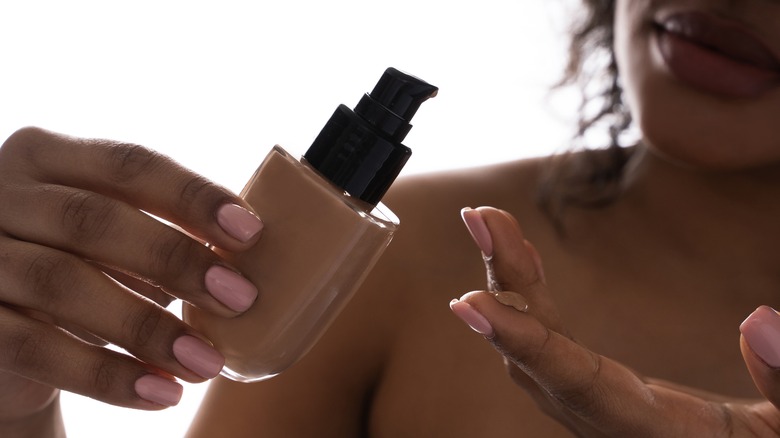 BLACKDAY/Shutterstock
When it comes time to begin applying makeup, you don't need to look much further than your foundation and concealer. As you apply your foundation, begin in the center of your face and work your way outward. Then, you can turn to your concealer if you desire more coverage.
While speaking to Grazia, makeup artist Daniel Martin admitted he mixes moisturizer with concealer to create a glowing, dewy look. He also recommended using your fingers, rather than makeup brushes, to work your products into your skin. "Use your hands. If you do your [makeup with] your hands, you'll notice there's a glow, a radiance, a liveliness to the skin that you don't get using the tools," he explained to the publication.
In a situation when you want to feel more glamorous, don't be afraid to add some shimmer. Martin used a powder blush and highlighter on Markle for her wedding to top off her glowing look. "If you're using [a] powder highlighter, be sure to apply it only with a large eye-shadow brush — otherwise you'll look too shiny," the makeup artist told Harper's Bazaar. "Another tip for a soft glow: I apply blush before foundation."