Meghan Markle's Most Iconic Princess Diana-Inspired Looks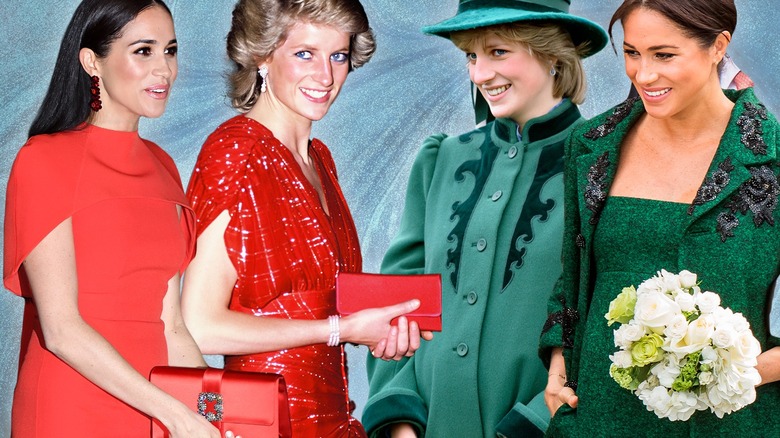 Static Media / Shutterstock / Getty
Some of us remember when Princess Diana walked the earth and graced us with her impeccable fashion sense. Since then, we've yet to find another royal to look up to in the wardrobe department as steadily as we did Princess Diana, but we have been given glimmers of hope in some of the current royals of Great Britain, including the Duchess of Sussex, Meghan Markle.
Okay, okay, she's not technically a royal any longer, but let's not get hung up on technicalities. Before, during, and even after her time as a working royal, Markle gave us quite a few outfits that were inspired by none other than Princess Diana herself. From casual walking-about outfits to state affair ensembles, Markle repeatedly followed in the fashion footsteps of her mother-in-law and delighted those of us that recognized the similarity in their style.
Many of Princess Diana's outfits were simple and easily copied for a modern day vibe. Given that her background was as a non-royal, as was Diana before marriage, Markle might have felt it was appropriate for her to copy Diana's style, which was much beloved -– and we're glad she did because it worked out beautifully.
The lace dress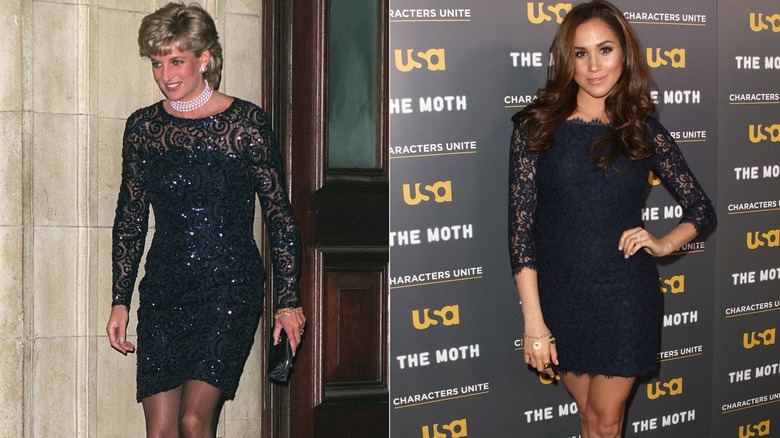 Frederick M. Brown/Getty & Tim Graham/Getty Images
In 1996, Princess Diana attended a charity event for the British Lung Foundation, of which she was a patron, at the Royal Albert Hall, decked out in a mini navy blue number. The dress had long lace sleeves and sequins throughout that made it sparkle in the night. The princess accessorized her dress with a pearl choker, matching earrings, black pantyhose, and pumps. 
As for her part, Meghan Markle was mimicking her future mother-in-law before she even knew it. Way back in 2012, Markle attended a promotional event for USA Network at the Pacific Design Center. She almost perfectly copied Diana's outfit from 1996 -– a mini, navy blue dress that had long, lace sleeves. At the time, she was still married to her first husband, Trevor Engelson, whom she had been dating for seven years prior to their marriage. In the image above, her wedding ring is clearly visible on her left hand. Other than her ring, Markle accentuated her look with nude pumps (as opposed to Diana's black) and skipped a necklace altogether.
The blue floral print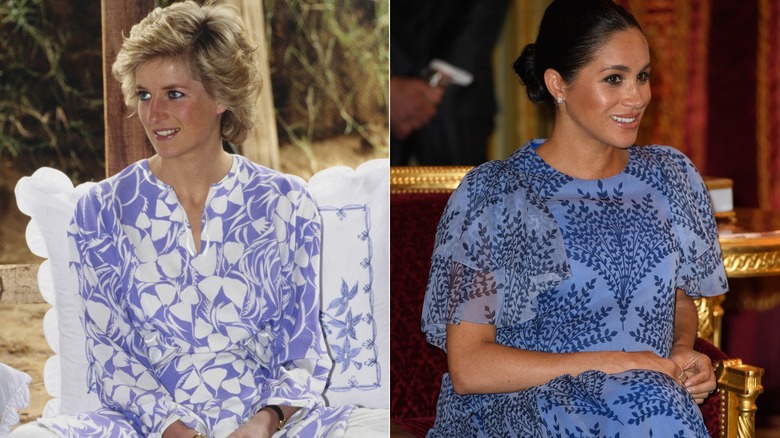 Pool/samir Hussein/Getty & Tim Graham/Getty Images
While she wasn't afraid to make a bold statement in bright colors, on a 1986 trip to Saudi Arabia, Princess Diana choose to go understated with this long and loose blue and white print tunic. The Catherine Walker outfit was completed with white trousers and moon earrings that were likely a nod to the country's dominant religion of Islam.
On her part, Meghan Markle went for blue florals during a 2019 trip to Morocco. The flowy gown was designed by Carolina Herrera. The year prior, she attended Prince Harry's cousin's wedding. The prince was dashing, no doubt, but it was his new wife that stole the fashion show in a Oscar de la Renta maxidress that had us all oohing-and-ahhing. It was also very reminiscent of Princess Diana's tunic. People were instantly enamored with the dress and deemed it the dress of the summer, after which it quickly sold out -– even though it cost thousands of dollars!
The suit jacket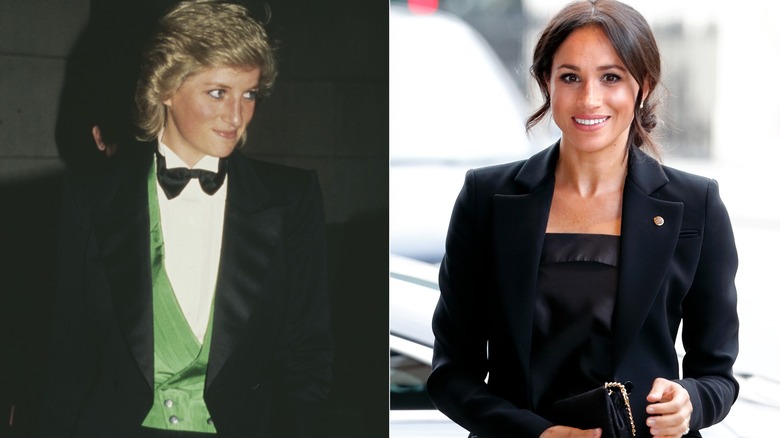 Max Mumby/indigo/Getty & Princess Diana Archive/Getty Images
In April of 1988, Princess Diana stepped a little out of her usual fashion boundaries and gave us a stunning look in a tuxedo outfit that she wore to a charity greyhound racing event at Wembley Stadium in London. The suit was another ensemble designed by Catherine Walker, and the princess complemented it with a Hackett waistcoat. Wearing a full, three-piece suit was quite bold of her, and the green waistcoat certainly did its part to make her stand out.
Meghan Markle mimicked Diana's suit style when she attended the WellChild awards at the Royal Lancaster Hotel in September of 2018. Prince Harry had been a patron of WellChild for more than 10 years at that point, and he took his new bride to the event with him -– where she proceeded to steal the show in a sleek, black, fitted suit jacket and slacks. Unlike Diana, though, she added no splash of color, almost as if she was trying to make herself not stand out and instead let the attention stay on the award proceedings themselves. We can appreciate it when a duchess doesn't want to steal the spotlight from a good cause.
The bright red dress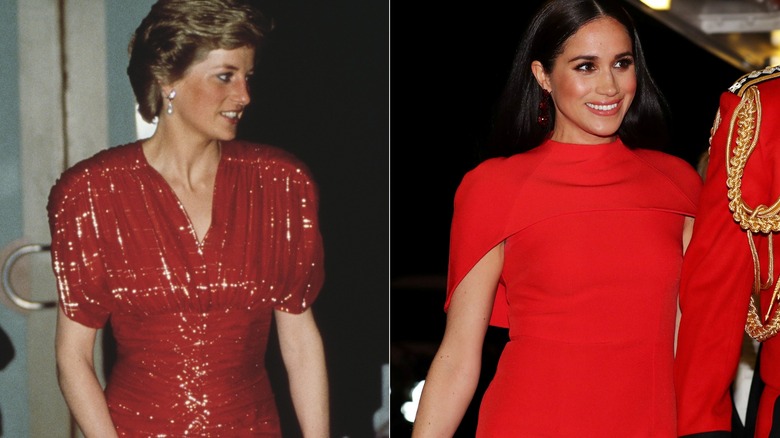 Wpa Pool/Getty & Princess Diana Archive/Getty Images
Almost nothing is as evocative as a woman wearing a red dress -– and the royals sure know how to deliver. Red was one of Diana's favorite colors to wear, and we can see why. Her fair skin and blond hair are made all the more beautiful by the contrast against the deep red, and this just cemented her royal status in fashion circles as well. The princess wore a stunning, long red gown to the royal premiere of "When Harry Met Sally" in London in 1989.
Over 30 years later, Meghan Markle channeled her mother-in-law's penchant for red and wore a scarlet gown herself to the Mountbatten Music Festival at Royal Albert Hall. She paired her floor-length dress with a red clutch, just as Diana did, along with drop earrings. And, just as Diana did, she's repeated the all-red look a few more times, before and after royal life – because when you find out what works, that's what you keep doing, right?
The colorful plaid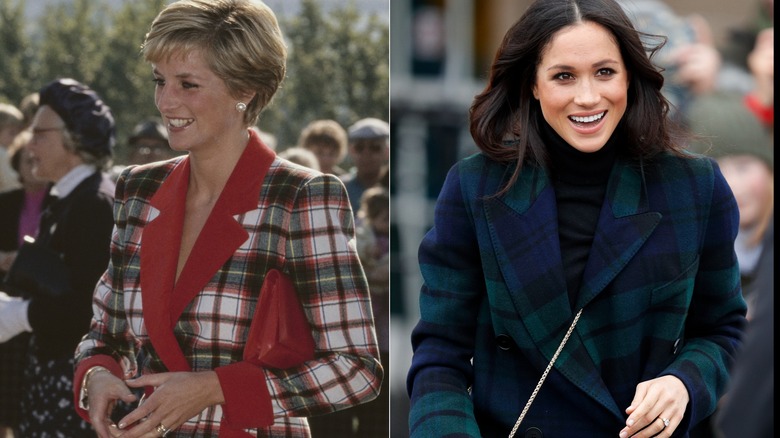 Max Mumby/indigo & Princess Diana Archive/Getty & undefined
The plaid pattern often evokes thoughts of days gone by (at least for us), and both Princess Diana and Meghan Markle capitalized on those feelings a few times. Of course, Princess Diana would always put her own spin on any trend, and plaid was no exception. Once again in Catherine Walker, Princess Diana upgraded the usual plaid dress with red lapels and cuffs while at a British Red Cross demonstration in 1990. She painted the picture of a steadfast royal who wasn't afraid to update old traditions.
Similarly, after the announcement of their engagement in 2018, Meghan Markle and Prince Harry took a trip to Scotland, where she took the opportunity to present herself as a future member of the royal family in a Burberry blue and green plaid coat while visiting Edinburgh Castle. She complemented her coat with a green cross-body bag and, of course, her engagement ring.
The white halter dress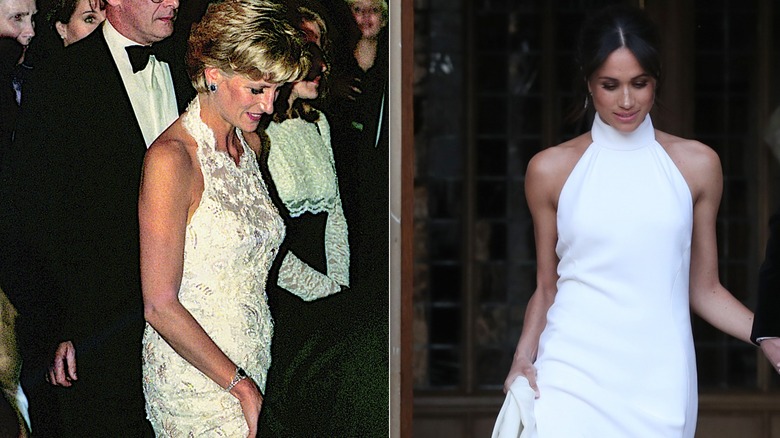 Wpa Pool/Getty & Mark Reinstein/Getty Images
In 2018, we got the royal wedding of the year when Meghan Markle and Prince Harry tied the knot. Her wedding gown was starkly simple, and for her second dress of the day, Markle opted for a halter style gown, which we all fell in love with — but where had we seen it before?
That's right, Princess Diana wore a very similar-looking dress to a charity benefit for breast cancer research in Washington, D.C. in 1996. At this point, she was already divorced from Prince Charles. Markle's dress was simpler and more modern, while Diana's was covered in lace but otherwise, the dresses are very alike in their cut and even their length. Both women opted to let the dresses shine on their own and didn't add any large pieces of jewelry to their ensembles. Simple and understated, it's a dress that many can make their own and wear with confidence.
The white and black ensemble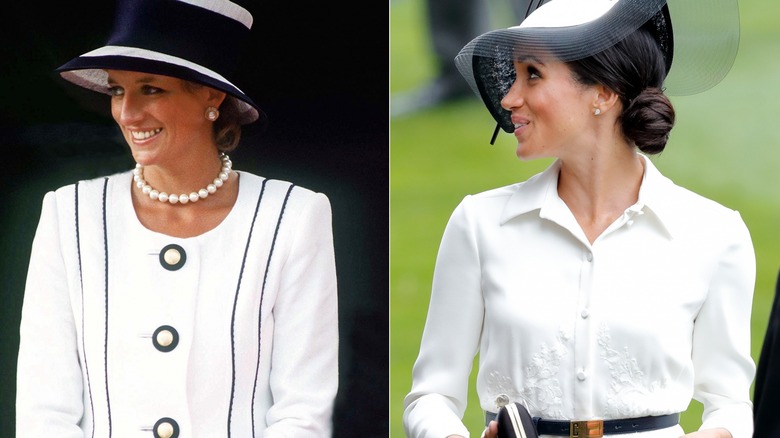 Max Mumby/indigo/Getty & undefined & Tim Graham/Getty Images
The most basic of color combinations, white and black, never goes out of fashion, and both Princess Diana and Meghan Markle have made use of it multiple times. There is one instance of the combo that is particularly similar for the two royals, even though they were worn 23 years apart. Princess Diana wore a suit by Bashoin designer Tomasz Starsewski in 1995 as she attended a VJ Day commemorative event. Completing the outfit with a hat from Milliner Philip Somerville and contrasting pumps, she stood out in the crowd.
Markle was equally spotlight-worthy in 2018 when she accompanied Prince Harry to Royal Ascot Day 1 at Ascot Racecourse in a beautiful button-down white dress that she accentuated with a thin black belt (which also served a double purpose, drawing the eye to the dress' intricate details around the waist). Of course, her outfit was completed by a black-and-white hat and black pumps –- just like Princess Diana's.
The red and purple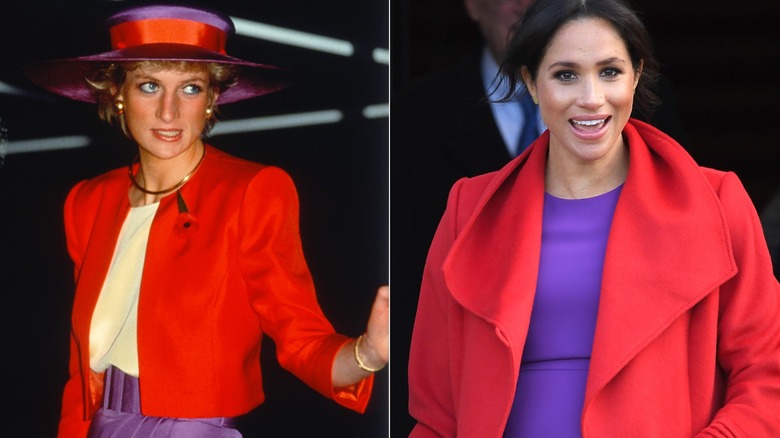 Karwai Tang/Getty & Anwar Hussein/Getty Images
Catherine Walker came through for Princess Diana once again with a red and purple outfit that was equally striking and classy. The princess wore her skirt separates on a trip to Hong Kong in 1989, completing the outfit with a matching hat and clutch. She must have really loved the outfit because she wore it again in 1990 on the first day of the Royal Ascot race meeting at Ascot Racecourse in Ascot, Berkshire, England.
Meghan Markle also championed the bold colors when she stepped out in 2019 in a purple dress and red coat, while pregnant, to view the erection of a new statue in honor of the 100th anniversary of Wilfred Owen's death. There were a few differences between the princess and the duchess' outfits, as Markle choose to go with red pumps while Diana's choice was purple, for both of her appearances in the stylish ensemble. In addition, Markle's coat had a wide collar, and Diana's jacket was sleekly simple and collarless. 
The green coat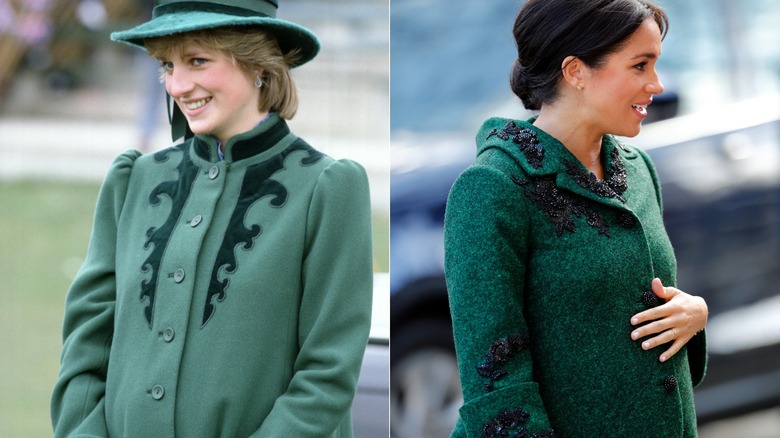 Max Mumby/indigo/Getty & Tim Graham/Getty Images
Of all their similar outfits, the green coat might be the one that draws the most similarities between Princess Diana and Meghan Markle's style. For one, both royals were pregnant when they wore their coats, and both had black scroll detailing on the front. The two look so similar that it's quite a striking picture when they're next to each other.
Markle didn't opt for a hat as Diana did, though, and her coat wasn't quite as long as Diana's was. Markle also wore her coat with a matching dress that was visible at times, while Diana's was fully buttoned up during her time at the polo match –- but that might have been because of the weather since it was March 1982 and likely cool outside. Funnily enough, it was also March when Markle wore her green coat, although several decades later, in 2019. If that's not a sign that she was copying her mother-in-law's style, then we don't know what is.
The pale pink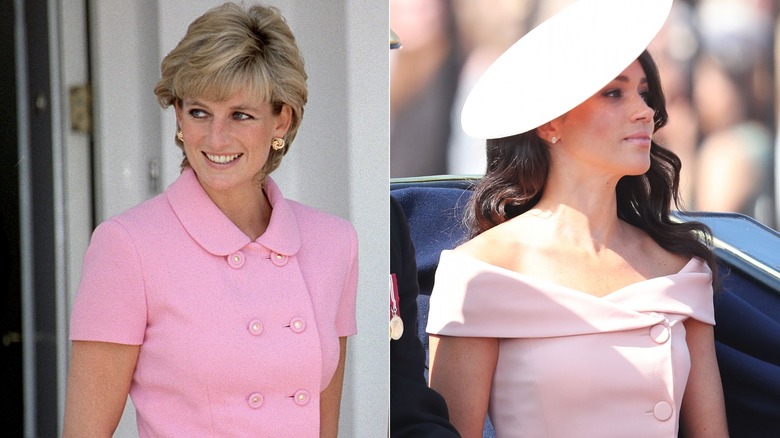 Chris Jackson/Getty & Tim Graham/Getty Images
Pink is just another shade of red, so it's no wonder that it's a favorite color of the royal family. Princess Diana was photographed many times in different shades of pink, but this pale pink button-front suit (which came with a matching pillbox-style hat) made by Versace was one of her most iconic outfits. She wore it on her official trip to Argentina in 1995. It's a classic suit that could just as easily be worn today and still be stylish.
Meghan Markle's pale pink outfit (made by Carolina Herrera) at her first Trooping The Colour in 2018 had many of the same elements as Diana's ensemble -– the fabric-covered buttons, the pale pink color, the smoothness of the fabric, and, last but not least, the classic style of the dress. Even with the off-the-shoulder style, Markle's dress instantly became one of her best looks and cemented her status as a fashionable royal –- even though she had only been married to Prince Harry for a few weeks at that point.
The brown separates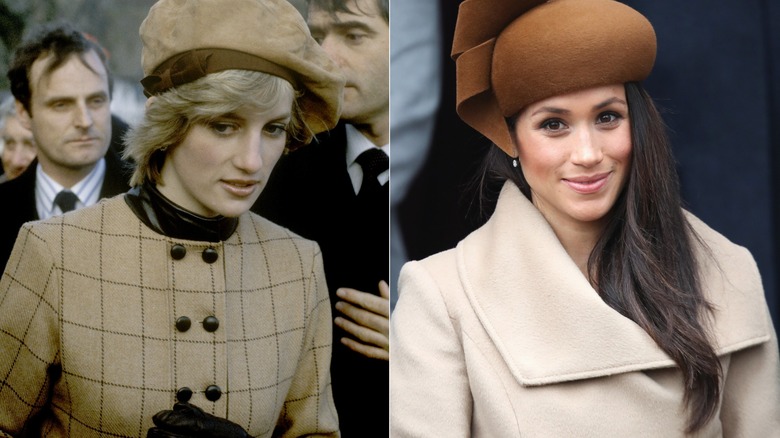 Chris Jackson/Getty & John Shelley Collection/avalon
Brown might not be the most spectacular of colors, but when you do it right, any color can make a statement. On a visit to Tywyn in North Wales in 1982 for the dedication of an RNLI lifeboat at Barmouth, Princess Diana paired a brown checkered coat by Arabella Pollen with a brown beret. Diana completed her monochromatic outfit with a brown clutch and brown leather boots. Even though her ensemble looked like it was chosen more for comfort than fashion, as her boots didn't have heels and the brown color wasn't made to stand out, Diana made it work and made it worth copying.
Meghan Markle choose to follow in Diana's footsteps at the 2017 Christmas Day Church service and wore an equally monochrome outfit. She combined a tan coat with a brown beret, handbag, and boots. Although her coat looked a little different than Diana's, the rest of her outfit was very close in style to the princess' from 35 years before.
The denim-on-denim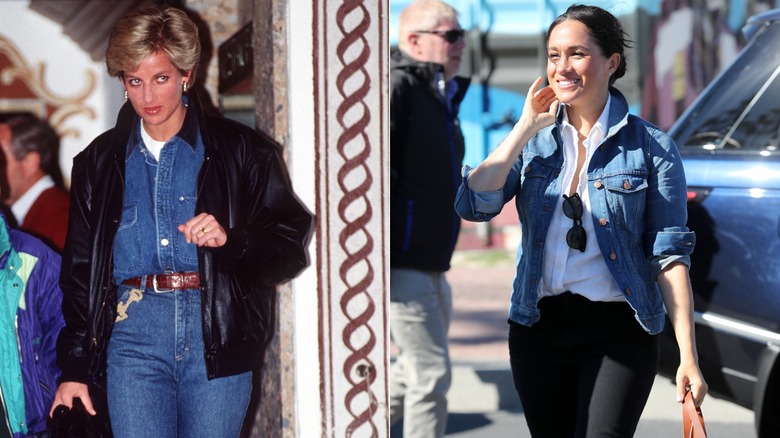 Chris Jackson/Getty & Tim Graham/Getty Images
Royals are not really known for wearing denim on the regular, especially the women, but Princess Diana choose to go much more casual than usual on a skiing trip in Lech, Austria in 1993. Then again, at that point, she was already separated from Prince Charles and trying to live her life less in the spotlight. Her denim-on-denim outfit was less a fashion statement and more an attempt to blend in.
Meghan Markle also went casual for an appearance in Cape Town, South Africa. She and Prince Harry were visiting Waves for Change, an NGO, in 2019 as part of their royal tour. Even though she did denim-on-denim, Markle did change up the color scheme as opposed to Diana's all-blue look. Markle paired black denim skinny jeans with a white button-down and a faded denim jacket. We have to say, she looked super comfortable, and it's definitely an outfit that most of us can throw together with pieces from our closet, even on a minimal budget.
The LBD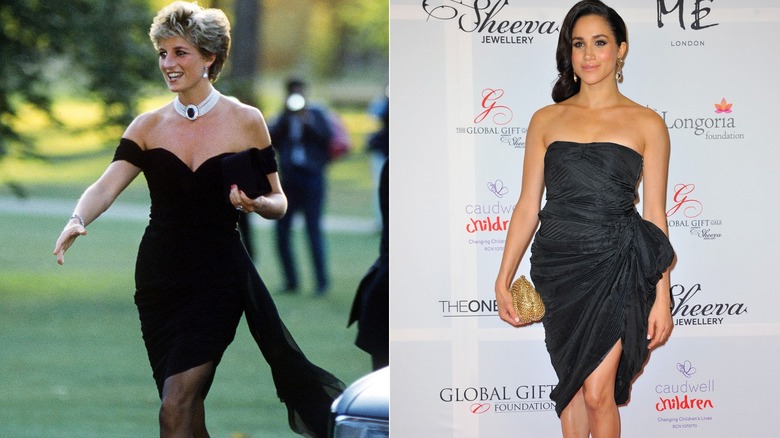 Gareth Cattermole/Getty & Princess Diana Archive/Getty Images
Perhaps one of her most iconic outfits, Princess Diana's black cocktail dress in 1994 captured the gazes of men and women around the world. She paired with a pearl choker, black pantyhose, and pumps, and many called it her "revenge dress," as she was well on her way to divorcing Prince Charles in light of his affair with Camilla Parker Bowles. The black Christina Stambolian dress also had the added detail of a trailing train from the hip that helped make it a very memorable outfit.
Perhaps Meghan Markle hasn't yet achieved the level of fashion stardom that Princess Diana reached, but she has made plenty of statements in black cocktail dresses since her ascension in the royal spotlight. The dress she wore in 2013 (before even meeting her future husband) had a striking similarity to Princess Diana's. Markle was attending the London Global Gift Gala at ME Hotel and went with a black cocktail dress that also had hip detailing. Her dress forgoes the sleeves altogether, though, and she chose to not wear any neck jewelry with it, accessorizing instead with a gold clutch.
The striped suit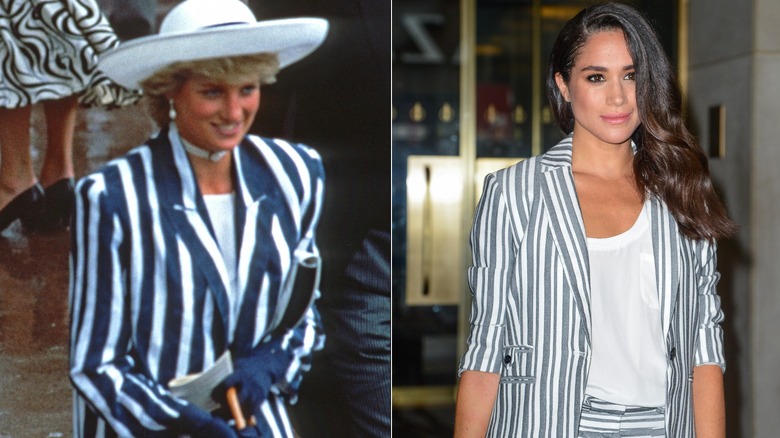 Ray Tamarra/Getty & Anwar Hussein/Getty Images
A matching suit jacket and skirt set is kind of a standard in the British royal family, so it's no surprise that both Princess Diana and Meghan Markle have worn their fair share. What is more surprising is that Meghan Markle choose to wear her suit before she even was introduced to Prince Harry. At a taping of "The Today Show" in 2016, she went for a shorts suit that was complemented by a simple white T-shirt and upgraded with nude heels.
Princess Diana's striped suit was worn for a more formal occasion –- at a Royal Ascot meeting -– in 1987, but it wasn't the first time she'd worn it. She'd worn something very similar in 1985, complete with the white hat that had a navy band around it. As for the color similarity, navy blue and white is a pretty standard color combination, especially for stripes, so it's no surprise that the two women sported similar fashions nearly 30 years apart.
The metallics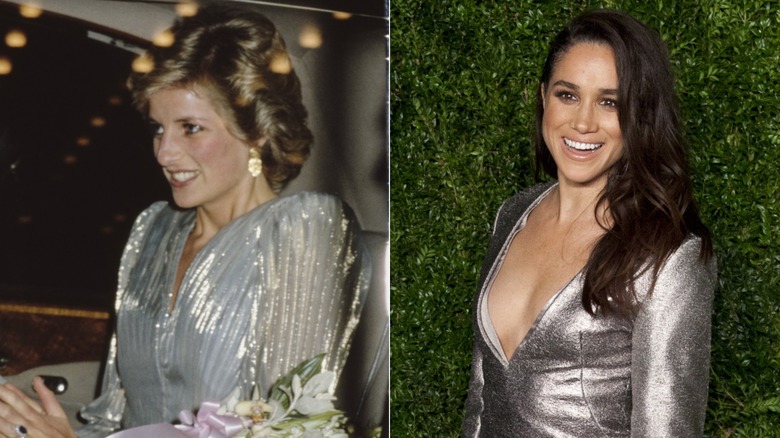 Tim Graham/Getty & Lars Niki/Getty Images
We've said before that Princess Diana loved to make a statement, and her metallic silver dress, designed by Bruce Oldfield, was exactly that. Made of a flowy fabric with skinny pleats along the skirt and on the ballooned sleeves, it also had an open back. Diana must have really loved the dress because she wore it in March of 1985, as well as in June and November of that same year!
Meghan Markle also channeled the silver vibe in 2015 when she wore a metallic minidress to the 12th annual CFDA/Vogue Fashion Fund Awards at Spring Studios. Her dress was just as stunning as Diana's, even though they differed in length, and it needed almost no other accessory, as it showed off Markle's legs, which was plenty for everyone to gawk at. So many of her copies of Diana's outfits were before she became involved with Prince Harry that it just goes to show — Meghan Markle was meant to be a royal.