What Are Overlay Nails (& Are They Better For Your Nail Health)?
If you like to experiment with different nail colors and designs, then you've likely dealt with the inevitable struggle of maintaining healthy nails between manicures. Frequent trips to the nail salon can lead to damaged and brittle nails, so what should you do if don't want to rock polish-free fingers? The answer is shockingly simple: It might be time to switch over to overlay nails. Opting for an acrylic, gel, or dip overlay is a great way to allow your nails to breathe, as they cover your natural nails and don't require the often harsher application of press-ons or acrylics. Despite gel overlays appearing similar to Gel-X nails, overlays don't include extensions, and they last around three weeks on average, meaning your nails can maintain the same length while they heal.
"Overlays are great for providing strength over the natural nail as they are strong and durable," Sally Hansen ambassador Hannah Lee tells PopSugar. Compared to acrylics or press-on nails, overlays are healthier options, as they offer a protective layer to support weak nails. Gel overlays even come in several varieties to help keep your nails as personalized and healthy as possible.
Types of gel overlays
There are two types of gel overlays: soft gel and hard gel. To avoid confusion, soft gel is another name for a standard gel polish, and hard gel is typically referred to as a builder gel. Both types of gel overlays are similar, except for the fact that hard gel cannot be removed with an acetone solution and requires an electric file to remove. Soft gel, on the other hand, is easily removed by soaking one's nails in acetone. 
In terms of nail health, "Hard gels are used for strength and structure," international nail stylist and trainer Vicki Ornellas explains to Glamour, while "gel polish is just for color and art, and a little strength." Choose hard gel if you work with your hands, as a soft gel overlay typically chips faster. "Hard gel is [also] better for those who prefer long nails for a longer time," celebrity manicurist Mar y Sol Inzerillo tells Allure.
The best way to care for your nails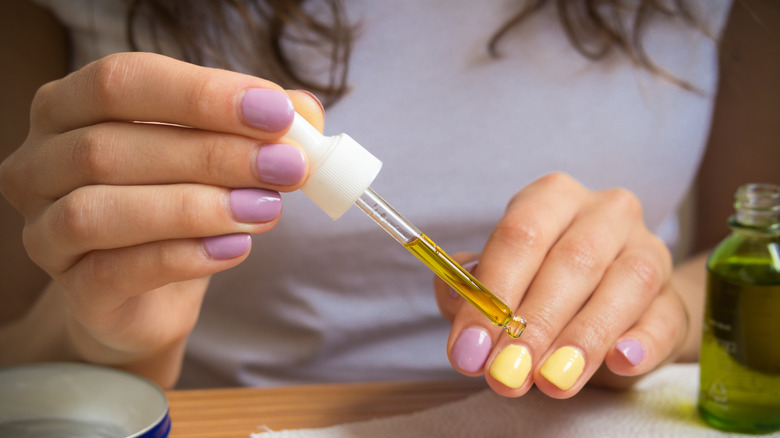 Iprogressman/Getty Images
While overlay nails may be better for nail health compared to acrylic or press-on nails, they can't intrinsically heal your nails. They can simply act as an extra barrier that isn't as harsh as press-ons that require abrasive nail glue. "[A]ny chemical addition can weaken or irritate the nail bed, so although they look super cute, they don't contribute to nail health," dermatologist Mona Gohara, M.D., an associate professor of dermatology at Yale School of Medicine, reveals to Allure. In other words, switching to a gel or acrylic overlay will not magically transform your brittle nails, even if you decide to give your nails a break from extensions and press-ons.
To reverse damaged and brittle nails, practice regular nail care between manicures to prevent further damage from occurring. For instance, in an interview with Byrdie, celebrity nail artist Pattie Yankee explains that "[w]hen the hard gel isn't properly maintained, it becomes easier to cause damage or a painful deep break into the nail bed if banged or hit by accident." If your nail is already weak to begin with, the chance of nail damage increases. To care for weak nails, use a moisturizing oil on your cuticles and avoid picking at the gel or acrylic overlay. Also, make a habit of stopping by the salon for routine maintenance once your nails grow out. With patience and consistency, you can nurse your nails back to health.