How To Style Your Summer Slip Skirt For Fall 2023 Trends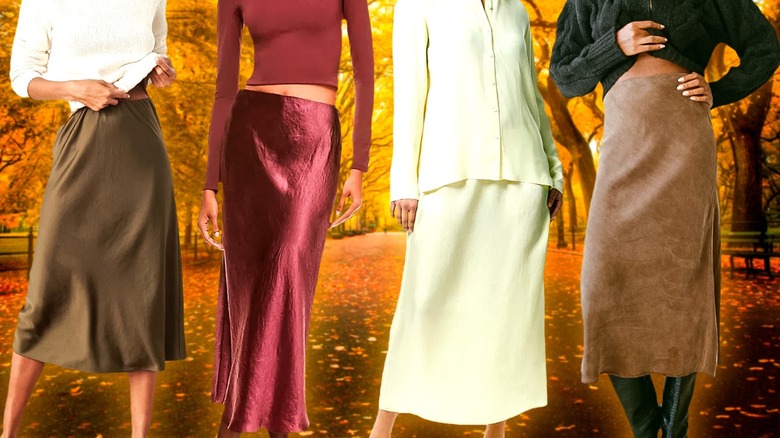 Static Media / Shutterstock
Taking your summer pieces into fall is one way of continuing your style year-round. While some pieces like sandals and swimsuits have no room in your fall wardrobe, others can seamlessly blend into the next season. One of these pieces is the summer slip skirt. Although we've grown accustomed to seeing the slip skirt paired with white tank tops or crop tops, there are plenty of ways you can rock this chic item in the colder weather, like pairing it with tall boots. The slip skirt is a must-have piece for anyone looking for a classic, Parisian-inspired look.
The slip skirt isn't just another '90s-era trendy piece. It's a stylish item that can be the perfect base for all your fall 'fits. Not only does this item style well with other clothing pieces, but it's also an easy way to elevate your wardrobe. Satin and silk are two materials that give the appearance of luxury, which makes it an instant must-have for any wardrobe. With trendsetters like Emily Ratajkowski on board with this trend, there's no doubt it will be your go-to for the fall season.
Wear it with a sweater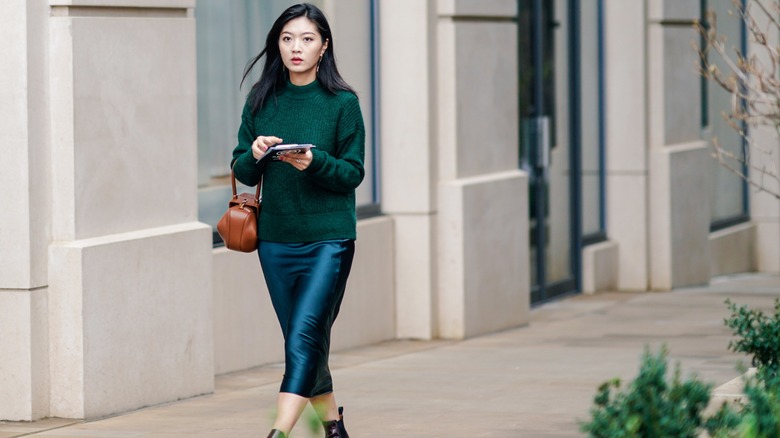 Edward Berthelot/Getty Images
The easiest way to style the slip skirt is with a chunky sweater. The sweater and slip skirt combination is a classic outfit formula that will never go out of style. Pair your slip skirt with a bold sweater for a more statement look, or opt for a replica of Max Mara's fall outfit of a neutral slip skirt with a matching sweater top. This chic and understated pair is a go-to for a trendy look this fall.
Use a long coat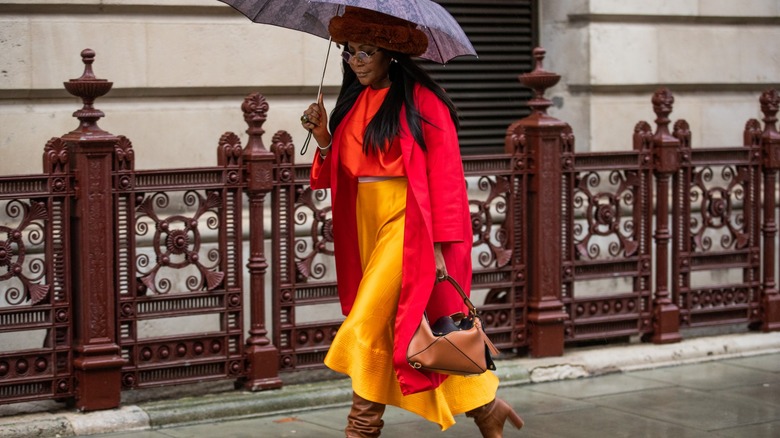 Christian Vierig/Getty Images
A long coat might seem overwhelming with your slip skirt, but it can create a perfectly cozy look. The key to making this pair work is opting for a coat the same length as your silk skirt. While styled for spring and summer, Lorena Saravia's Mexico collection is the perfect example of how matching sizes between items can create the ideal chic combination. Finish with a tighter-fitting top for a balanced look.
Satin on satin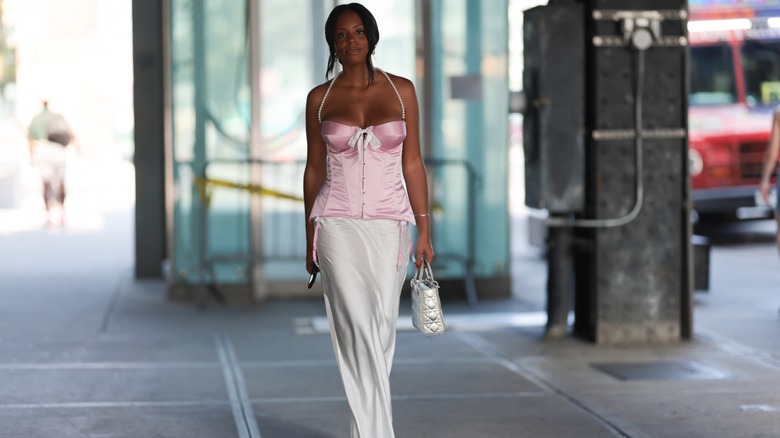 Jeremy Moeller/Getty Images
What better top for your satin slip skirt than a satin top? Although mixing textures is fun, going for matching satin pieces is sophisticated and timeless. Fashion content creator Sydne Summer showcases why going for a satin-on-satin look is an elegant alternative to tackle the fall season, as per Instagram. Add another exciting layer to your ensemble, and finish off the look with a comfy coat to pull it all together.
Pair it with boots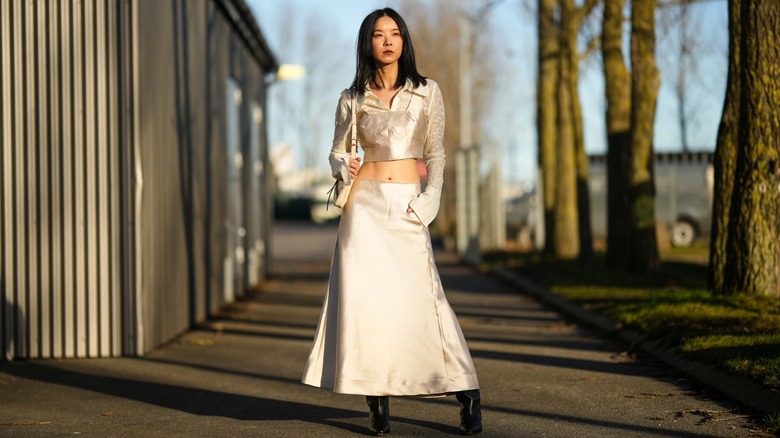 Edward Berthelot/Getty Images
There are plenty of footwear choices to pair with your satin slip skirt, but for this fall, it's all about the boot. Boot trends have been plenty this season, with items like satin boots appearing. Adding boots to your slip-skirt ensemble will help bring this summer piece into fall without much work. Opt for a midi skirt and boots combination to give your footwear a chance to shine. Style influencer Kirsty showcases how this pair is an ultra-chic outfit formula for the colder weather in an Instagram post.
Rock the fall neutrals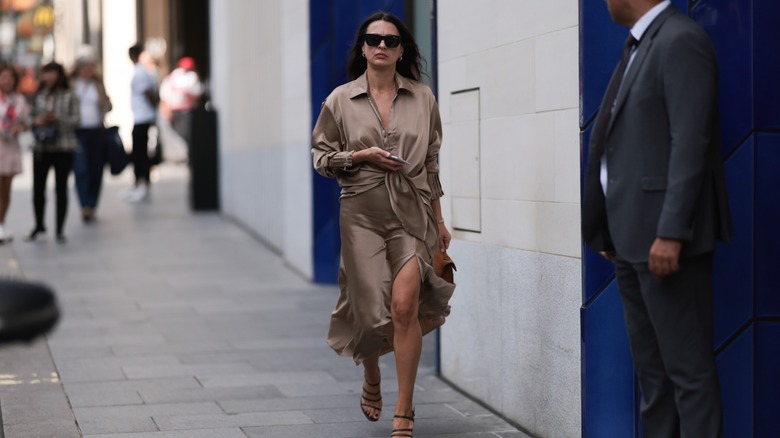 Jeremy Moeller/Getty Images
You can't have the fall season without some neutrals in the mix. Earlier in the year, Meghan Markle rocked a head-to-toe neutral look composed of a brown sweater and slip skirt, the ideal fall go-to look. While playing with color is fun, this combination of fall neutrals is an easy way of styling any trendy piece. Since neutrals are still a hot trend, there's no doubt this look will be a classic ensemble to wear.
Throw on a blazer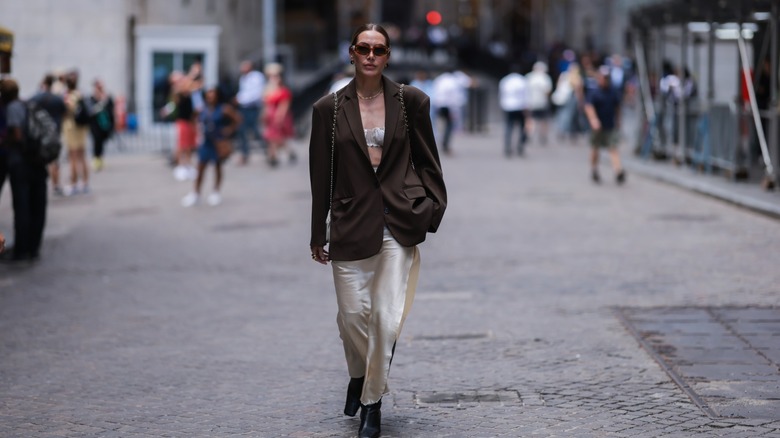 Jeremy Moeller/Getty Images
Blazers have proven to be the must-have piece for 2023, and there's no way to escape it. Thankfully, the blazer is the perfect accompaniment for your slip skirt to make your fall outfit more sophisticated and polished. Style content creator Ingrid Wilkinson's blazer and slip skirt combo (via Instagram) is one example of how you can dress down this combination with casual sneakers. Whether dressed up or down, this combination is a must in your fall rotation.