Bridal Gloves Are Back In Style, And They're The Chicest Wedding Dress Accessory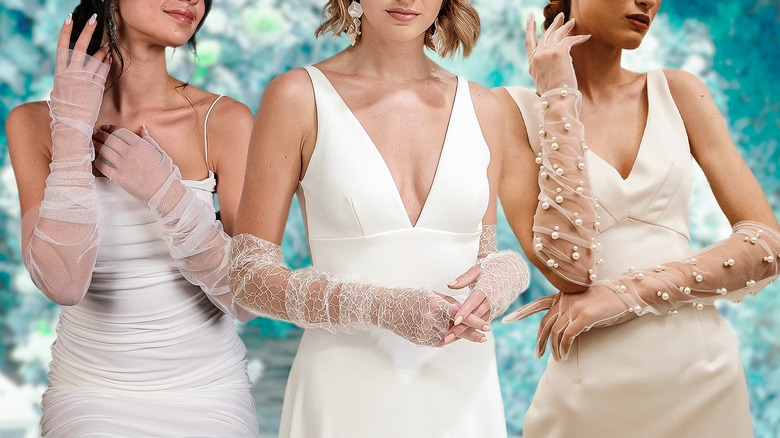 Static Media/Shutterstock
Bridal gloves used to be a traditional accessory of the past that many have ditched during modern times. In fact, not even fashion-forward royals Kate Middleton and Meghan Markle adorned white gloves on their respective wedding days. However, satin and lace hand coverings are making a big comeback, and we think they add the perfect finishing touch to any bridal ensemble.
Whether you're wearing a princess-style ball gown (which is still a hot wedding dress trend) or a sleek, silky number, bridal gloves add just the right amount of elegance. When you're walking down the aisle, your hands are on full display. You carry your bouquet in front of you, and when you meet your beau at the altar, you take each other's hands. 
Just like your veil (if you choose to wear one), your wedding gloves will be a keepsake accessory that you'll cherish forever — and even possibly be a hand-me-down for generations. With many designers jumping on the trend, there are a variety of styles to choose from. Go classic with opera-length satin gloves or rocker chic with fingerless lace ones. Whichever you choose, you'll be sure to get a lot of "oohs" as you make your grand entrance.
Polka dot mesh gloves are darling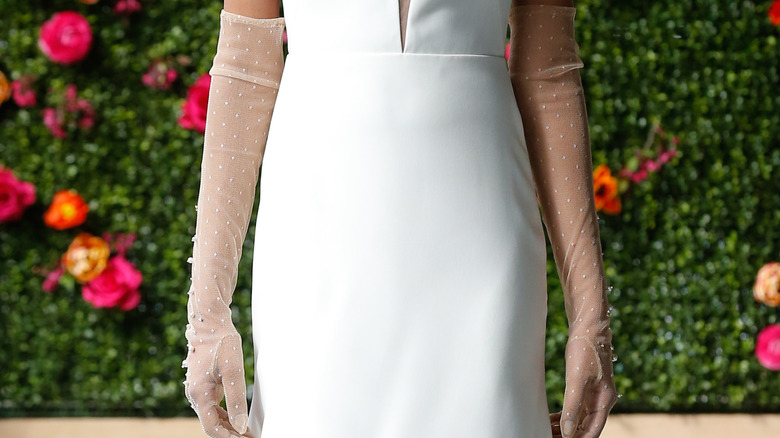 Jp Yim/Getty Images
If you want your bridal gown to be the star of the show, choose a pair of chic, elbow-length gloves with a smattering of retro polka dots as a subtle accessory. The sheer mesh fabric allows your hands to peek through, so make sure your nails are polished to perfection. 
Bring back the '80s with fingerless lace gloves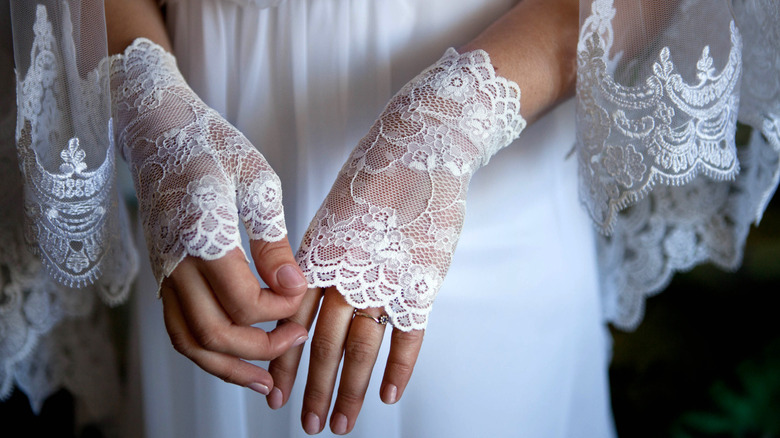 Julie Photo Art/Shutterstock
Channel your inner Madonna circa 1980 with lace fingerless gloves. They give a bit of rock n' roll while still looking chic. When choosing your bridal gloves, you may want to match the aesthetic of your gown. If your choice of dress is super formal with a long train, you may want an equally dramatic set of gloves. However, we think this pair is great for a simple A-line or sheath.
Sheer gloves are classic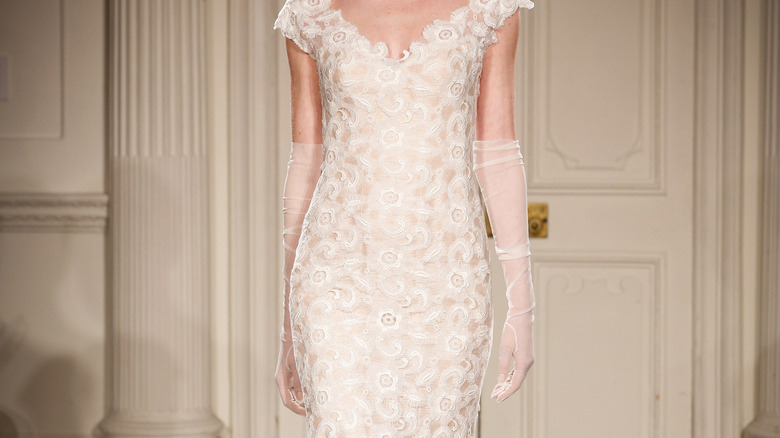 Thomas Concordia/Getty Images
If you opt to go a bit non-traditional with a pop of champagne print in the wedding dress, classic white sheer gloves are the perfect accessory. They blend in softly without screaming for attention and are the perfect complement to a dress this dramatic. While these plain sheer gloves are timeless, simple details like bows and lacy frills at the wrist can make sheer bridal gloves far from boring.
Black gloves give a modern feel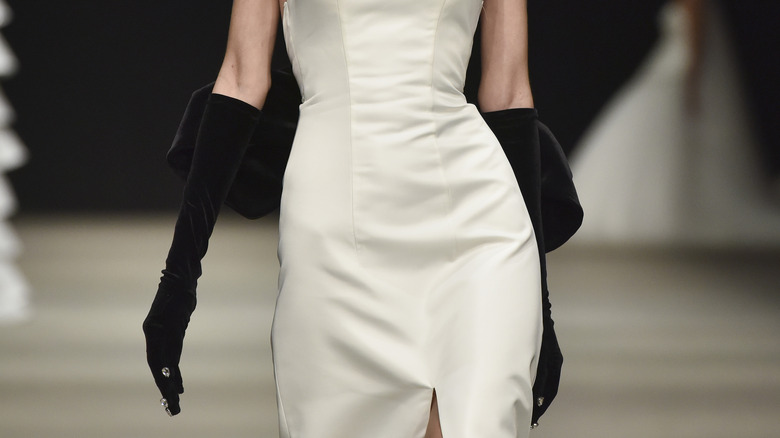 Ekrem Serif Egeli/Getty Images
Who says you have to wear all white on your wedding day? While it's tradition to have something blue on you, these black gloves are the perfect contrast to a white dress. The super snug fit also ensures your fiancé can slip your wedding band over your finger when you say "I do."
Satin elbow-length gloves add drama to your wedding-day outfit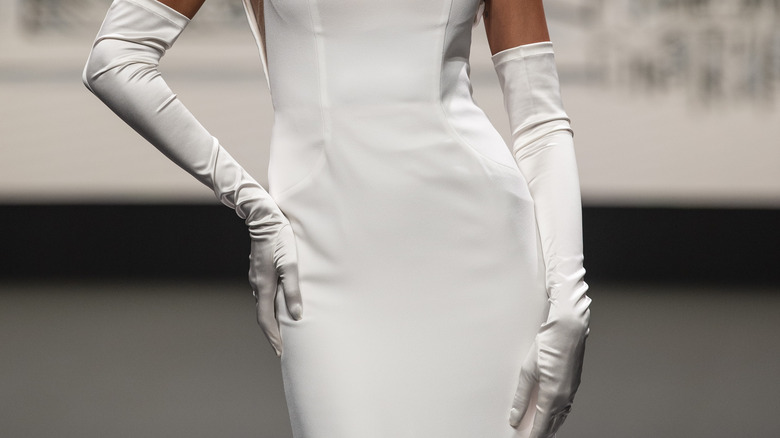 Jordi Vidal/Getty Images
If you want to go full-on bride mode with a classic white gown, veil, and opera-length gloves, we say go for it. It is your day, after all! Super long gloves are all about drama, and you can wear one that goes up to your elbow or past it for extra glamour. If you're wearing white on white, just make sure the shades all match.
Tulle bridal gloves whisper elegance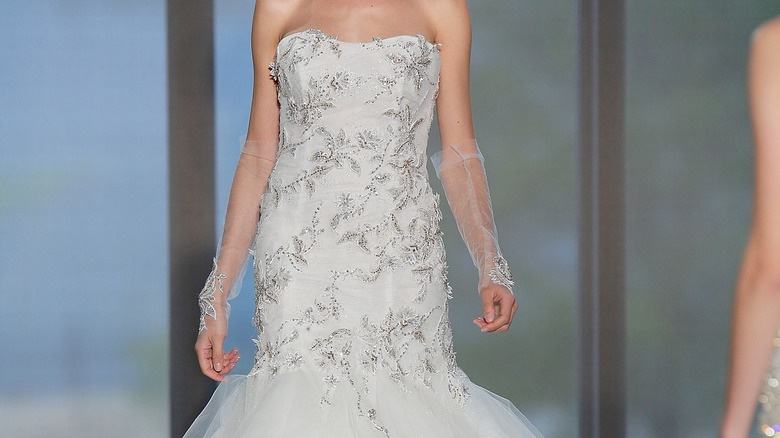 Randy Brooke/Getty Images
For a barely-there look, choose an ultra-sheer pair of tulle wedding gloves. The fingerless option gives a modern feel, and the embellishments on the hands add some sparkle. Be sure that there is some elastic at the top so you're not tugging at your gloves all day as you're dancing the night away.