The 5 Best Clarifying Shampoos For When You Need To Give Your Hair A Reset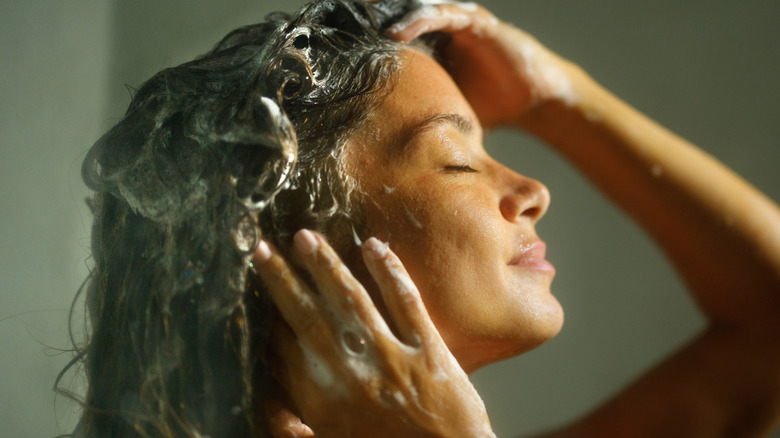 Skynesher/Getty Images
We may receive a commission on purchases made from links.
Even if you already love your shampoo routine, there are times when we all need something more robust. If your scalp needs a detox, we suggest investing in a clarifying shampoo to give your tresses a fresh and — literally — clean start. "Clarifying shampoo has more cleaning detergent and thus, a higher level of surfactants ... Clarifying shampoos are made to degrease the hair, the buildup, the oils, and everything on our hair and scalp," Julien Farel, owner and creative director of the Julien Farel Restore Salon and Spa, told Harper's Bazaar.
Advertisement
As long as you don't abuse your special shampoo by using it more than you should — and this, of course, goes for any shampoo, as even good-for-you ones can be overused — the clarifying cleanse can give your hair a seemingly magical transformation, eliminating any unpleasant ick that might be preventing your hair from looking its best. However, you should only put such a powerful product in your hair if it's a trusted, reliable clarifying shampoo. We only want the best for your hair, so we already researched for you.
How we selected products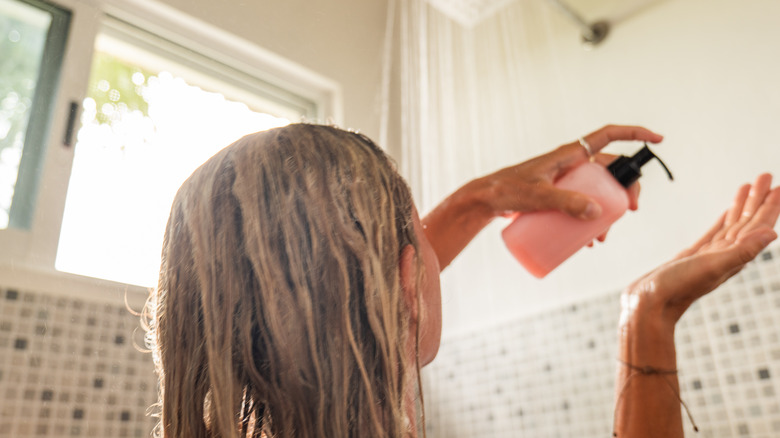 Mystockimages/Getty Images
When you use a clarifying shampoo, you're trusting that product to successfully clean and even transform your hair, and that's not something we take lightly. So, we looked at products from well-known and trustworthy names, such as Paul Mitchell and OUAI. Moreover, everyone deserves to care for their hair without breaking the bank, so we were sure to include some affordable options by searching accessible, famously budget-friendly websites like Walmart and Target.
Advertisement
In addition to quality and price, we want all our readers to find options that work for them, so we made sure to look for clarifying shampoos that work with every hair type. We found some clarifying shampoos appropriate for dyed hair, too! We even looked at details as specific as scents; we know how an unappealing smell can ruin even the most effective products. Regarding how well these products work, we carefully read and inspected each item's ratings and reviews to see how real consumers reacted to and felt about the products.
Best overall: Paul Mitchell Shampoo Two
Anyone looking for a reasonably-priced, vegan, pleasant-lemony-smelling clarifying shampoo with no parabens — that you can even use on dyed hair — needs to check out Paul Mitchell Shampoo Two. You can use the product on any hair type to make it look less oily! Not only is it an Amazon's Choice product, but the clarifying shampoo has 4.6 out of five stars with over 10,000 reviews at the time of writing. About 80% of reviewers gave the clarifying shampoo a perfect five-star rating, and it earned high scores for the appealing smell, not being too heavy, and its value.
Advertisement
Purchase the Paul Mitchell Shampoo Two for $14 on Amazon.
Best affordable: Herbal Essences Clarifying Tea Tree Shampoo
Suitable for every hair type, don't let this cruelty-free clarifying shampoo's low price make you suspicious; it's a bargain, not a trick! Featuring no mineral oil or silicones and a revitalizing citrus scent, Herbal Essences' Clarifying Tea Tree Shampoo has 4.5 out of five stars from Target reviewers. One pleased customer even wrote, "The scent is delightful and smells so clean. Leaves hair looking residue free, smooth and shiny! The whole family loves it!"
Advertisement
Purchase the Herbal Essences Clarifying Tea Tree Shampoo for $6.99 — or $9.99 for a larger size — at Target.
Best for dyed hair: OUAI Detox Shampoo
If you avoid clarifying shampoos because you worry they'll ruin your expensive or time-consuming hair color, we found an option to take that stress away, as OUAI's Detox Shampoo features hydrolyzed keratin. A color-safe option, this clarifying shampoo is excellent for cleaning your scalp and making your hair look shinier, fresher, and as smooth as ever. It's appropriate for every hair type and texture and has a flower-inspired smell. With 1,500 reviews at the time of writing, the product has 4.5 stars and a 90% recommendation rate.
Advertisement
Purchase the OUAI Detox Shampoo for $32 at Sephora.
Best fragrance-free: Pantene Nutrient Blends Pure Clean & Clarify Silicone-Free Shampoo
If you're a person who prefers fragrance-free items and wants a reliable clarifying shampoo, try this silicone, paraben, and mineral oil-free product — all ingredients you should avoid in your haircare products. Ideal for cleaning oily hair, Pantene's Nutrient Blends Pure Clean & Clarify Silicone-Free Shampoo has 4.1 out of five stars. One happy customer even wrote, "This is a great solution for people with allergies or sensitivities to scents. I realized I wasn't sneezing in the shower like I do with scented products and it didn't cause any irritation."
Advertisement
Purchase the Pantene Nutrient Blends Pure Clean & Clarify Silicon-Free Shampoo for $13.95 at Walmart.
Best scent: Biolage Clean Reset Normalizing Shampoo
On the other hand, you might prefer shampoos and hair products with noticeably appealing scents, like this clarifying shampoo from Biolage. The Amazon's Choice item works with every hair type and has 4.7 out of five stars with over 7,000 ratings. The product has 4.6 stars in the scent-specific category, and many reviews note the pleasing smell. "This shampoo smells really clean and your hair rinses squeaky clean every time. Your hair feels very nice after and the smell is nice and fresh," said one happy reviewer.
Advertisement
Purchase the Biolage Clean Reset Normalizing Shampoo for $23 on Amazon.