Your Guide To Amazon's Stuff Your Kindle Day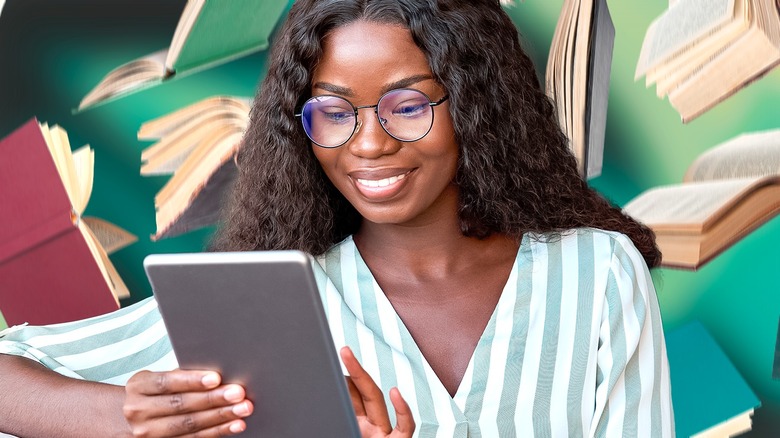 Static Media / Shutterstock
Amazon's Stuff Your Kindle Day is a blessing for readers of romance. During the Stuff Your Kindle event, bookworms have the chance to access thousands of free — yes, free — e-books on Amazon. This exciting event is hosted by Romance Bookworms and occurs once per season, or four times per year. Three dates have already passed for 2023, which occurred on March 31, June 30, and September 20. Thankfully, the last event of the year takes place on December 27, so there's still time to mentally prepare yourself before the next Stuff Your Kindle Day.
This bookish event presents itself as an occasion singularly geared toward avid readers. However, it also poses an indispensable opportunity for authors to advertise their books. Taking part in this quarterly event also serves as a mutual opportunity to support new or indie (including self-published) authors. This way, you save money on your indulgent book addiction and also get to discover your next favorite series — all for a good cause. Take advantage of this book freebie event and stumble upon your next juicy read.
How does Stuff Your Kindle Day work?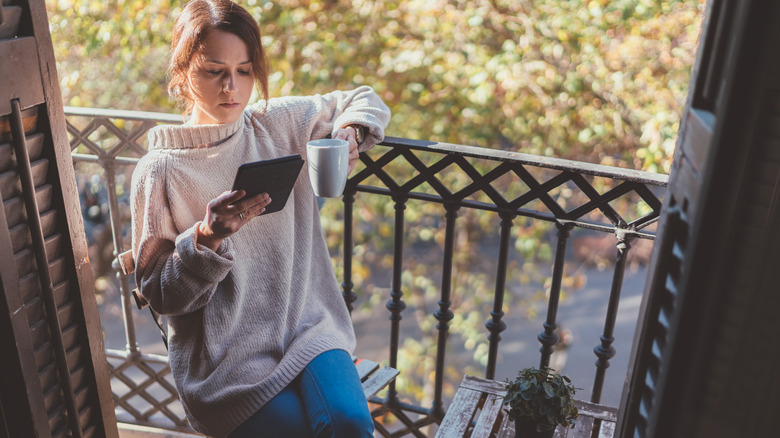 Martin-dm/Getty Images
Despite Amazon's association with Stuff Your Kindle Day, this event originally kicked off under the title "Stuff Your E-Reader" back in 2014 (via Romance Bookworms). Author Zoe York organized Stuff Your E-Reader as a collaborative marketing opportunity between small publishing companies and self-published authors. In other words, free titles are not limited to Kindle users, so you can still enjoy freebies on other platforms and e-readers, including Kobo, Apple Books, Barnes & Noble Nook, and Google Play.
Romance readers will find e-books from various sub-genres, including young adult, historical romance, urban fantasy, new adult, contemporary, and more. Additionally, Stuff Your Kindle promotes diversity by including books written by BIPOC authors (Black, Indigenous, and people of color) and writers with disabilities. Romance Bookworms also has a category for books featuring protagonists who identify as LGBTQ+.
For those wondering how Amazon's Stuff Your Kindle Day overlaps with a Kindle Unlimited subscription, rest assured that Amazon does not consider any of the e-books you download during this event as part of your 20 Kindle Unlimited borrow slots. So, all your downloaded e-books remain permanently free and accessible on your Kindle or Kindle app.
How to find eligible titles
Stuff Your Kindle encourages people to read books published by indie publishers and authors, so don't expect to find many free offerings from well-known authors you hear about in the #booktok tag. Instead, you can explore free titles and narrow your selection by browsing Romance Bookworms' categorized list, which sorts e-books by retailer and sub-genre. Keep in mind, however, that the website administrators assemble the list on the day of the event, so there's no way to know which books will be free to download in advance.
To navigate the categories, make use of the keyword lists and the search function (command or control + F) to look for a specific trope, such as "enemies to lovers" or "fairytale retelling." In a video posted by TikToker Katelyn, she shares a tip to browse free e-books on Amazon without having to refer to Romance Bookworms' category list by filtering your book search on Amazon by lowest price. This filter lets you view the free e-books first, so you won't feel disappointed if you come across an interesting read only to find out that it isn't available for free.
If romance isn't your cup of tea, the Cozy Mystery Book Club hosts a similar event for mystery lovers. Fans of thriller and horror should also keep an eye out for the Spook Your Kindle event, which occurs on October 31, 2023, according to this popular Booktoker's video.