M3 Girl Designs: What Happened To The Brand After Shark Tank?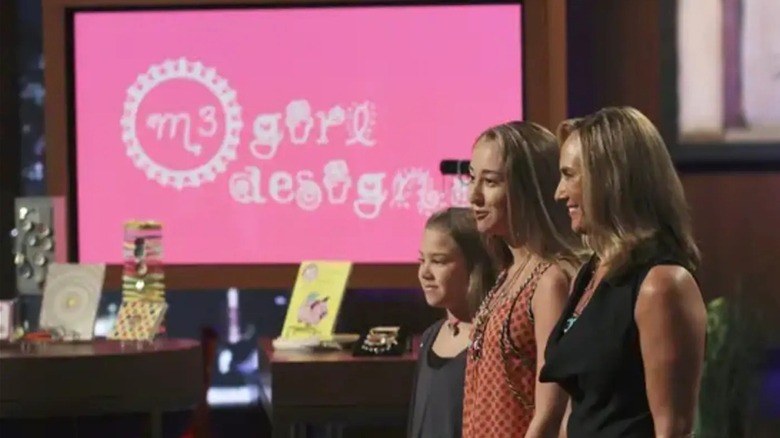 ABC
We may receive a commission on purchases made from links.
While many "Shark Tank" stories tend to follow a similar structure post-show, M3 Girl Designs gave audiences a surprising plot twist after the show. Not only was M3 Girl Designs' post-show journey a shock, but the company's concept was an unusual approach.
Started by a then 10-year-old Maddie Bradshaw, M3 Girl Designs is a collection of bottle cap jewelry and magnets that appealed to a pre-teen demographic looking to spice up their lockers or rooms. It was a simple concept, but M3 Girl Designs was a proven success when its young 15-year-old founder walked on the "Shark Tank" set.
Along with the young CEO was her vice-president (and spunky little sister) Margot. Completing the group was the mother, Diane, who financially supported the company and assisted her daughters in expanding the business. While on the surface, the journey of M3 Girl Designs seemed to be a one-of-a-kind story, it turned out to be much more complex than any of the Sharks could've guessed.
What happened to M3 Girl Designs on Shark Tank?
M3 Girl Designs' stint on "Shark Tank" started as every other business hopeful, except for having a teenage founder heralding the pitch. The Bradshaw group entered the set seeking $300,000 for a 15% stake in their bottle cap jewelry and accessories company. While the jewelry might've seemed too niche for some, the Bradshaw's explained that their sales had reached over $5 million in five years and expanded their customer base to over 1,000 stores. Adding to their success, Maddie Bradshaw shared that she is also a successful author; little Margot gave each Shark a copy of the book, titled, "You Can Start a Business, Too!" which motivates young entrepreneurs to follow their dreams, no matter their age. 
Impressed by the success of the company so far, all of the Sharks except for Daymond John threw their hats in the ring. After a lot of negotiations and back and forth — including a handful of the Sharks offering to partner with each other — the Bradshaw's counter-offered with their choice of working with Mark Cuban, Lori Greiner, and Robert Herjavec for their desired $300,000 in exchange for a 30% stake.
Since the Sharks were dead-set on not going below 30%, the Bradshaw's settled, despite the fact it was double what was intended (they also asked Cuban for Maverick season tickets, which sweetened the deal). However, the deal never came to fruition, and the company faced many legal troubles. While the company's success seemed promising, copyright infringements prevented the deal from ever coming to life.
M3 Girl Designs after Shark Tank
The direct aftermath of M3 Girl Designs headed in the same direction as most products that appear on the show. With high demand and growing popularity, the Bradshaw family wanted to expand their production line to keep up with the orders. Besides the growing demand, M3 Girl Designs extended their products to pretty hair bows and headbands to better suit a more mature audience. However, their boost was short-lived as the company faced several legal issues in the years after.
According to court documents, legal trouble brewed between M3 Girl Designs and Blue Brownies — before the "Shark Tank" appearance. The base of the suits came from M3 Girl Designs' claim to have copyright over the bottle cap jewelry concept, which led to sending cease and desist letters to rival companies. Blue Brownies fought against the copyright claims. According to Shark Tank Blog, in 2012, four months after the "Shark Tank" episode aired, a judge and jury found M3 Girl Designs' testimonies and claims false and sided with Blue Brownies. The Sharks never finalized their deal with the company. 
Why did M3 Girl Designs go out of business?
Due to the mounting legal problems, M3 Girl Designs officially closed its doors in 2015. Besides the Blue Brownie lawsuit, M3 Girl Designs also received other cases that disputed their initial copyright claims. Since their business seemed to be booming at the time of the suits, the legal issues were likely the leading cause of the company closing in the middle of expansion. However, despite the company closing its doors, it made a substantial profit and reached $5 million in lifetime sales, according to the company on the "Shark Tank" episode.
Since June 2014, the social pages of M3 Girl Designs have remained inactive or shut down before their official close. Another critical component in their closing was the founder's age, Maddie Bradshaw. Although she was only 10 when she founded the company, she was reaching adulthood and went on to focus on other ventures and education instead. As of 2023, no remnants of M3 Girl Designs and its products are available for purchase.
What's next for M3 Girl Designs' founders?
After its closure, it seems like the M3 Girl Designs' founders quickly moved on to their next ventures. Maddie Bradshaw, who was the original creator of the company, went on to pursue a degree from Stanford University. After college, Bradshaw went on to further her education and received a master's degree in education from Harvard University.
According to Maddie Bradshaw's LinkedIn page, until November 2021, she was a design and innovation teacher at a private school in Los Angeles. After her stint in teaching, Bradshaw is now Director of Product at the artificial intelligence instruction program Inspirit AI.
While no longer a tween entrepreneur, Bradshaw's book, which she wrote before her "Shark Tank" appearance, is still available via Amazon. In contrast, no information about Margot or Diane is available. While once a bright and promising company, there are no signs that M3 Girl Designs will return in any capacity nor that Bradshaw will release a new business venture.