How Long Should You Actually Leave In A Hair Mask?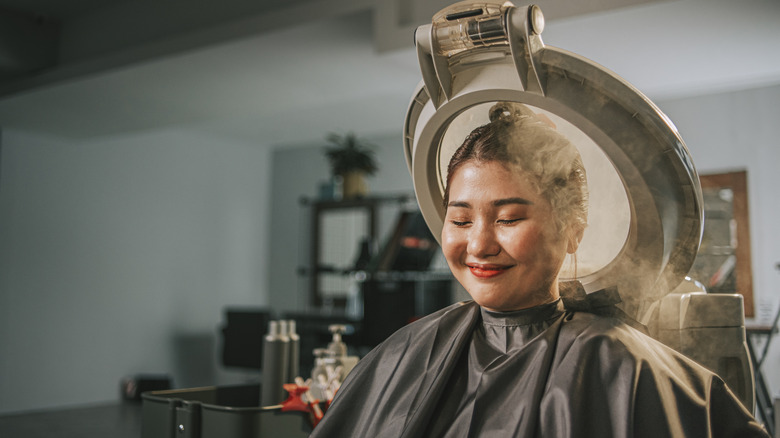 Edwin Tan/Getty Images
Who among us doesn't love a good self-care sesh? You could take our tips to start a self-care routine that'll actually work with your life, but we are willing to bet you already have a self-care routine for yourself down pat. It's also highly likely that a long-drawn out haircare routine involving a hair mask of some sort is part of it. When it comes to hair masks, it may be tempting to keep them on while you pursue other tasks, or even sleep with them in your hair — but this isn't necessarily good for your tresses.
"Leaving a mask in too long may result in residue build-up, over-conditioning, weakened hair, and irritation or sensitivity," trichologist Dr. Isfahan Chambers Harris tells Well+Good. "Most of the benefit is achieved within the recommended time frame," Linda C. Folis, the vice president of research and development at haircare brand Function of Beauty, tells Mane Addicts. "The good news is there's no downside to leaving the mask on a little longer if you lose track of time ... However, I wouldn't recommend leaving a mask on overnight if the formulation has not been designed to do so, as it may prove irritating if applied near the scalp."
What happens when you wear a hair mask for too long?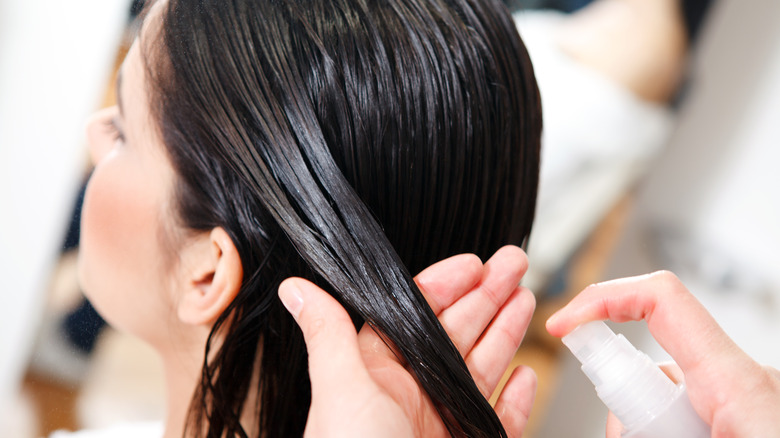 Aleksandarnakic/Getty Images
Instructions are provided on products for a reason — to encourage the user to use the product as intended and reap its maximum benefits in the process. For hair masks, in particular, timing is determined by the type of the product as well as the type of your hair.
According to the website, Hair Romance, people with damaged hair most often turn towards protein masks. However, it's important to not leave them on for longer than necessary, as over-exposure to protein can leave the hair brittle and prone to breakage. Dr. Chambers Harris told Well+Good, "The negative effects are protein overload, which can make hair overly rigid, brittle, and prone to breakage, and also product buildup."
Moisturizing hair masks are easier to leave on for longer, but even they shouldn't be overused. "This creates an imbalance between protein and moisture in your locks, which can weaken and damage your strands," Andrew Fitzsimons, celebrity hairstylist, told Well+Good. Additionally, leaving glazes and glosses on for too long can result in uneven coloring.
Can you leave certain hair masks on for longer?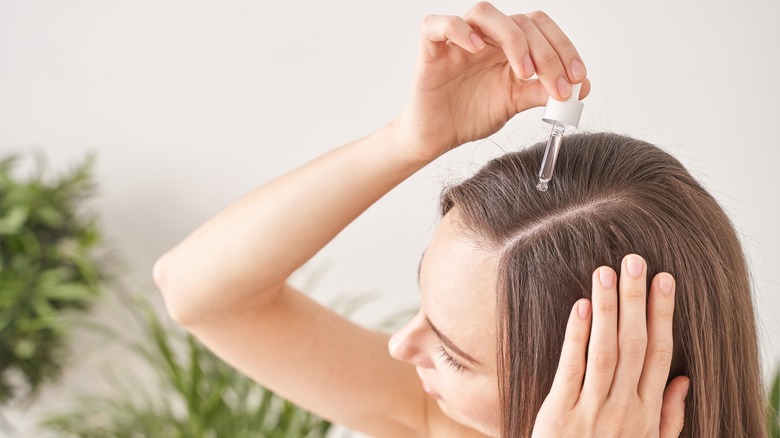 elenavolf/Shutterstock
Fortunately, not every kind of hair mask requires as much vigilance. Natural hair masks can be made from ingredients at home, such as coconut oil, Argan oil (if you want strong, shiny hair), and other hair safe oils. These easy conditioning treatments can be kept on for longer periods of time. Further, the results of bond restoring treatments like Olaplex are also more enhanced when they are kept on for longer periods of time.
Jean Louis David points out that no matter the hair mask, the hair is saturated and cannot absorb extra benefits of any kind after 30 minutes. However, some situations will vary depending on your hair type. For example, if you have normal, healthy hair, just 5-10 minutes of wearing a hair mask is enough. If you have damaged hair that is dry and brittle, you could leave the hair mask on for longer — 20 to 30 minutes could be enough.