Clothing Colors To Avoid Pairing With A Classic Red Lip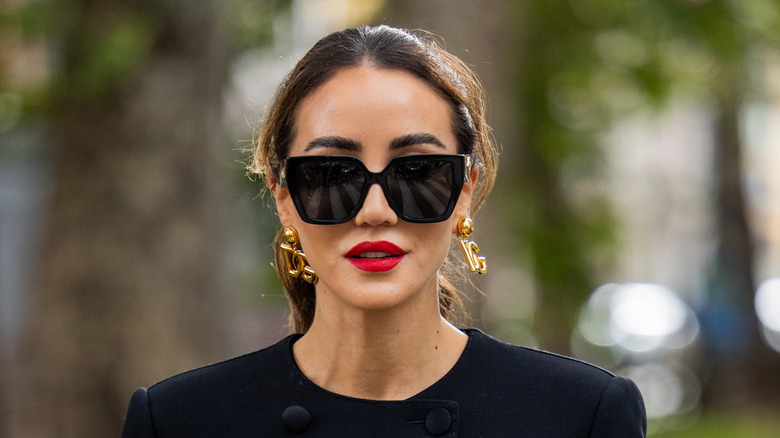 Christian Vierig/Getty Images
We always enjoy rocking red lipstick, as red lips attract more attention than more subtle lip product options. However, even though red lipstick is a forever favorite, you still have to pay attention to what you wear with it, as the right outfits can make you look even hotter, while pairing clothing colors that don't look good with red lipstick will take away from the alluring effect.
For instance, try not to wear clashing, distracting colors with your red lipstick. While some bold colors — such as blue — can draw attention to the red lip for an enhancing appearance, wearing an overly contrasty hue like green isn't a good idea. Moreover, wearing a different shade of red from your red lipstick is arguably even worse.
The best advice we can give when pairing red lipstick with your fashion is to not distract from — or even ruin — your beautiful red lip look by wearing clothing that doesn't work with the timeless red lips. All in all, neutral hues are likely your best bet. 
Green clothes with red lips are more festive than fashionable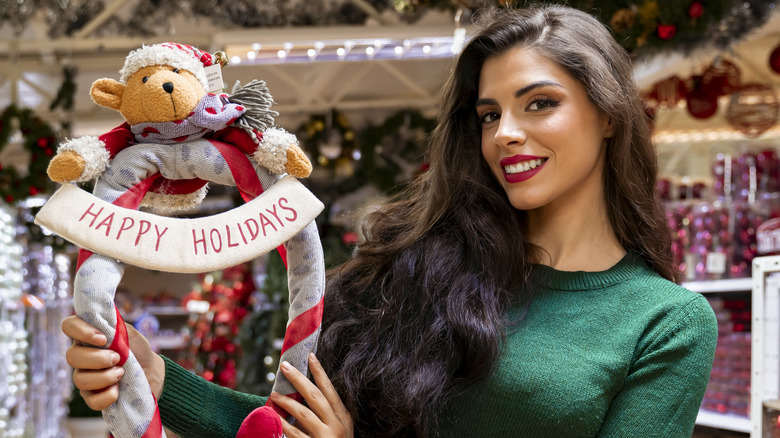 Phoenixns/Getty Images
Usually, wearing red and green together reminds everyone of the holidays. So, when we see red lipstick and green clothes, our minds flash to hot chocolate, presents, and holly — not models, sex appeal, or fashion. There's even some history behind this color psychology. "Holly has played a huge part in this red and green association. And it dates back to winter solstice celebrations with the Romans, and maybe beyond ... just those beautiful bright red berries and those deep green leaves are the exact colors that we really come to think about when we think about Christmas," Arielle Eckstut, co-author of "Secret Language of Color," told NPR.
Thus, if you want to exude holiday cheer in December by pairing a red lip with a green outfit, you'll bring festive vibes, but if that's not your intention, we don't recommend wearing green with a classic red lip any other time. The green will take the attention away from your red lips and possibly even prevent people from taking you seriously.
For those times when you want to ditch the neutral tones and go for a more high-contrast look via a color-blocking effect, wear blue clothing with red lipstick instead of green. Red and blue are both primary hues, so they'll balance each other better, drawing attention to both the lipstick and the outfit — especially if the red lipstick has a blue undertone. For example, TikToker @nette6h posted a video wearing red lips with a royal blue dress, and the combination was perfect.
Wearing a different shade of red than your red lipstick never goes well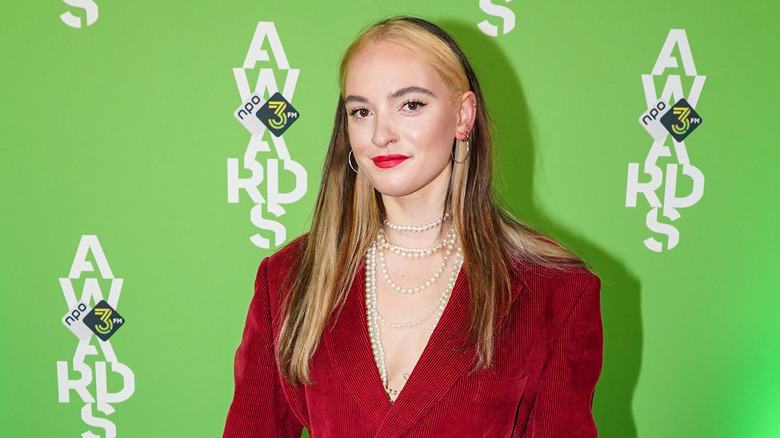 Bsr Agency/Getty Images
Believe it or not, wearing red clothing with red lipstick can look even worse than green clothes and red lips. Of course, a red lipstick that matches your red outfit is a stunning, coordinated statement look that will never be out of style. However, don't assume that just because your garment is red, it will look good with your red lipstick — the two reds have to be the same shade, or the overall look can appear sloppy and mismatched. For instance, don't try to wear a burgundy dress with neon red lipstick (and vice versa). Mixing such different variations of red in one look will appear too overwhelming, ruining your ensemble.
If you realize that your red clothes don't match your red lipstick, but you want to wear a warm or bright hue with the red lip, don't panic. Instead, reach for a pink or orange garment, as these hues will complement and accentuate the red lips rather than make it look like you can't identify the different types of red. For example, TikToker Jordyn Thompson posted a video flaunting a super girly look featuring a light pink sweater that made her red lipstick pop. Furthermore, red and orange are similar yet different enough that pairing an orange outfit with red lipstick will make the difference in hue appear intentional for subtle contrast rather than sloppy.