Keep Your Lip Liner In Place With TikTok's Easy Setting Powder Hack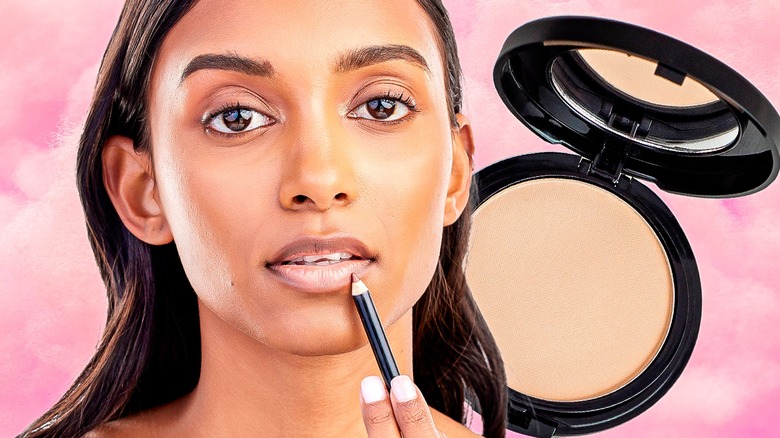 Static Media/Shutterstock
We may receive a commission on purchases made from links.
Sporting smudged lip liner is never a good look. Fortunately, there's a hack for that. TikToker Yara posted a genius tutorial to keep your lip liner in place all day long. In her TikTok video, which has amassed close to a million views, Yara uses a setting powder before and after applying lip liner to keep the product from moving. Influencer Anastazia Dupee even reposted the original video to put the hack to the test. According to Anastazia, who has over a million followers, the hack prolonged the wear of her liner six hours later, and she only observed minor fading following an evening of dinner and drinks.
"This specific lip hack is super popular because it helps to ensure your lip color is long-lasting. The setting powder helps to absorb any excess shine and creates a smooth, dry canvas for lip products to adhere to. This gives you maximum color payoff, longer wearability, and helps to prevent any movement or slipping of your lip products," Talia Cich, Executive Director, Global Education, and Pro Artist at Anastasia Beverly Hills Talia, explained to Byrdie. To prevent your lip liner and color from fading, follow these two simple steps.
Prep with powder
Before applying powder to your lips, it's important to start with a smooth canvas. Using powder on dry, chapped lips will highlight the cracks, so prepare your puckers by exfoliating to remove any dead skin cells. Follow up with a hydrating lip balm to keep your lips moisturized. If you have time, consider applying a lip mask and leaving it on for several minutes while you complete the rest of your makeup.
Once your lips feel smooth, take a small, fluffy powder brush and lightly dab your preferred translucent setting powder along the edges of your lips. If you don't have a powder brush, a clean eyeshadow brush or sponge will also work, as long as it's dry and clean. You want to avoid using too much setting powder on the lips, so tap your brush against the lid or the back of your hand to remove the excess product first.
Set your liner
Next, apply your lip liner as usual. You can use the warmth of your finger to gently blend in the sharp lines, as Yara does in her TikTok video. Yara also pointed out the products she applies in the comment section for those who want to recreate her look. She uses Morphe's Lip Pencil in the shade Sugar Pie.
Once you've applied your desired lip liner, move in with another subtle application of powder to fully set the liner. Lastly, swipe on your favorite lipstick or lip gloss. Yara uses Clinique's universally popular Almost Lipstick in Black Honey. If you prefer a matte lipstick, feel free to take it a step further and apply an additional smattering of powder to help your color last from day to night.
In Anastazia Dupee's repost, she only applies powder once—before lip liner—and it still manages to last throughout the day. So, this hack still works even if you skip the second application. Though, if you stick to a single application, use a generous amount of powder and take the time to blend it out for a seamless look, as Anastazia does.