Add Potatoes To Your Skincare Routine To See Brighter Skin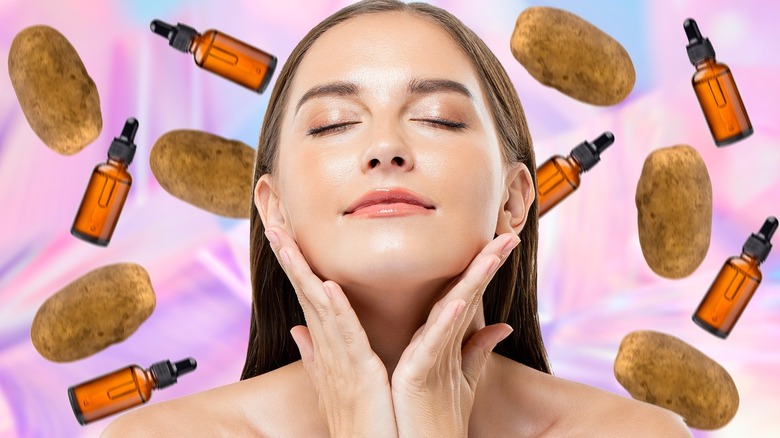 Static Media / Shutterstock
Are you an avid DIYer? Do you enjoy rummaging through your kitchen to recreate at-home beauty hacks for the purpose of improving your skincare and haircare regime? If so, you've likely heard of the trend doing rounds on TikTok: adding potatoes to your skincare routine to see brighter skin.
"Potato pulp is basically blended or grated potatoes. It's an extremely hydrating ingredient because potatoes contain a very high water content. Potato pulp in skin care can help to calm inflamed and irritated skin because it contains natural enzymes that help to reduce inflammation," Dr. Dustin Portela of Treasure Valley Dermatology and Skin Cancer Center tells Well + Good. The vitamin C content in potato pulp also makes it a brightening agent for the skin, according to him.
Board-certified dermatopathologist Dr. Gretchen Frieling shares other advantages of potatoes in skincare with Byrdie, saying, "[potato] starches soothe inflammation and absorb oil." Their vitamin C content, according to her, helps lessen the chance of dark spots appearing after a pimple has healed. Frieling also adds that the enzyme known as catecholase, which potatoes contain, is believed to contribute to the brightening of the skin and elimination of dark spots from the face (if you want to know what causes discoloration in darker skin tones, we have you covered).
How to add potatoes to your skincare routine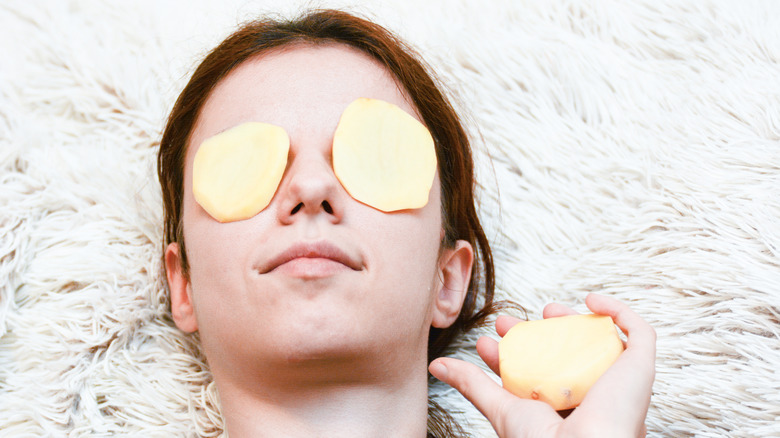 kitzzeh/Shutterstock
If you plan to apply the potato directly to your skin, Dr. Gretchen Frieling outlines certain things to keep in mind when doing so. While speaking to Byrdie, she stresses washing the potato before peeling it. "Then, peel the skin off entirely. Without wiping or rinsing the potato (the starchy juice is what's valuable!), cut the potato in half-inch-thick round slices. Prep the skin by cleansing it as you usually would, and patch-test the potato on the inside of your forearm. Take a slice of potato and start massaging it into the skin, rubbing it in circular motions all over the face. Leave for 10 minutes. If you feel stinging or itching, wash it off right away."
You could also draw out the potato's juice and apply it directly onto the skin, which should be washed off after 5-10 minutes, as per the team at St. Botanica. To simplify, you could also invest in a product that relies on potato peel extract as its main ingredient, such as the Beekman 1802 Potato Peel.
Potatoes can also be paired with other ingredients to create DIY face packs. Potato juice, for example, can be mixed with aloe vera gel to combat dark circles, lemon juice to fight pigmentation, turmeric to fight dark spots, or neem powder and gram flour to keep acne at bay.
Things to keep in mind before experimenting with potatoes on your skin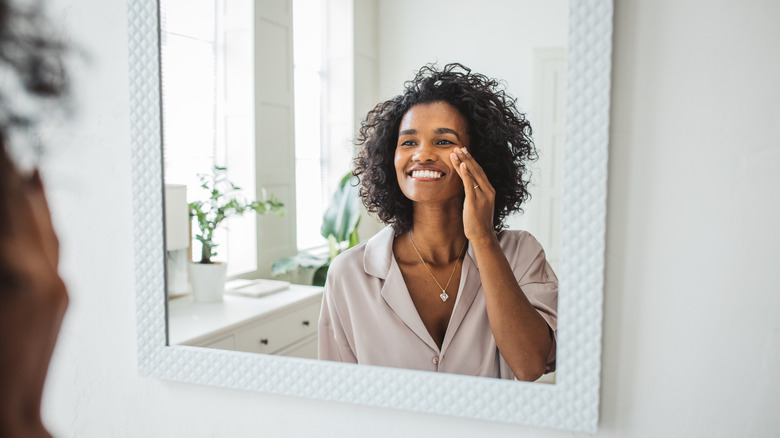 Svetikd/Getty Images
It's all very well to follow TikTok trends and the advice of a few dermatologists, but one can only ascertain the proper and long-term results of any skincare trend through thorough research. The experts at Healthline, for instance, are wary of the potatoes as a skincare trend, asserting that most of the positive results are unreliable and there has been no significant research published on the effects of potatoes on human skin.
One 2013 study published in the Life Sciences journal noted the effects of potatoes on mice, concluding that potatoes did indeed seem to have anti-inflammatory benefits. However, this information has not been tested on humans.
Interestingly, a 1999 study published in The Journal of Allergy and Clinical Immunology highlighted that potential sensitivities to potatoes may occur due to the presence of a binding protein called patatin. The presence of patatin is also what causes latex allergies, according to Healthline. While speaking to Byrdie, Dr. Gretchen Frieling connects the two, "Patatin is a major cause of potato allergy. So, if you have a known allergy to latex, do not use raw potatoes on your skin."
If you are still keen to try potatoes as skincare, go ahead by all means, but do so with the knowledge that it may or may not work for you.