Is Skin Purging A Good Thing? A Dermatologist Breaks Down The Skincare Reaction For Us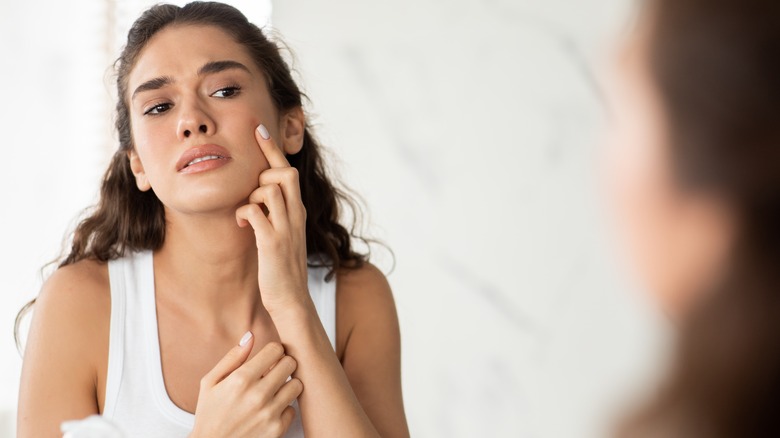 Prostock-studio/Shutterstock
The Oxford English Dictionary describes the meaning of the word "purge" as "to remove by a cleansing or purifying operation." When considered in the context of one's skin, a purge would then signify the removal of toxins as a precursor to achieving healthy skin. This could take place in the form of acne, dehydrated skin, or simply through blemishes. So, for example, if you suffer from breakouts after a facial, it's normal.
In an exclusive conversation with Glam, Dr. Jonathan Bielfield, a board-certified dermatologist at Westlake Dermatology, explained, "New acne treatments can take several months to see improvement. Furthermore, it is not uncommon for acne to flare (purge) at the onset of treatment." And if you're wondering which products can cause skin purging, Dr. Bielfield has you covered. "Topical products such as retinols and retinoids can cause this to happen," he told us. "Retinoids are derivatives of vitamin A. They decrease the 'stickiness' of the skin cells.'" 
Once this happens, the dead skin is shed at a much faster rate than would otherwise have happened. "Subsequently, the pores are 'cleaned out.' This is what can cause the purging effect," Dr. Bielfield added. Naturally, this movement of the skin's impurities leads to breakouts, but is this purging actually a good thing despite the sudden breakouts? Dr. Bielfield thinks so.
Is skin purging safe, and how long does it last?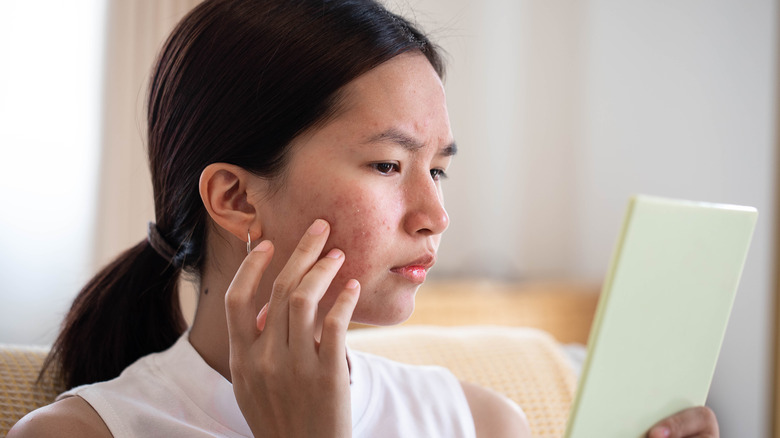 Arisara_tongdonnoi/Getty Images
Skin purging often appears on the skin in the form of either blemishes or extreme dryness where the skin peels. Some of these signs are similar to what happens when you have a typical breakout. In this case, it helps to know if you're reacting to a product or if your treatment is on the right track, with the purge only presenting a temporary setback in the latter's case.
If you're just beginning to use a new skincare routine or even a single new product, it's more likely that you're experiencing skin purging rather than a random breakout. And the good news is that this is — perhaps surprisingly — healthy for you. "This is actually a good thing because your skin cells are being reprogrammed to form clear skin," Dr. Jonathan Bielfield exclusively told Glam. What's more, skin purging is only temporary; you just need to give your skin enough time to acclimate to the new product(s) you're using. "This typically lasts four to six weeks and then resolves," Dr. Bielfield explained. Easy enough, if you ask us.
What are other skincare ingredients that can cause skin purging?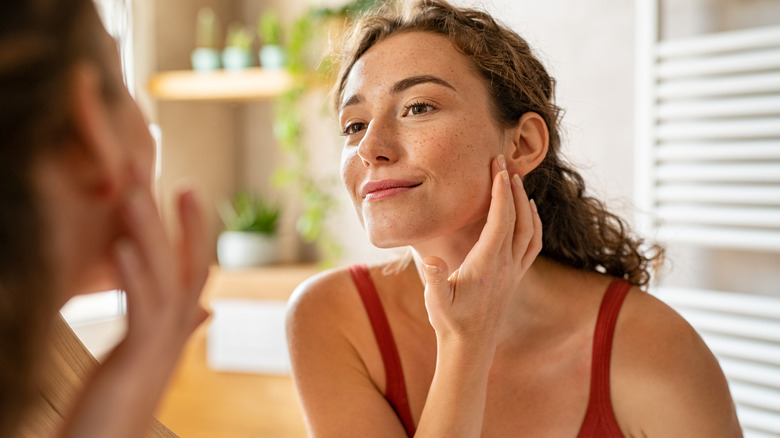 Ground Picture/Shutterstock
To know whether your skin is purging or if you're breaking out, you should check for any skin peeling happening at the same time as your breakout, according to a blog post from dermatologist James E. Fulton on Vivant Skincare's site. This helps it to heal and disappear much faster than an ordinary breakout. The blog also shares that if you see raw, red skin that's inflamed or painful, you should stop using the product because it's a negative reaction to it.
In addition to retinoids, purges happen more often when products containing glycolic acid (an AHA), salicylic acid (a BHA), and vitamin C, are introduced to your skincare regime. Conversely, breakouts caused by general acne often last longer and are linked to stress and dietary and hormonal changes. Still, it's important to remember that "individual responses to treatment will vary," as Dr. Jonathan Bielfield exclusively told Glam. "If it is [a] mild flare, no further treatment is necessary," he added, but "if the reaction is severe or bothersome, you should reach out to your dermatologist for further treatment options." His final piece of advice? "Talk to your dermatologist before starting out with a new regimen."
Ultimately, if you're prone to breakouts, you're more likely to face a skin purge with the introduction of new products, as the problem already exists beneath the surface. However, don't be too disheartened if you see skin purge-related breakouts form — after all, things may look worse, but they're about to be a whole lot better!