7 Times Celebrities Proved That Wearing Skirts Over Pants Is Back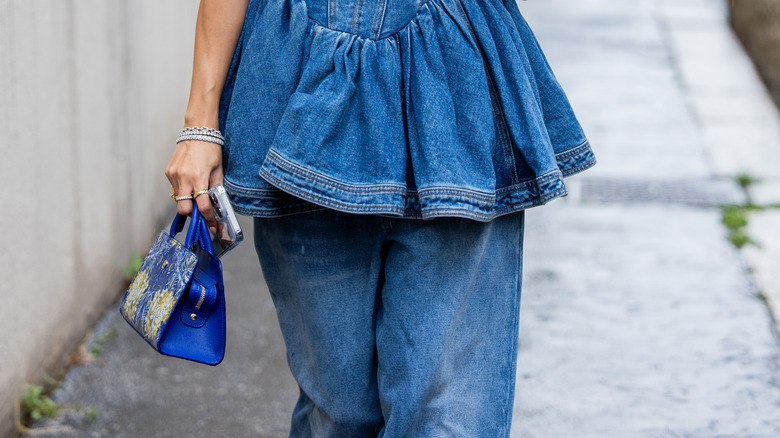 Christian Vierig/Getty Images
The early 2000s were a time of pop culture phenomena — boy bands, Juicy Couture sweats, and celebrities wearing skirts over pants. Back then, you couldn't walk a red carpet without seeing Ashley Tisdale or Miley Cyrus rocking a flowy dress layered over flared jeans. As with all trends, that look died down — until it resurfaced again. This time, the combo is less Wet Seal and more runway chic, and celebrities are putting their own twist on it.
Instead of sparkly skirts or slip dresses on top of faded jeans, stars are elevating this trend with more fluid pieces that look like they were meant to be worn together. They're also playing around with different silhouettes and textures, with some fitted combos and others loose and layered. Although this is one trend that we hoped would never return, we have to say that this time around, it's actually an interesting take. Whether you're cringing on the inside or loving that Y2K fashion has made a comeback, celebs are fully embracing the skirts-over-pants look and we're all for it.
1. Hailee Steinfeld paired an elegant dress with black pants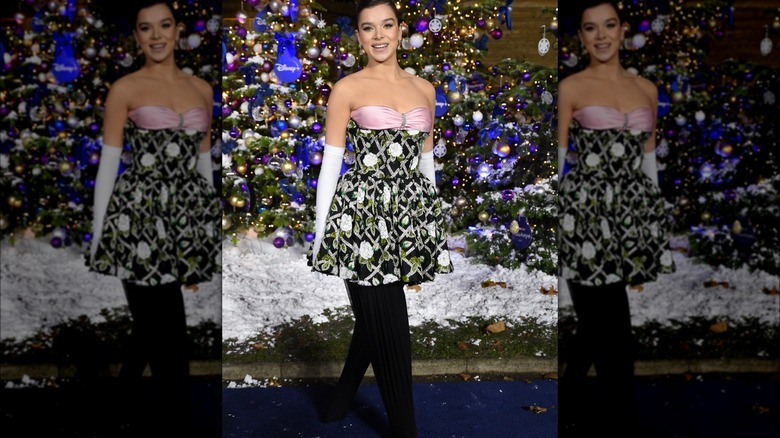 Karwai Tang/Getty Images
Hailee Steinfeld has experimented with various fashion looks, and this combination of a cocktail dress over black pants is both innovative and daring. The photo, with a lit tree and snow in the background, suggests that it was taken in winter, making the decision to cover her legs a smart choice. The addition of white gloves incorporates a touch of elegance. Although the pants could have been more fitted, they blend in seamlessly, allowing her floral dress to take center stage.
2. Katie Holmes channeled her Dawson's Creek era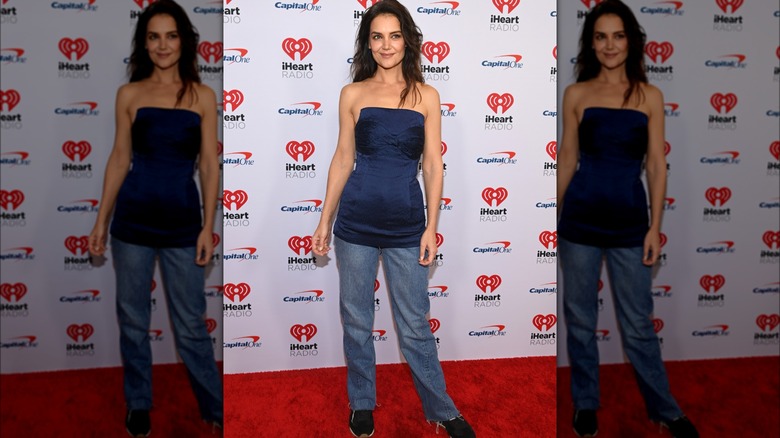 Dave Kotinsky/Getty Images
This pic looks like it was taken in the early 2000s, except it's from 2022. Katie Holmes was one of the early aughts' sweethearts, and perhaps she was feeling some nostalgia when she put her dress and jeans combo together. Chic and casual at the same time? We think Pacey would have loved it.
3. Olivia Palermo got loose and flowy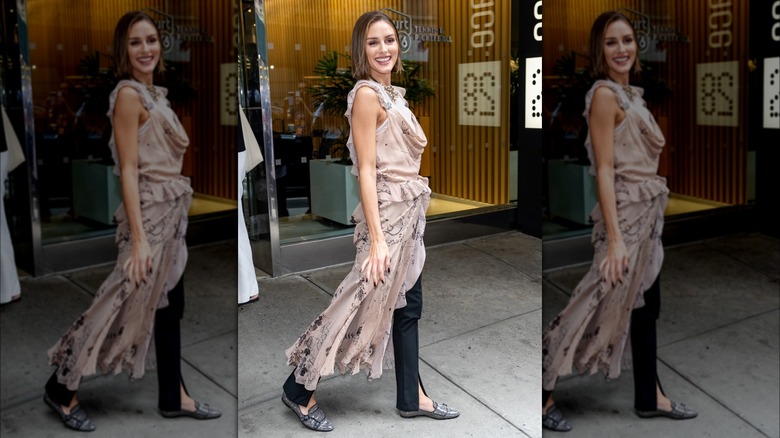 Gilbert Carrasquillo/Getty Images
Olivia Palermo is one of the biggest fashion influencers, and if she's hopping on the dress-over-pants look, the trend is definitely happening. The socialite paired an elegant, flowy dusky pink dress over black slim-fitted tailored trousers and gray slip-on loafers. It's the perfect 'fit for walking the streets of New York City and browsing around Bergdorf's after having brunch with friends.
4. Billie Eilish rocked a very layered look
If you don't know what to wear, take a cue from Billie Eilish and just throw on everything in your closet. Top off the look by adding a skirt over your pants, and your outfit is complete. We're loving this star-patterned skirt with a silver chain that looks like an awesome flea market find.
5. Shakira elevated a simple black skirt and pants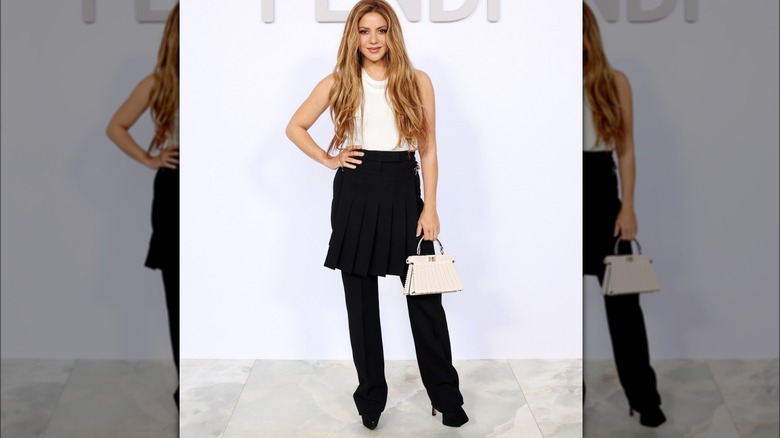 Daniele Venturelli/Getty Images
A black skirt or pants on their own are boring, but when paired together like Shakira, they instantly look chic. If you're on the petite side like the "Waka Waka" singer, a pair of platform black heels adds length to your legs. A sleeveless white sweater is the perfect touch for a fall or winter outfit.
6. Emma Stone shined in Chanel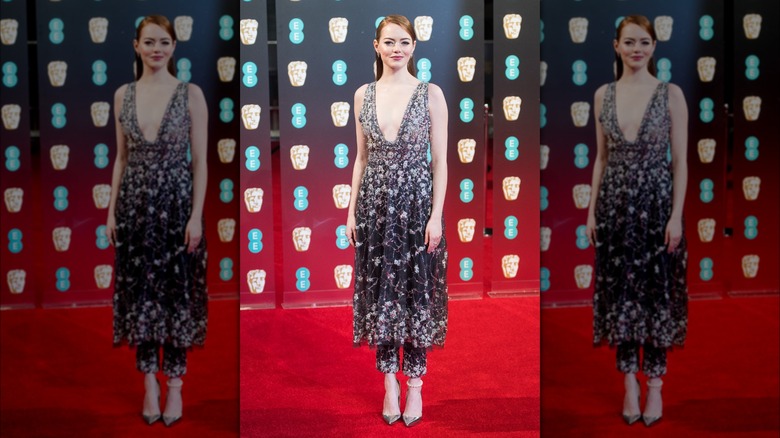 Samir Hussein/Getty Images
Has Emma Stone ever had a miss when it comes to fashion? Whether she uses a stylist or simply has great taste, her red carpet embellished dress and pants combo is jaw-dropping. The Chanel dress could have shone on its own, but the matching pants add another layer of oomph. The pearl anklet is just chef's kiss.
7. Emma Watson's floral dress over black pants is a perfect White House outfit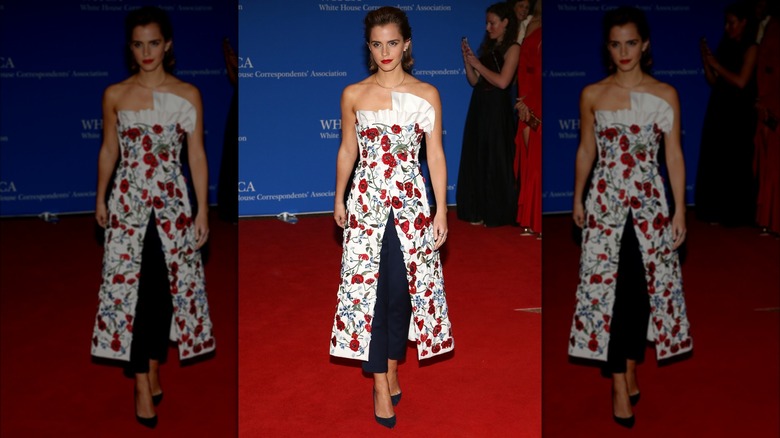 Paul Morigi/Getty Images
The White House Correspondents' Dinner is an important event honoring important individuals, but let's not pretend we don't love it for the fashion. Emma Watson wore this darling floral strapless dress with a front slit that would have been overly revealing to wear in front of the president, but these slim black pants were the perfect solution.