Preppy Plaid Nails Are The Manicure Trend Taking Over Fall 2023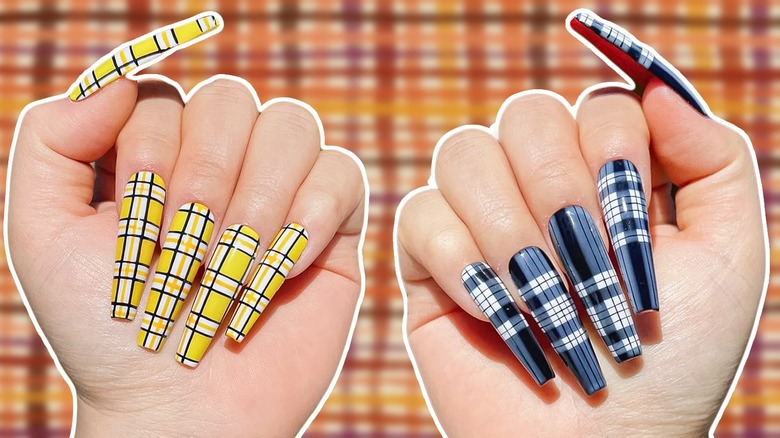 Static Media / Shutterstock
A plaid pattern isn't just for clothing anymore; it's now a must-have for your nails too. As the fall season begins, it's time to bring cozy and preppy vibes everywhere, not just in your fashion choices. The latest manicure trend involves incorporating a plaid design that will make your nails the star of your look. While many popular fall nail options tend to lean towards neutrals and earthy tones, the preppy nail trend allows you to add some color to your autumn style.
With celebrities like Dua Lipa also being fans of the plaid manicure, it's no wonder why this pattern has become the hottest new trend of the season. Although plaid is recognizable and common, there are many ways to remix it and create a unique manicure set. From statement additions to unique color combinations, plaid nails are perfect for those who want a trend that allows for a little more personalization. So, even if you don't own plaid mini skirts or polo shirts, you can still embrace a chic and preppy fall look with plaid manicures.
Part of a cozy set
Fall is the season for all things cozy, warm, and fuzzy. Incorporate the plaid pattern into your festive season with a comfortable manicure set that will highlight the cozy details of autumn. Other accents, such as cable-knit nails or warm hues, can be combined to create an excellent set that captures all the details of fall.
Feminine hues
Plaid patterns come in various shapes and colors. Use this nail trend as an opportunity to showcase combinations that can add a touch of girlishness to this preppy pattern. In 2023, we witnessed the rise of the color pink, making it the perfect time to revive this trend for the fall. Other softer shades such as blues and purples also make excellent choices for bringing a feminine element to your manicure.
Retro plaid
The plaid pattern has a rich history of being a retro print with colorful accents that create a unique nostalgic vibe. Hues of orange, red, yellow, and blue are old-school color combinations that can help give your manicure a '70s flair. While the fall season is typically associated with coats and boots, adding some retro touches to your overall look will give you a distinct style.
Tartan nails
Tartan is a plaid print that consists of overlapping squares throughout. While similar, tartan offers more contrast due to its overlapping characteristics. Fashion brands like Vivienne Westwood have incorporated tartan as an edgy pattern in their looks. You can bring this same rebellious spirit inspired by Vivienne Westwood to your preppy nails with a tartan design that adds a more magnetic punch.
Autumn plaid
Since the preppy plaid nails trend is a must-have for the fall season, it's only fitting to infuse some fall colors into your set. Stick with earthy tones like orange, green, and brown for an autumn-inspired look. While this option is primarily seasonal, it indeed celebrates falls colors in a chic way.
Burberry effect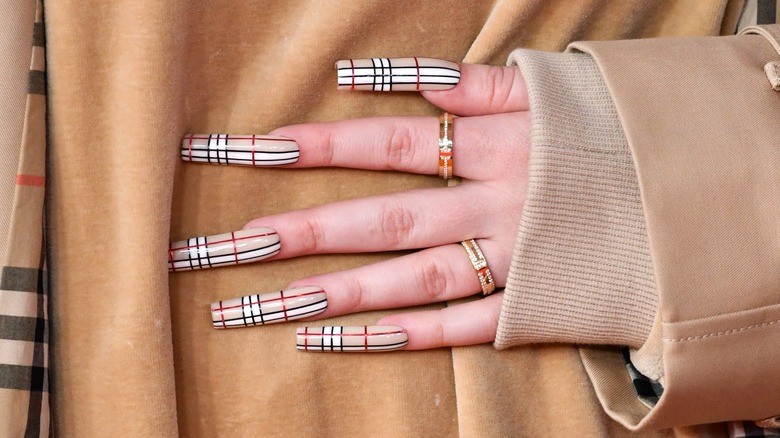 Gareth Cattermole/Getty Images
If there is one brand that has fully embraced the plaid print, it is Burberry. The iconic Burberry plaid is known for its elegance and sophistication. It is the ideal design for creating high-fashion nails that will be instantly recognized. Billie Eilish sported Burberry printed nails as part of her head-to-toe Burberry look at the 2020 BRIT Awards, solidifying its status as a chic design.
Ultra-long plaid nails
While experimenting with nail trends can be enjoyable, it can be disappointing when they don't work well with all nail shapes and lengths. Although printed nails are a timeless choice, they can be paired with any modern option that suits your nails. You can rock your favorite plaid design with shorter lengths, or make a bold statement with longer sizes that highlight the design. The possibilities for plaid nails this fall are endless.