Rain Boots Are Getting A Major Fashionable Upgrade This Fall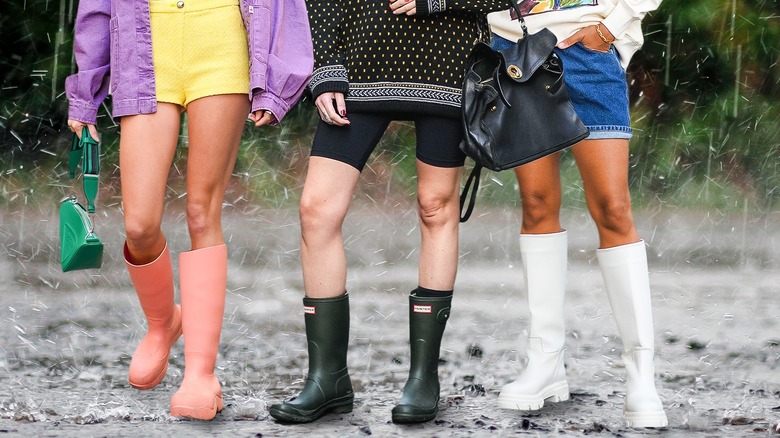 Static Media / Shutterstock / Getty
The thought of looming cold weather is enough to make anyone want to hibernate until spring, but remembering it's boot weather gives us a little pep in our step. With fall comes the inevitable switching of footgear — and we're not mad about it. It's nice to trade our summer sandals for trendy combats, knee-high boots, and ankle-length platforms.
Advertisement
The one style of cold-weather footwear that doesn't usually get any love is the rain boot, a type of shoe that every woman should have in their closet. Purely worn for functional reasons, rain boots are usually boring and hum-drum. The classic styles are timeless and versatile, but they're still plain ole rain boots. However, this season, take things up a notch by trying out some different versions of rain boots, as designers have come a long way in creating fashion-forward raingear. From combat-style ones to Barbie-pink knee-high Wellingtons, there's such a wide range of rain boot styles, we bet you'll be wishing for a rainy day.
Bright-colored rain boots brighten any gloomy day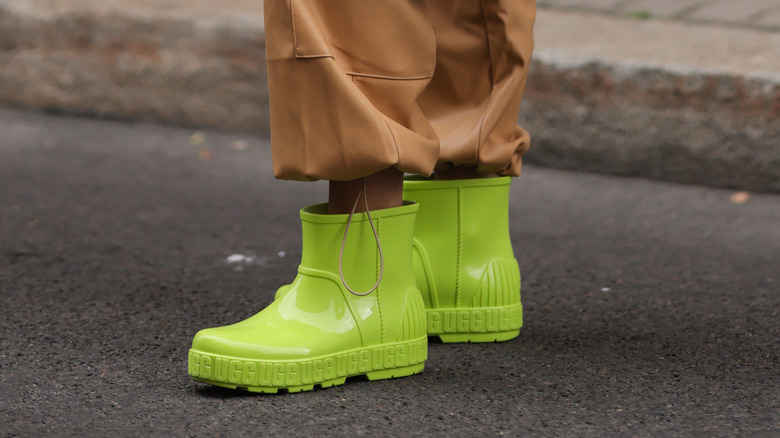 Jeremy Moeller/Getty Images
How adorbs are these lime green ankle booties? These are so irresistibly cheerful we'd be tempted to wear them even on a sunny day. Style these rain boots by tucking in trendy stirrup pants, or wear them with loose-fitting harem pants hiked up at the ankles like the fashionista pictured above. Neutral clothing will really make this bright green color pop.
Advertisement
Plum is the fall shade to fall for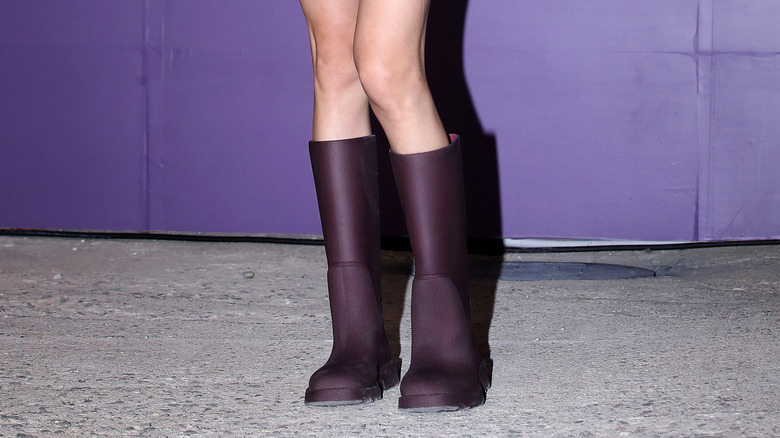 Han Myung-gu/Getty Images
A dusky purple hue is a color that looks good on everyone, and you can match your purple chrome fall nails with rain boots in the same shade. The matte finish gives this pair a sophisticated feel, while the texture on the lower half adds an interesting twist. Chunky heels add height without compromising the slip factor on wet ground.
Advertisement
Neutral rain boots go with any outfit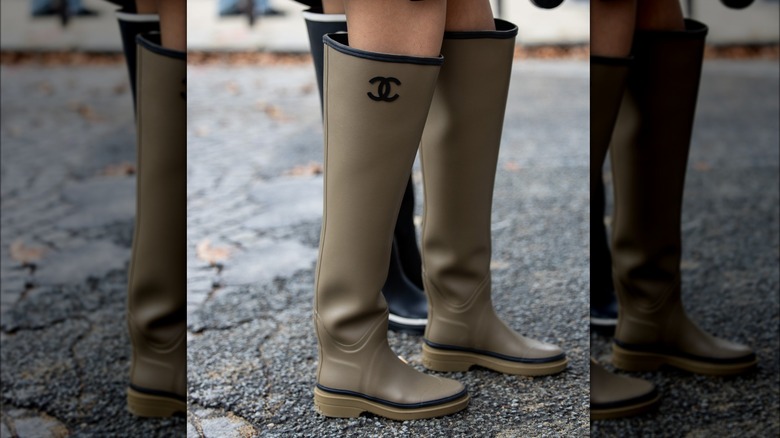 Christian Vierig/Getty Images
You'll always look chic in Chanel, and these taupe rain boots whisper elegance. When in doubt about what color to wear, always choose a neutral tone. Taupe is a shade that goes with almost any color and looks good mixed with other warm neutral shades such as sage green, caramel, and pumpkin — the perfect recipe for fall!
Advertisement
Bubblegum pink gives off Barbiecore vibes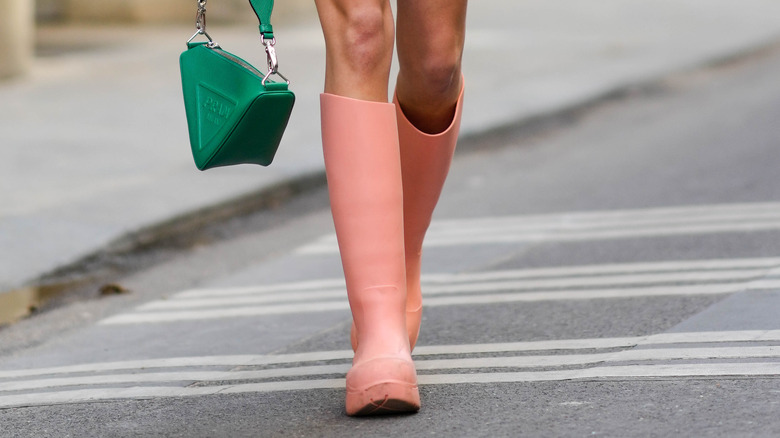 Edward Berthelot/Getty Images
We're not ready for the Barbie trend to go away, and pink rain boots are the perfect way to keep this train running. The hit movie was released in the summer, but many people are still rocking bright pink. This muted bubblegum shade is the perfect transition to fall, especially when paired with contrasting colors like jade green.
Advertisement
Black combat rain boots toughen you up for torrential weather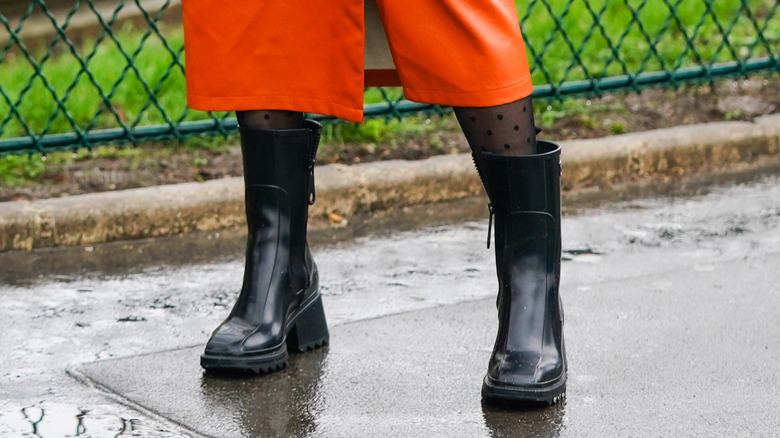 Edward Berthelot/Getty Images
Combat boots have been trending for a while now and are so versatile, they can be styled with almost any outfit. We love this rain boot take. Rather than shoelaces, this pair has zippers on the inner ankles to make them more waterproof. Chunky soles give them a nostalgic '90s vibe, which is a great throwback to the days when combat boots were huge.
Advertisement
Red soles spice up basic black rain boots
Black rain boots don't have to be boring, not when they can come complete with bright red soles! With a color combo this bold, keep the rest of your outfit neutral, such as the gray checkered pants pictured in the photo. Slim-fitting pants are best with ankle boots, as they can be tucked in and remain damp-free in rainy weather.
Advertisement
White rain boots make you want to go-go back to the '60s
It may be counterintuitive to wear white boots in rainy weather, but we think this pair is too good to keep in our closets. The white color and knee-high style are reminiscent of the go-go boots made popular in the mod era, but the chunky heels give them a contemporary feel. This pair is so stylish it hardly looks like weather gear and can be worn rain or shine.
Advertisement