Sequin Skirts Are The Most Surprisingly Versatile Trend For Fall 2023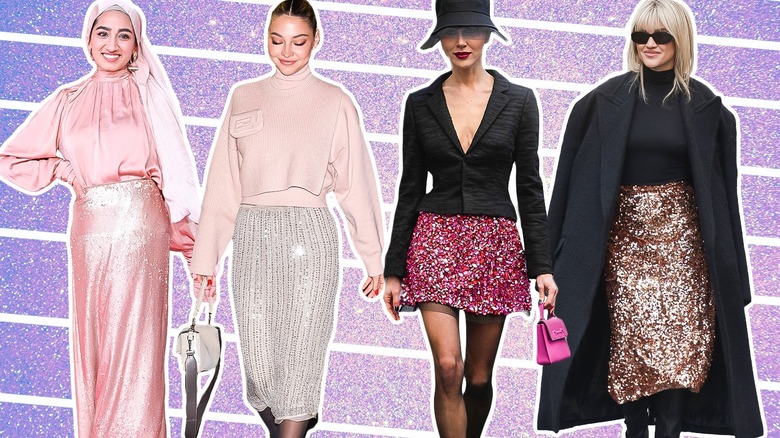 Static Media / Shutterstock / Getty
Although sequins are often associated with nights out and party outfits, they have become a surprisingly versatile style element for fall 2023. With more trends embracing the idea of wearing fun and fancy pieces in the daylight hours, adding sequins to your rotation is a no-brainer. Sequined tops and dresses create an illusion of fun and boldness, making them an enticing option whether you're running errands or going out for brunch with friends.
Sequin skirts, unlike more traditional sequined pieces, are now a viable choice for those wanting to spice up their fall 2023 wardrobe. Designers like Michael Kors have showcased sequin skirts in their runway collections, pairing them with basic tops to create a look that can transition from day to night. Instead of reserving your best skirts for special occasions, why not wear them whenever you want this fall? To style these glamorous pieces, it's important to balance them out with casual items that can dress them down, depending on the occasion. While you can always dress them up for evening looks, sequin skirts offer the flexibility to be chic and fun throughout the entire fall season — no matter the time of day.
Miniskirt fun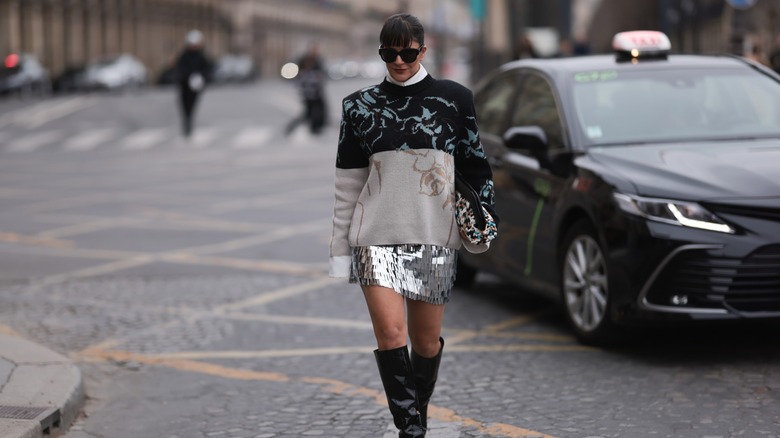 Jeremy Moeller/Getty Images
Wearing sequined miniskirts in the fall may not be your initial choice, especially during colder weather, but they can still be a viable option with a few adjustments. To add extra warmth and comfort, consider wearing plain-colored or skin-toned tights underneath your sequined miniskirts. This way, you can let the sequined material shine throughout the day. A sparkly piece is a great way to brighten up gloomy weather.
Sheer sequined skirts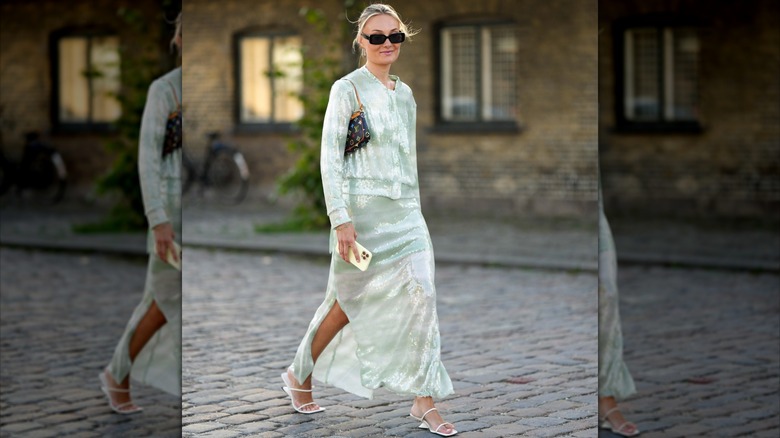 Edward Berthelot/Getty Images
Sheer clothing has become increasingly popular in 2023, and this trend continues into the fall season. To add some nighttime flair to your daytime outfits, consider wearing a sheer skirt with sequined accents. This will elevate your wardrobe and make a statement. For a balanced look, pair the skirt with a simple tee, creating an ensemble that can be worn anywhere.
Patterened sequins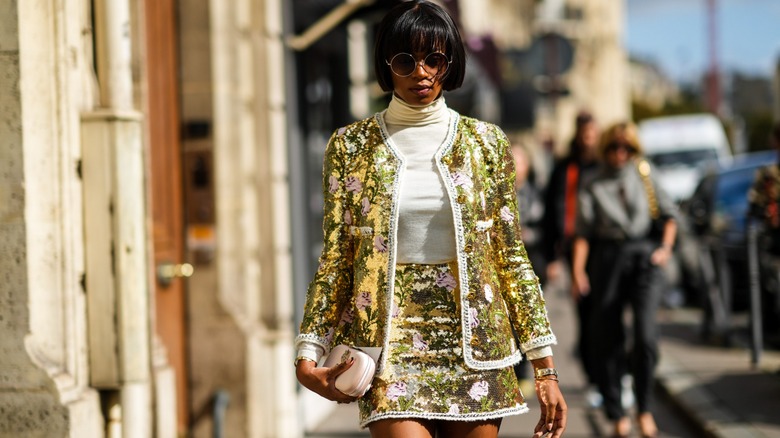 Edward Berthelot/Getty Images
Although sequins already make quite a statement on their own, adding patterns to them can up the wow factor. Patterned sequined skirts are not just limited to chic holiday outfits; they can also create a high-fashion look for even the most mundane outing. Take inspiration from Louis Vuitton, which once paired a patterned sequined skirt with a fall jacket for a stylish and wearable look any day of the week.
Prominent paillettes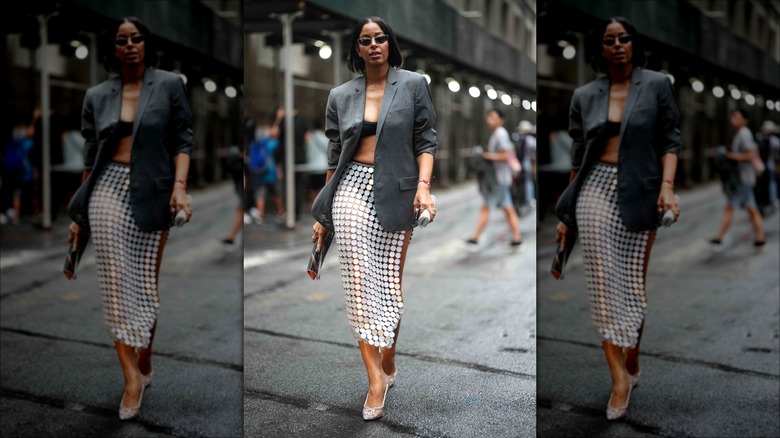 Edward Berthelot/Getty Images
No matter the occasion, paillettes are some of the chicest accents you can add. These large metallic circles give your sequined skirts an extra 3D aspect that moves and feels like a party. While many will remember paillettes as part of those iconic 2000s bags, they are still an excellent material for all your skirts. Pair them with coverage underneath, a polished blazer, and a basic top for an outfit combination that exudes nostalgic vibes.
Colorful hues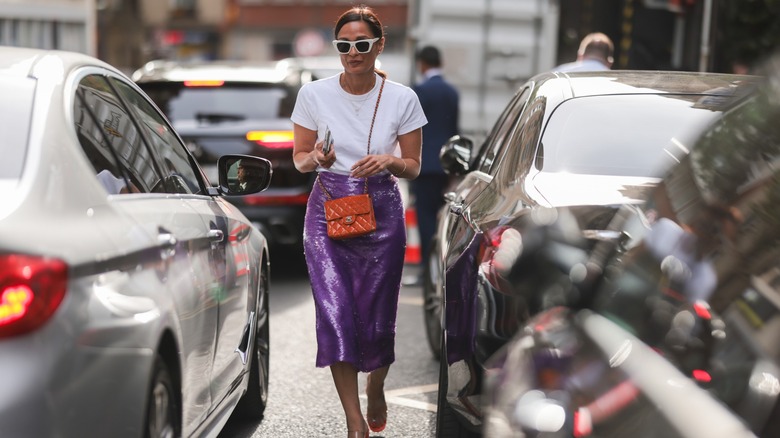 Jeremy Moeller/Getty Images
Dopamine dressing gained traction post-pandemic lockdown and continues to trend. While the fall season typically features neutral color palettes, it's also the perfect time to bring out your bold sequined skirts. Bright hues, such as purple or red, the "it" color of fall, provide a fantastic contrast against the gloomy and rainy skies. Colin LoCascio recently showcased colorful sequined garments as a suitable option for wearing to the office or on a night out.
Maxi lengths
Christian Vierig/Getty Images
While many maxi skirts we've seen thus far have been a mix of denim and cotton, sequins also make an excellent material for your maxi skirts. Maxi-length sequined skirts are a great way to add high-fashion vibes to your outfit while still maintaining that quintessential fall touch. From maxi coats to long pants, maxi lengths are always in style this season, making them perfect for this sequined trend.
Polished midi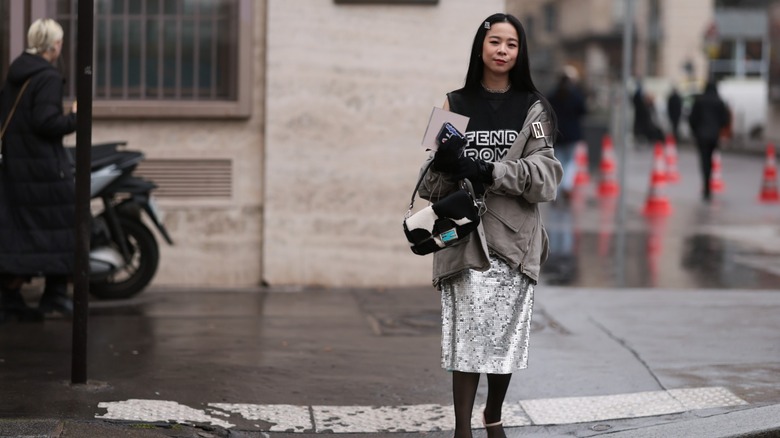 Jeremy Moeller/Getty Images
Midi-lengths are often some of the best for office wear pieces since they offer ample coverage deemed appropriate for work. However, midi skirts can also add a touch of chicness to your fall wardrobe. When it comes to sequined midi skirts, they will still exude an elegant vibe when paired with a simple and polished top or a long-sleeve garment. Valentino demonstrated this by combining a floral sequined skirt with a fitted plain brown long-sleeve sweater, achieving the perfect balance of fun and elegance.