The Denim Maxi Skirt Isn't Going Anywhere - How To Style It For Fall 2023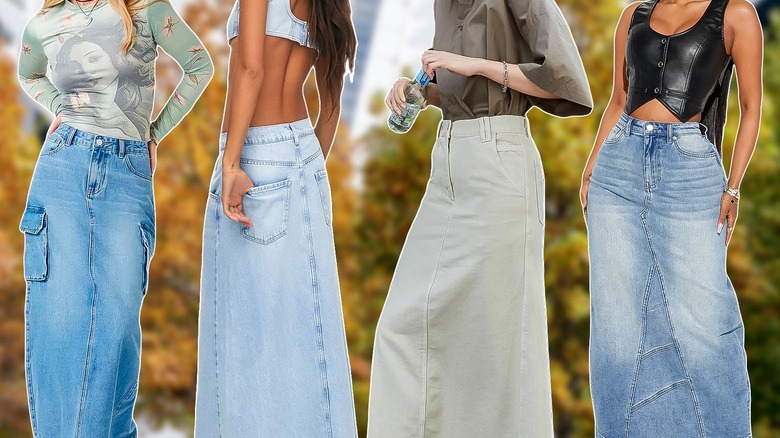 Static Media/Shutterstock
After enjoying booming popularity in the early 2000s, denim maxi skirts had a meteoric fall from grace, practically vanishing from the fashion scene. Relegated to forgotten closet corners and jammed thrift store racks, these once-staples languished in style limbo. But over the past year, denim maxi skirts have come back with a vengeance. Fashionistas have welcomed this resurgence with open arms, making maxis one of 2023's most impactful denim trends throughout spring and summer.
With such a renaissance to their reputation, chances are decent that you have already added a denim maxi to your regular wardrobe rotation. But as the year progresses, you may be wondering how to wear this contemporary trend into autumn. As it happens, maxis are poised to continue their reign as one of the denim trends to watch this fall. Happily, these versatile skirts are easy to reimagine from season to season, and there are plenty of fall-ready styles perfect for blending denim maxi skirts into any autumn aesthetic.
Double down on denim with a jean jacket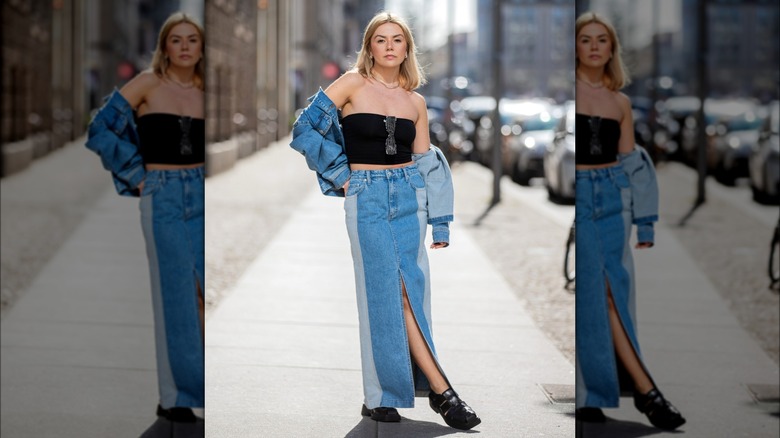 Christian Vierig/Getty Images
Early fall can be awkward to dress for, as temperatures straddle the warm weather of late summer and the first chill of autumn. To transition your denim maxi seamlessly between these extremes, consider pairing it with the casual, all-season allure of a jean jacket. Go for a cohesive look with denim in similar shades and washes, or create playful contrast with two different denim tones. The duo of a denim maxi skirt and jacket easily pairs with basic tees, crop tops, or a fall-appropriate mock neck blouse.
Pair it with a leather jacket for effortless cool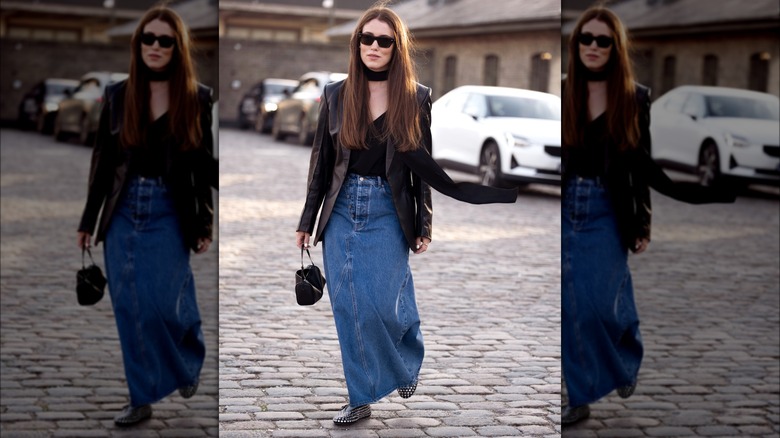 Raimonda Kulikauskiene/Getty Images
For a time, denim maxis were on the outs, with fashionistas avoiding their outdated vibe. But as with any garment, styling is the key. If you want to impart instant flair and modernity to your long denim skirt, partner it with classically edgy pieces like a sleek leather jacket. Not only is this perfect for fall's cooling weather, but it gives your whole ensemble a chic, intentional feel. Amp up the cool factor even more with sharp accessories like a leather bag, studded flats, or a pair of killer boots.
Make it cozy with a chunky sweater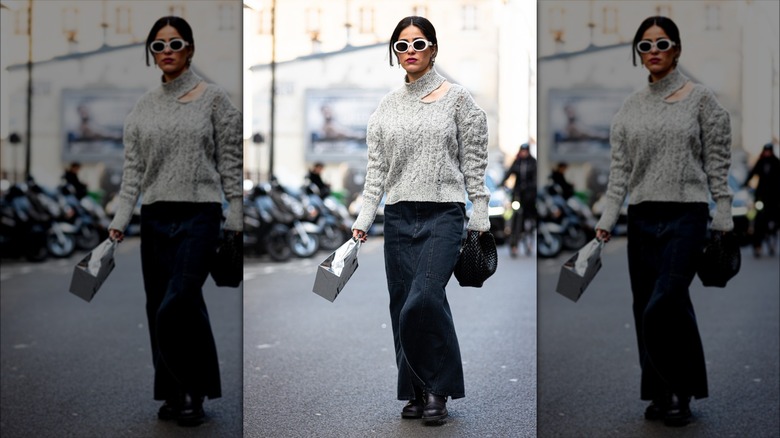 Claudio Lavenia/Getty Images
As you officially leave summer days behind, you may be wondering how to make your denim maxi outfits cuddly and warm enough for fall. When in doubt, top your skirt with a cozy sweater. Chunky knits play naturally with the understated style of a denim maxi, especially when balanced at the bottom by an equally chunky pair of boots or clogs. Cardigans are also a fantastic option. Consider playing with proportions by adopting a baggy, hip-length grandpa sweater or an elegant floor-length duster cardigan.
Stay toasty with a bomber jacket
Raimonda Kulikauskiene/Getty Images
When the nippy autumn air demands a real coat, try pairing your denim maxi skirt with a thick bomber jacket for both warmth and style. The exaggerated bulk, informal ruff, and street savvy vibes of a bomber naturally elevate the casually cool aesthetic of a denim maxi, resulting in a partnership that's both practical and chic. A brown bomber with blue denim is classically stylish, or you can create a monochromatic fashion moment by wearing a black-on-black bomber and maxi combo.
Add movement with a ruffled hem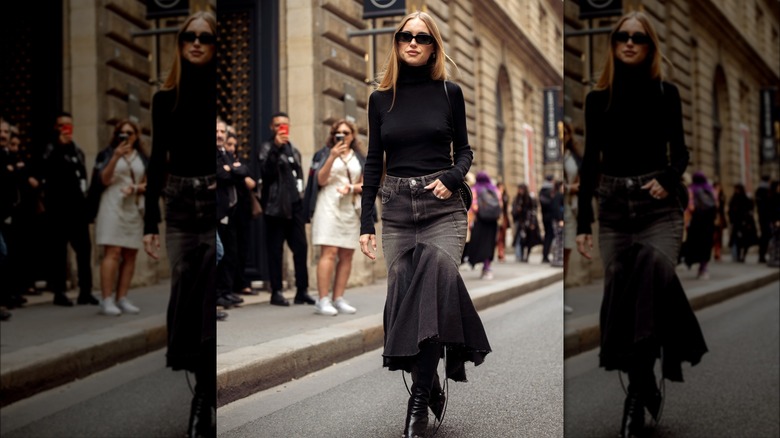 Raimonda Kulikauskiene/Getty Images
If a stiff, A-line skirt isn't your style, don't worry — you can still get in on the denim maxi trend this autumn. Alternative silhouettes abound, including endlessly hypnotic ruffle-hem styles. Fitted near the waist and flaring dramatically at your feet, ruffle-hem maxis offer both sensuality and whimsy. Besides, one reason we love fall is the chance to wear show-stopping boots. The movement of a ruffled denim maxi not only shows them off, but actively draws attention to your hemline, ensuring that witnesses appreciate your ensemble from head to toe.
Create drama with a train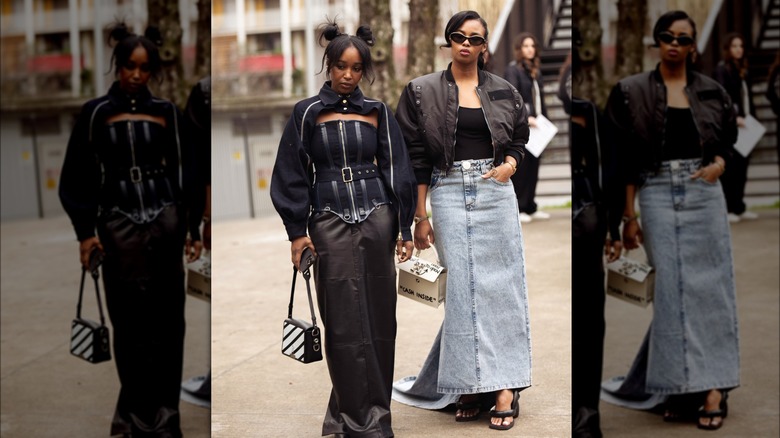 Raimonda Kulikauskiene/Getty Images
Is there anything more fascinating than an unexpected juxtaposition of styles? Denim maxi skirts are quintessentially casual, but you can pump up the drama and add instant intrigue by donning a maxi with couture details like a lengthy train. This may seem like a daring move, but we promise: You can wear a train with everyday outfits. Lean into your skirt's heightened elegance with a pair of chic heels or further the contrast and bring the look down to earth with your favorite autumn boots. 
Choose a distressed maxi to add a grunge vibe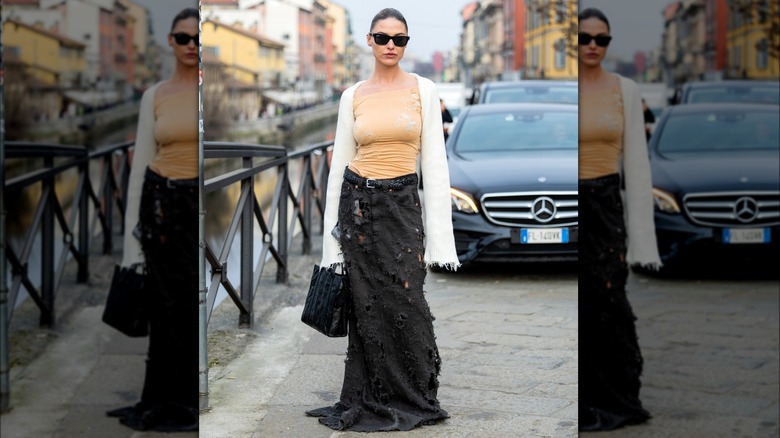 Christian Vierig/Getty Images
The noughties are calling, and they're ready for you to embrace distressed fabric finishes this fall. Evoking the grungy, pop-punk irreverence of the early 2000s, a ripped and shredded denim maxi is an autumn-approved way to get in on the persistent Y2K fashion trend. Top your distressed skirt with a form-fitting top and a heavy belt to complete the throwback look, or modernize the vibe with an oversized sweater and a pair of white sneakers, which are always among the best shoes to wear with long denim skirts.