The Halo Engagement Ring Trend Is Getting A Sleek, Elegant Upgrade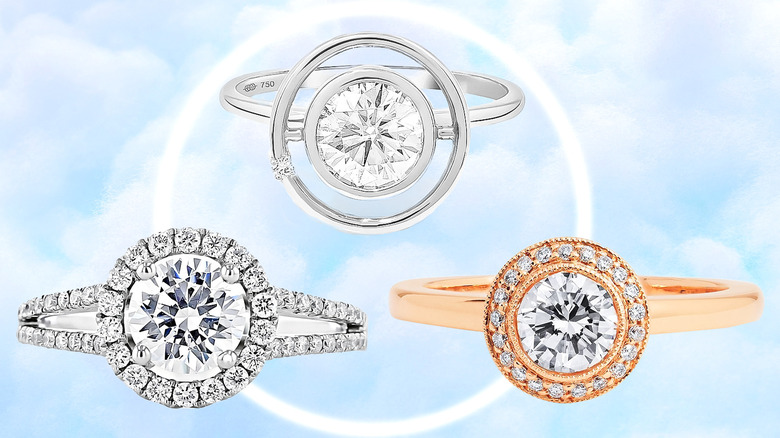 Static Media / Shutterstock
If you're looking for a trendy style of engagement ring that's both classic and chic, you can't go wrong with a halo design. While the most famous example of this style might be Kate Middleton's royal '80s-style sapphire engagement ring, each one boasts a signature look that makes it immediately identifiable, not to mention loved, by many. These designs feature a line of smaller gems — or what's known as pavé — that surround the center stone, which can be round, square, or a totally unique shape.
"The halo setting is designed to accentuate the beauty of the center stone by adding size and brilliance in an affordable way," jeweler Rohan Agrawal told Brides while discussing the retro style which has received a modern revival. In fact, halo rings first hit the mainstream in the '20s and '30s, but contemporary versions are just as stunning as the vintage and antique varieties. Agrawal went on to explain why this look can be so dynamic, saying, "If the center and accent stones are two different colors, then the halo setting draws more focus toward the center stone. It enhances its visual appeal through a contrast of colors and brilliance."
There's a good chance you're already enthralled with this style. If not, you soon will be when you check out these updated halo designs.
Double halo engagement ring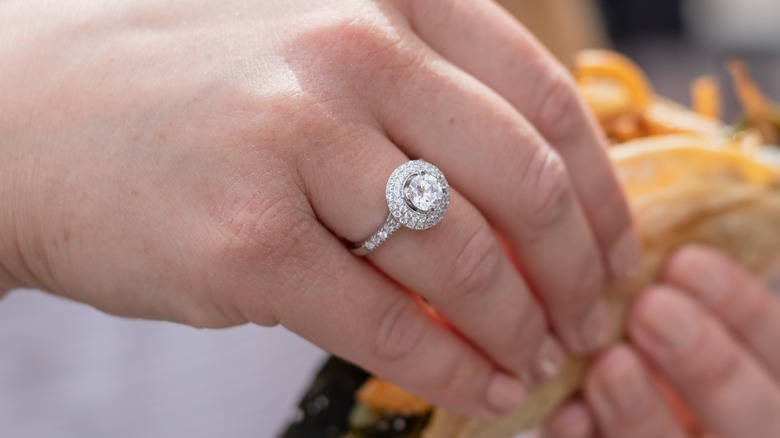 Davidprahl/Getty Images
Why have one halo when you can have two? If you can't afford an engagement ring with a massive center stone, a double halo is a fabulous option that adds depth to the design. A double halo gives you a chance to create something unique by choosing different gemstones for each section. For instance, fill the inner circle with your significant other's birthstone, and fill the outer circle with yours.
Cluster halo engagement ring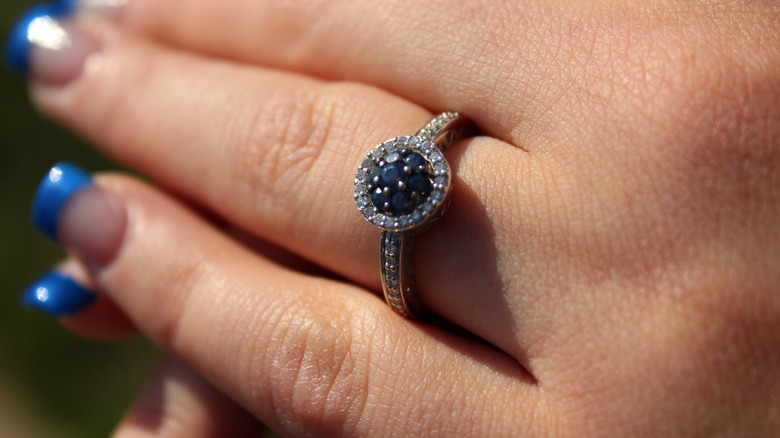 Britt Kalucki/Getty Images
If you're unfamiliar with cluster engagement rings, they are exactly what they sound like. The style simply features multiple gems placed together in a group. Of course, the result is anything but simple, and the look only becomes more intriguing when combined with a halo. In this case, the surrounding section could be the same kind of jewels found in the cluster, such as diamonds. Or, you might prefer using two or more types of stones — like white diamonds and blue sapphires — for your engagement ring.
Pear-shaped halo engagement ring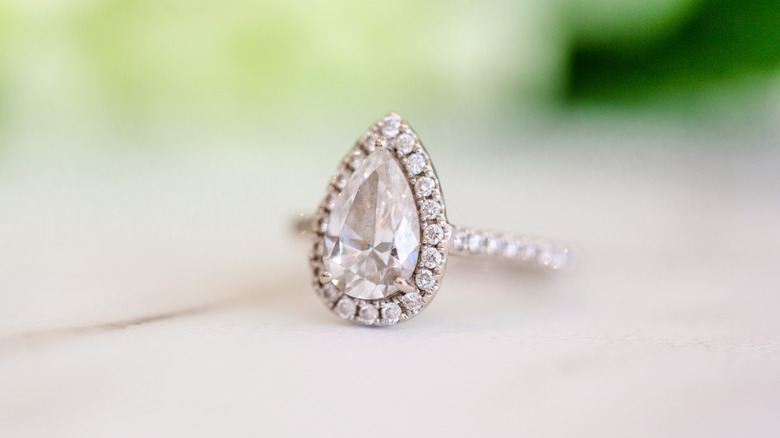 Rachel Lodin/Getty Images
Pear-cut engagement rings are an ideal choice if you're seeking a big diamond, since this cut makes the diamond appear larger than other stones of the same carat weight. It's also a timeless style that allows the stone to stand alone or be paired with other gorgeous gems. That's why a pair-cut stone is such a fabulous choice for a halo arrangement. Just think how stunning your ring could be with a center diamond that's both rounded and sharp and accentuated with smaller diamonds or other jewels.
Heart-shaped halo engagement ring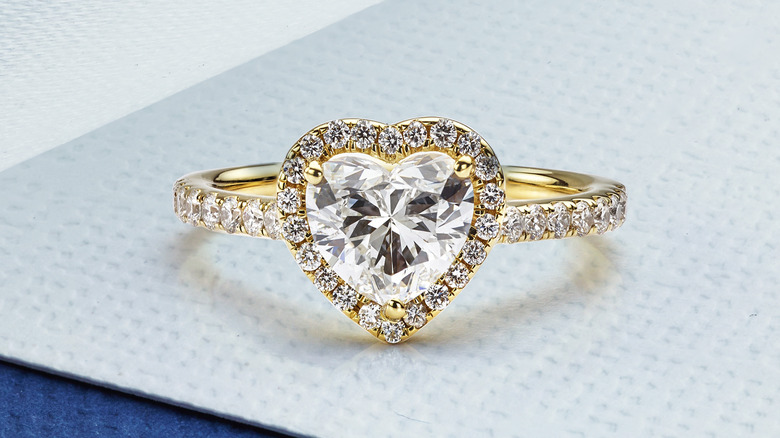 Mark S Johnson/Shutterstock
Some people may wear their hearts on their sleeves, but with a heart-shaped engagement ring, you can wear the love you share with your significant other on your finger. Having a diamond — or whatever center stone makes your heart flutter — cut into your preferred shape is certainly lovely enough. At the same time, adding a halo around the heart makes it truly special and extra sparkly. If you can't find a diamond that would suit the shape you have in mind, a cluster of smaller diamonds arranged to make a heart is another good option.
Negative space halo engagement ring
Negative space is a style you may have seen in clothing and nail art. However, you may not realize that it can also be used in a halo engagement ring setting. In this setting, the halo of diamonds (or whichever gemstone you choose) is placed with a slight space between the center stone and the halo. Although the design is a gorgeous example of a contemporary style, it relies on a classic look that works perfectly with this chic aesthetic.
Ornate halo engagement ring
When you picture modern styles of jewelry, you might imagine ones that are incredibly sleek — not exactly flashy — and perhaps even minimalistic. However, why not go in the exact opposite direction by choosing a relatively ornate design? Surround a round, pear, princess, or cushion-cut center stone, for example, with a halo that combines different-sized jewels in an artistic and intricate arrangement.