How Long Does It Take For A Daith Piercing To Heal?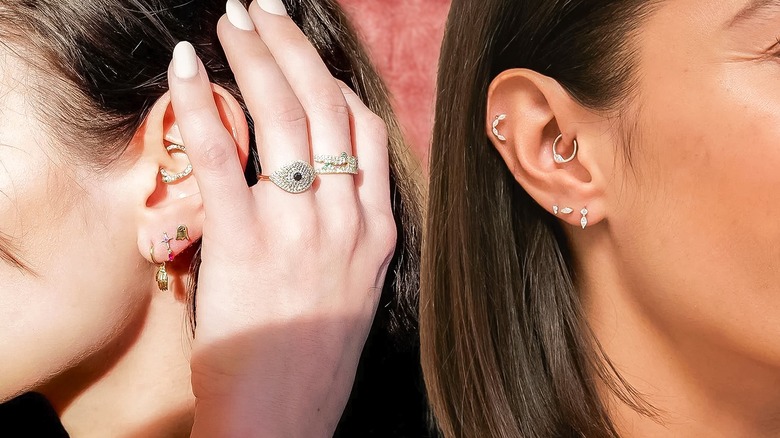 Static Media / Shutterstock
From the delicate orbit of helix piercings to edgy double nostril piercings, we've seen a lot of piercing trends make waves recently. Among them, a lesser-known cartilage piercing is getting more and more attention: the daith piercing.
Advertisement
Pronounced "doth," this is no run-of-the-mill lobe piercing. But as one of the hottest piercing trends for fall 2023, the daith is coming into its own as a must-have jewelry placement. Daith piercings are nestled in the ear's innermost cartilage fold, where the inner ear meets the outer shell. Usually, this placement is adorned with a small hoop, adding a glint of interest to the ear's shadowy inner curve.
Aesthetics aside, some folks also get this piercing as a potential remedy for migraines. In fact, some research has shown positive results, such as one 2017 study in Frontiers in Neurology. However, the study's authors acknowledge that the evidence is anecdotal and cannot be officially endorsed as a treatment. So, for now, the daith remains a primarily style-centric choice.
Advertisement
But regardless of whether you're more interested in the daith's aesthetic or its rumored therapeutic qualities, there's one question that remains consistent: "How long does a daith piercing take to heal?" Unfortunately, the unique cartilage placement of these piercings can result in a particularly long recovery time — a journey of up to nine months, according to Healthline. So, what does this extended healing process look like, and how can you help it along?
Getting and healing from a daith piercing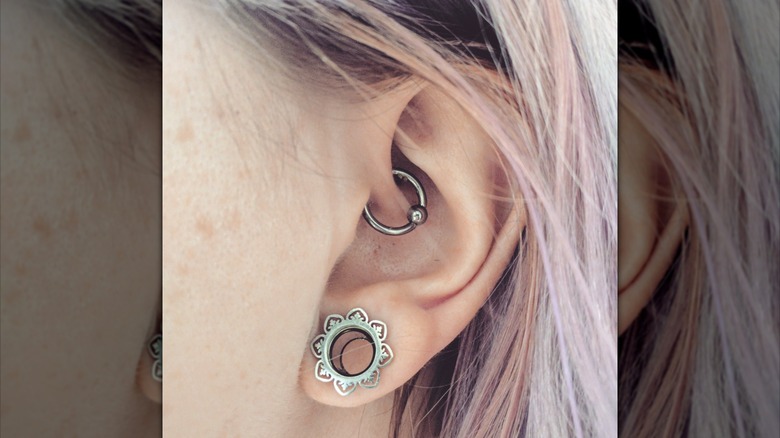 Sarahobv/Shutterstock
Are you preparing for a piercing appointment? First, be aware that daith piercings can be more painful than placements in your helix or lobe. As Pierced points out, the cartilage in that part of your ear is particularly thick — meaning a slower and more physically stressful piercing experience. But you don't want to hurry the process at the expense of good technique. As with other piercings, there's a risk of placing daith jewelry too shallowly, which can ultimately lead to migration or rejection, explains Medical News Today.
Advertisement
For both your piercing and healing process, slow and careful is the name of the game. Daith piercings, like all cartilage piercings, require patience. According to WebMD, a regular lobe piercing can heal in as little as six weeks, much faster than the daith's projected timeline of nine months. So, if you're used to lobe piercings but now want to adorn the ridge inside your ear, brace yourself. With a daith, you must be prepared to deal with soreness and aftercare for the long haul.
So when is a daith healed enough to change the jewelry? "Daith piercings generally take eight to 12 weeks to be healed enough to downsize or swap out to a different piece of jewelry ...," piercer Jim Kelly tells Popsugar. Kelly adds that you'll know the healing process is finally complete when the piercing stops producing a crust and no longer feels sore, even when bumped or jostled.
Advertisement
Tips for a smoother healing process
Given the daith's snug location, cleaning and caring for it can be tricky compared to more accessible piercings. To effectively care for your new daith piercing, piercer Starr Ellis recommends the following regimen (via Insider).
Advertisement
For starters, only touch the piercing with freshly washed hands, whether you're cleaning it or just fiddling with the hoop. Regularly rinse the piercing with warm, clear water from a running tap, which Ellis says is "great for healing, irrigation, soothing, and promoting circulation." Then sterilize the area with a spritz of saline solution — specifically, one approved for washing wounds. Finally, pat your piercing dry with gauze or a clean paper towel, being sure to catch any stray droplets inside the shell of your ear.
For best results, accommodate your daith piercing with tweaks to your routine. At first, you may want to skip wearing earbuds or earplugs to avoid irritating the fresh piercing. And for side-sleepers, Ellis recommends that you "try to nestle the newly pierced ear inside a donut-shaped or neck pillow to avoid any pressure."
Advertisement
Ideally, your daith piercing will heal up with no complications. But get a medical opinion if it exhibits any signs of infection like prolonged redness and swelling, a foul odor, persistent bleeding, or yellow-green discharge (via the National Health Service). And if you experience a fever or severe pain, it's definitely time to ring up your doctor. That daith piercing may be super cute, but it's not worth risking your health.