People On TikTok Are Asking Dates How They Feel About Cats, And The Results Are Telling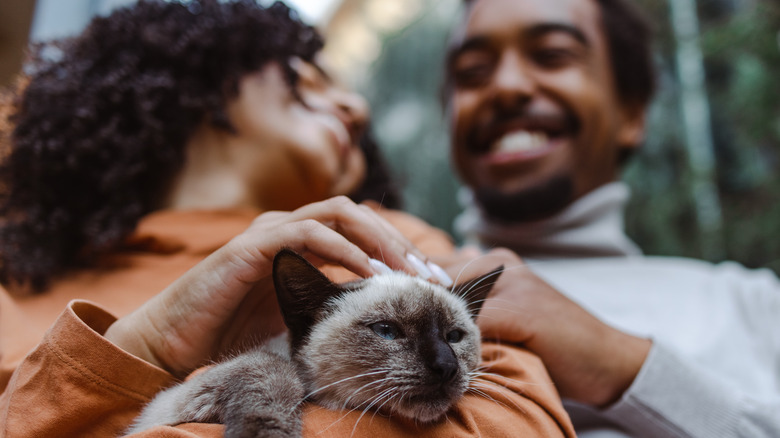 Blackcat/Getty Images
Your favorite animal says a lot about you. Yet your least favorite might say even more if the latest dating discourse on TikTok is any indication. Cats can stir up some pretty divisive opinions, despite the fact that living with felines is actually good for your health, and social media users are pointing out a curious phenomenon regarding potential partners who claim to hate them.
Advertisement
According to one TikToker, the cat's out of the bag when it comes to spotting early dating red flags.  "If a guy has a really strong reaction towards cats ... that person doesn't like things that are unpredictable and that they can't control," says creator Zamaria Thompson (@happyfitzam). The feline dating theory has gained traction on sites like Tumblr in the past, though Thompson may have sparked a new trend on TikTok for singles on the prowl. "The question is really simple, but it has a meaning. You're gonna ask him how he feels about cats," she instructs.
In response, thousands of social media users supported Thompson's view. "My ex always talked about how much he hated cats. He was also super controlling. This tracks," said one. Of course, not everyone on TikTok agrees, and there are interesting points on both sides of the discussion, indicating we might need to dig our claws a little deeper into the matter.
Advertisement
Dates who hate cats could be cause for concern
While some suitors eagerly share their pet preferences on their dating profiles, not everyone is an open book. Thus, TikToker Zamaria Thompson urges others to subtly ask prospective partners how they feel about cats early on in the dating game. "You don't even have to tell him you have a cat — just be like, 'Oh, are you more of a dog person or a cat person?'" says Thompson. According to her guidelines, a neutral or positive response passes the test. However, any disgust or hatred toward cats could be cause for concern because cats are not submissive by nature, and contempt for them could show the need to control others when it comes to human relationships.
Advertisement
The advice holds some weight, given the overwhelming number of responses supporting Thompson. Some users were even quick to identify themselves as part of the problem. "This is so true. I don't like cats or situations I can't control," one remarked. Others offered their thoughts on the correlation between control issues and contempt for cats. "Cats are an animal that requires consent. If it doesn't want pets, it won't let you. If it wants to be alone, it'll go," added another user.
Although the discussion may raise a few hackles, there's no reason to put your relationship on 'paws' just yet. "Girl ... we're just allergic," a TikToker quipped beneath Thompson's video. "Valid," replied Thompson. "But you don't strongly hate them for no reason! That's when it's suspicious." Overall, the consensus from TikTok seems to be that hating furry friends of any kind is a major red flag in dating and beyond.
Advertisement
Why disliking cats can spell trouble in human relationships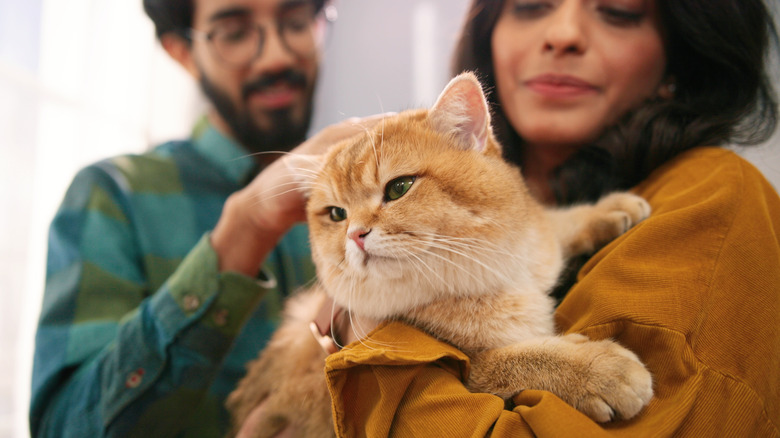 VAKS-Stock Agency/Shutterstock
Unlike animal cruelty, disliking cats is a trait that hasn't been extensively explored by researchers. A study published in the scientific journal Aggressive Behavior suggests that animal cruelty is "largely undocumented and underreported." However, some self-proclaimed cat haters aren't shy when it comes to disclosing their feelings for felines. It's not uncommon to read online comments condoning violence against cats, often under the guise of concern for the environment. 
Advertisement
It goes without saying that wishing harm on animals is a glaring red flag, but hating cats can signal future problems in a relationship. Though it's true that each pet has its own personality, cats are known for their independent and occasionally aloof nature. As a result, earning a cat's trust and affection can take time, similar to humans. "Once a guy told me he hated cats [because] they are not easy to pet and give love ... so you mean [it's because] they set boundaries?" one user commented on Thompson's TikTok clip.
Dogs may bite, cats can scratch, and people use their words — each species has its own way of establishing a boundary, and it's only right to respect them. However, just because your partner dislikes cats doesn't mean you should ditch your relationship altogether. Still, it's important to make a clean break if they show signs of aggression or neglect toward cats or any other living creatures.
Advertisement