TikTok's Rejecting The Clean Girl Aesthetic And Embracing The Dirty Girl Aesthetic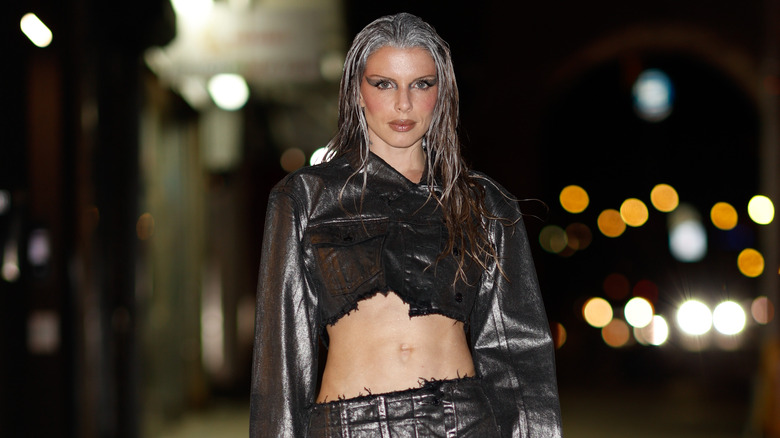 Rachpoot/bauer-griffin/Getty Images
Soft makeup, slicked-back buns, dainty gold hoop earrings, neutral-colored garments — by now, you're probably well-acquainted with the clean girl aesthetic. The style has taken off on TikTok, racking up 6.7 billion views on the platform to date. It all started with a 2021 video by content creator @xolizahbeauty, where the term was first defined: "You know those girls who always look clean, their skin is always glowing, their lips are always glossed, and they never ever look like they're wearing too much makeup?" This vague description was enough to inspire a wave of clean girlies.
Advertisement
However, it quickly became clear how unattainable the aesthetic really was. After listing the criteria for being a clean girl, @xolizahbeauty continued, "You may not be them, but here's how to get their look," before demonstrating a clean makeup routine. As the concept grew beyond the OG viral clip, it continued to promote exclusivity and unrealistic standards. "The 'clean girl' aesthetic says to me that we're still looking for ways as a society to reinforce hierarchies and create forms of exclusion in the beauty space," Rian Phin, a social commentator, author, and video producer, told i-D.
If you've felt left out by the trend — or the style just isn't your thing — you might find comfort in the dirty girl aesthetic instead.
Advertisement
Not everyone relates to the clean girl ideals
"[I] wish so badly that i could have a clean girl aesthetic, but unfortunately i am a dirty gal 4ever," reads the text on a TikTok clip by Brooke Blackwell. "i eat a ton of junk food. stay up all night. can go a week without washing my hair. i sleep with my makeup on. rewear the same unwashed clothes without any shame. will fall asleep anywhere and at any time. and hardly ever [work out]." The video has garnered 2 million likes and a comment section full of people rejoicing and relating to the "dirty gal" lifestyle. "This just described me," wrote one commenter, while another joked, "'Your hair looks so nice today' thanks, I washed it."
Advertisement
The dirty girl aesthetic hasn't quite caught up to its antithesis (the #dirtygirlaesthetic hashtag only has 3.6 million views, compared to clean girl's billions). But dig deep enough in the #cleangirlaesthetic videos, and you'll find many of them are actually clapping back at the trend. One clip with the tag shows user @kenzisabrat dancing with a caption about finally washing her dirty hair after 10 days. Another, by @bottlebblondie, contains the caption, "wtf is clean girl aesthetic? [T]his can't be the same generation ke$ha raised."
Pinning down the dirty girl aesthetic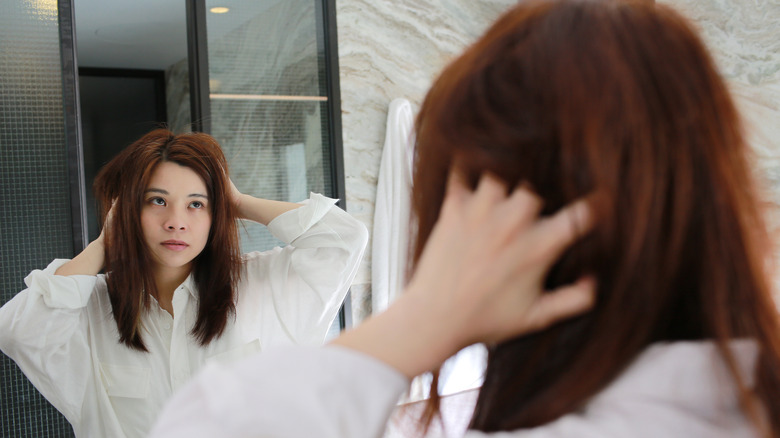 Lewis Tse/Shutterstock
While the clean girl aesthetic felt restrictive and inaccessible for many, the dirty girl aesthetic is less defined. In fact, you're more likely to find ripples of it in other trends than finding explainers and how-tos about how to actually embody the dirty girl look. For instance, TikTok's "messy girl" aesthetic celebrates heavy makeup, bedhead hair, and exposed bras. Then there's the resurgence of indie sleaze, the '00s hipster style that was all about graphic T-shirts, costume jewelry, and disco pants. An adjacent trend is the party girl aesthetic, which might be more of a lifestyle than a look, with TikTokers sharing their night-out snaps and boasting about how late they got home.
Advertisement
If you want inspiration outside of social media, look to Julia Fox, who spearheaded the dirty girl idea when she declared that the "clean girl aesthetic is out" on a 2022 episode of Emily Ratajkowski's podcast "High Low With EmRata." Other pop culture icons who championed being a dirty girl include Ke$ha (particularly in her "TiK ToK" era) and Christina Aguilera circa 2002 when she released her single "Dirrty" (remember those leather chaps?).
However, truly embracing the dirty girl aesthetic isn't about copying the looks of a celebrity or influencer — which is what makes it so different from the clean girl aesthetic. The dirty girl style might be trending, but it's also about bucking the fads and doing what you want.
Advertisement