The Skincare Benefits Of Cocoa Butter, Explained To Us By A Dermatologist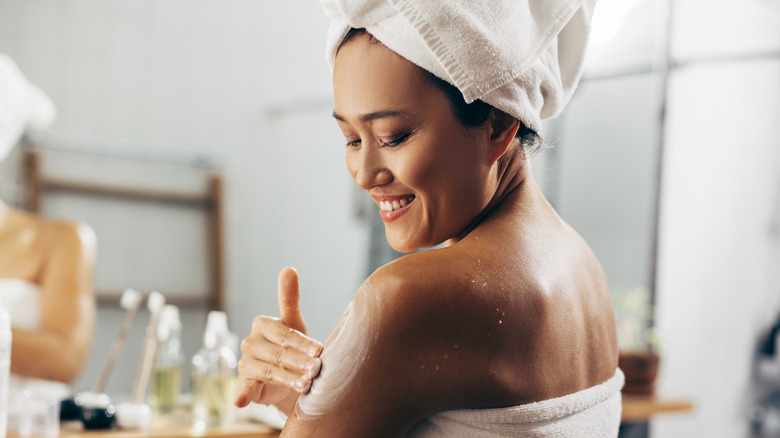 Freshsplash/Getty Images
Slathering on cocoa butter lotion before bed is as much a form of self-care as lighting a candle and enjoying a glass of wine in the tub. But what benefits does this decadent ingredient truly offer your skin? Glam has good news for dedicated cocoa butter fans, as board-certified dermatologist Dr. Morgan Covington of Westlake Dermatology is here to validate your cocoa butter obsession.
"Cocoa butter is a yellow fatty substance extracted from the cocoa bean," Dr. Covington explains to Glam in an exclusive interview. "It is well known for its skin hydration properties due to its fat content." And, according to Dr. Covington, cocoa butter is a wonderful ingredient to incorporate into to your moisturizing routine. This nourishing butter is easily absorbed to help moisturize the skin and functions as an emollient by creating a barrier to prevent the loss of water through the skin, per Healthline.
In addition to its hydrating properties, many people claim that cocoa butter acts as a miracle ingredient for various skin concerns, such as stretch marks and discoloration, but the experts remain unconvinced. So, Glam spoke to Dr. Covington to uncover the true benefits of this rich skin butter.
What else can cocoa butter do for your skin?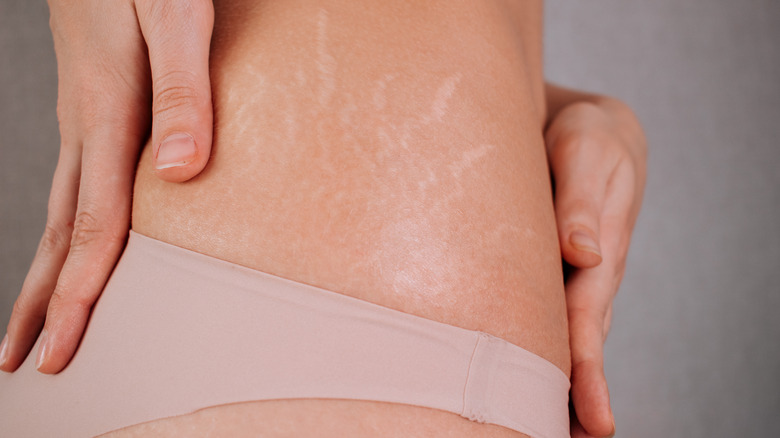 Dmitry Epov/Getty Images
One of the reasons cocoa butter provides moisturizing benefits is that it comprises fatty acids. The high fatty acid content helps boost your skin's elasticity. It also contains natural compounds called cocoa mass polyphenols (CMPs) that reduce the signs of skin aging by protecting against ultraviolet (UV) damage and improving blood flow (via Healthline).
While cocoa butter works wonders for dry skin and may slow premature aging, research suggests the benefits stop there. "It has also been reported to help with stretch marks and discoloration," Dr. Morgan Covington shares exclusively with Glam, "although the evidence for these benefits is more anecdotal." For instance, a 2008 study published in BJOG: An International Journal of Obstetrics and Gynaecology indicated no significant difference between the participants — a group of pregnant women in the first trimester — who used cocoa butter to prevent stretch marks and the women who used the placebo product.
Therefore, it's safe to say that the creams or lotions that contain cocoa butter are not enough to reduce the appearance of stretch marks. Instead, look into cosmetic treatments. Procedures such as microneedling may help with stretch marks, as shown in a 2011 study published in the Journal of Cosmetic Dermatology.
How to incorporate cocoa butter into your routine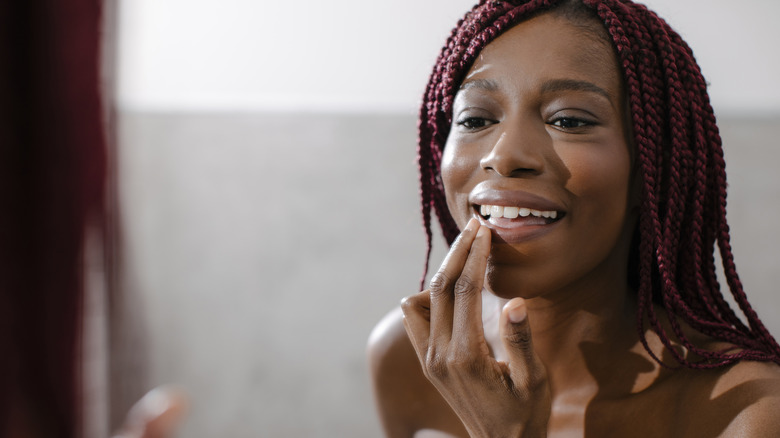 Freshsplash/Getty Images
Dr. Morgan Covington explains that cocoa butter is safe for most individuals; however, the only caveat is that cocoa butter may clog pores. "I prefer to use it as a part of a moisturizing routine for the body rather than the face," Dr. Covington shares with Glam exclusively. "It is comedogenic and may contribute to acne in those with oily/acne-prone skin." Therefore, it's best to avoid using products containing cocoa butter on your face to avoid breakouts.
Cocoa butter is also an edible substance, so it is safe to use as a lip balm to relieve dry lips (via Healthline). However, be mindful that most body care products only contain small amounts of cocoa butter. The most effective way to use cocoa butter for dry or aging skin is to search for a product free from unnecessary additives. As with most body lotions, it's best to apply your cocoa butter to damp skin to increase your skin's absorption of the product. In other words, continue to slather yourself in cocoa butter as part of your luxurious post-bath routine — it's dermatologically certified, after all.