Are Split-End Trimmers Worth The Hype? We Asked A Hairstylist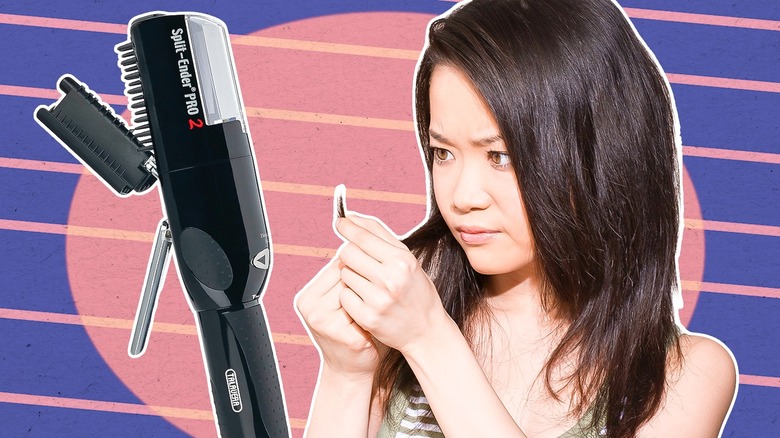 Static Media / Shutterstock
On TikTok or any other social media platform, there are endless "hacks" and "tips" from consumers and influencers to make your life easier. While the intention is there, these hacks aren't always entirely accurate or safe. The latest of these questionable TikTok hacks has everyone purchasing split-end trimmers in the hopes of getting healthy hair without having to visit the salon for a trim. While the concept sounds helpful, there's much more to examine.
This popular device has made the rounds on TikTok, with many adoring the instant results and the massive amounts of hair that get shredded with one pass-through. Lucy Gedjeyan, celebrity hairstylist and owner of Lucy Luna Beauty, exclusively chatted with Glam to explain more about these split-end trimmers and their hype. Gedjeyan describes these trimmers as "resembl[ing] a thicker flat iron, [where] you run your hair through, and the blades inside will snip off whatever hair is damaged." With over 58 million views on TikTok, these split-end trimmers have everyone thinking of trying them out on their own hair. However, this device isn't the permanent fix you may initially believe.
What to know about split-end trimmers
Before you purchase a split-end trimmer for yourself, know what you're getting from the device. As Lucy Gedjeyan exclusively tells Glam, "Split-end trimmers are absolutely safe for use at home, and though they buy you some time in between salon visits, they are essentially a temporary fix." Like many tricks you see on social media, these trimmers give you shiny hair immediately, but they are not the solution to all your hair problems. These trimmers are just a quick fix that can be useful before a big event.
"They will get rid of current split ends but will not prevent new ones from occurring," explains Gedjeyan. As we know, split ends are due to damaged and dry hair that's become brittle and unmanageable. Plenty of factors can directly cause split ends, and, while a regular occurrence, they can make styling your hair much more difficult. The benefit of a split-end trimmer is that it'll help rid the hair of these damaged ends in an instant. "[Split-end trimmers] typically trim off 1/8-1/4 of an inch off the ends, leaving your hair feeling healthier in minutes," explains Gedjeyan. "Split-end trimmers have been around for decades and have recently made a comeback; I mean, who doesn't want to save some money or some length?!"
How to effectively treat split ends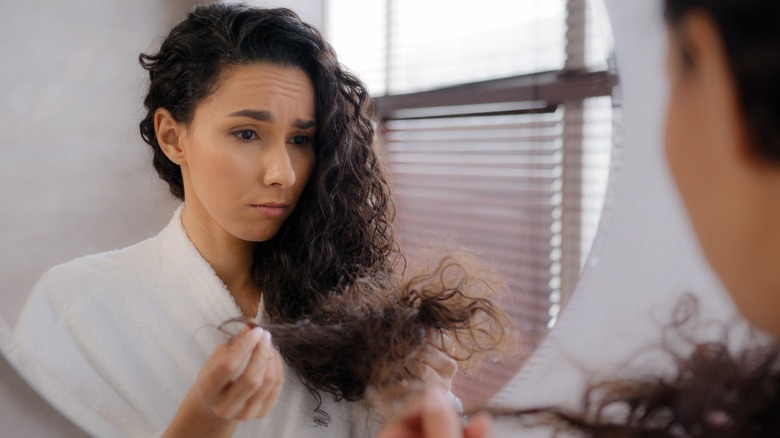 MAYA LAB/Shutterstock
Although split-end trimmers will instantly diminish those split ends, it's better to prevent split ends from forming. The easiest way is with hydration and proper styling. Although knots can be a nuisance, you want to detangle your hair carefully. Wet hair is much more vulnerable to breakage, especially when trying to dry or detangle it. Use a leave-in conditioner and a detangler brush to smooth out the hair with more ease. You should also avoid heated tools on your hair as much as possible. It's no secret that heat can dry out and damage hair with continued use. If you can't avoid using heat, use a heat protectant spray to ease some damage. Hair masks and hydrating hair products can also add moisture back into your hair if it's getting dry.
While the split-end trimmer is excellent for removing damaged ends from the comfort of your home, it's not the only way to eliminate split ends. As Lucy Gredjeyan exclusively tells Glam, "In my opinion, a great alternative to split-end trimmers would be to get a 'dusting.' Your hairstylist can provide a dusting instead of your traditional trim or haircut, so you don't have to sacrifice length." In the hair world, dusting is simply a session that specifically targets dead ends to optimize hair health without committing to a formal trim. Heading to the salon also gives you the ease of knowing you're in professional hands and can get the length you desire while getting rid of those pesky split ends.