Take Your Makeup From Flat To Fabulous With These Tips From Lizzo's MUA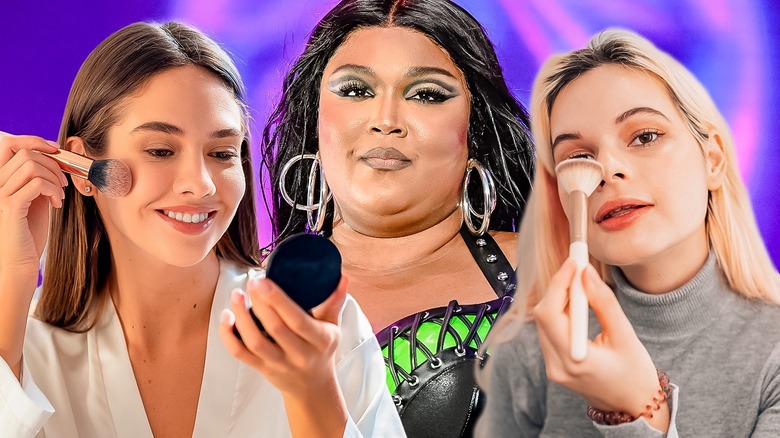 Static Media / Shutterstock
We may receive a commission on purchases made from links.
It's not uncommon practice for people to look to celebrities for makeup inspo. After all, they have everything going for them: the best makeup artists in the business as part of their team, access to the highest quality products and skincare, and most importantly, the creative freedom to play around with makeup without worrying too much about the results. So, why shouldn't we turn to them for inspiration?
One particular singing sensation we're particularly fond of for her bold and experimental makeup looks is Lizzo. Earlier in 2023, Lizzo's hot tips hyped us up for an unforgettable self-love summer, and now we're tuning in to the advice shared by her makeup artist of six years to learn how to take our foundation from flat to fabulous. All of us want to learn easy application tips for flawless foundation so that smooth and silky skin is within reach, right? Alexx Mayo, Lizzo's MUA, promises exactly that. Speaking to Byrdie, he shared, "It really comes down to the texture of the foundation ... I think that's something that you really want to look for [when doing a soft matte finish] on the skin."
Before you begin, prep your skin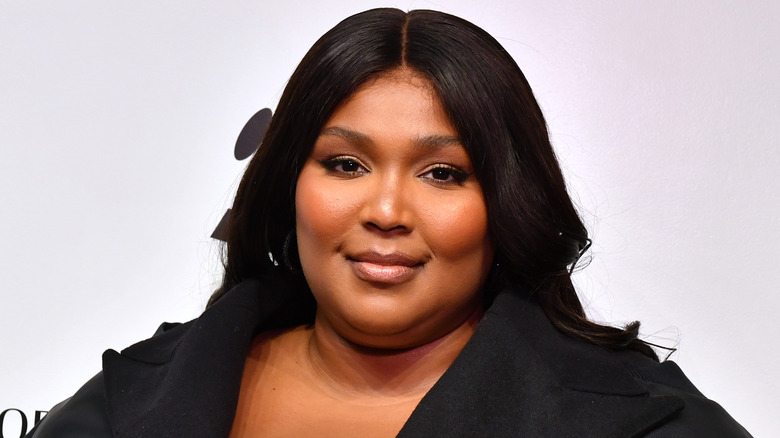 Sarah Morris/Getty Images
Though we moved a bit ahead of ourselves in the introduction, any good makeup artist will tell you that a great base often depends on the skin prep done beforehand. Alexx Mayo also believes in this crucial step, as he told Beauty Bay, "I like to ensure the skin is well hydrated and balanced." In fact, a great moisturizer is an essential item in his makeup kit when working on his clients.
After applying moisturizer as liberally as he can, Mayo goes in with a primer, which is essential to ensure the makeup lasts for hours on end. A red carpet or a concert performance may have different requirements, but a great makeup base that stays in place cannot be compromised upon. For primer, Mayo admitted to Mirror that he was very happy with the results of the Lottie London Coconut Primer, which costs less than $10. Apart from being cost-effective, it was a great way to prep the skin before applying makeup.
Other ways to prep your skin for best results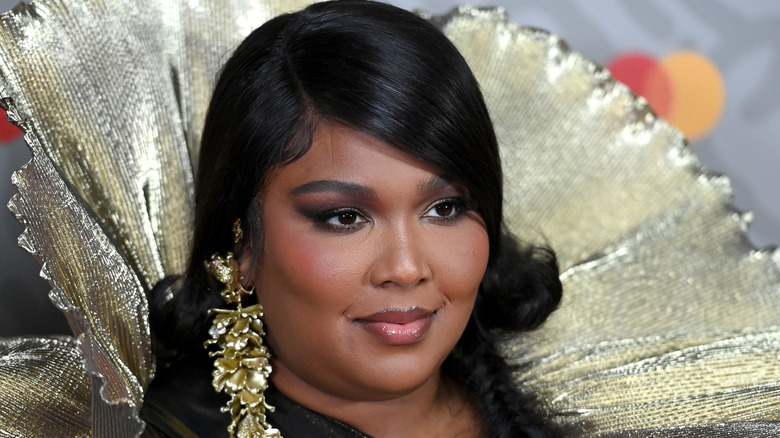 Dave J Hogan/Getty Images
To ensure the base is flawless and ready to glow before it's time for foundation application, Alexx Mayo also doesn't hesitate to rely on tools to de-puff the skin before a big event. Speaking about a particular concert look, he told Glamour UK, "I used the Face Gym Pro Tool to lift and sculpt the face to give an instant lift to the face and give us a contoured sculpted look."
A key factor that determines how Lizzo's MUA takes her foundation from flat to fabulous is that he isn't afraid to follow multiple steps, which have become part of a routine he's perfected over the years. He told Glamour UK, "I use the Charlotte Tilbury Magic Vanish Colour Corrector to even out her skin tone prior to applying any foundation. I would call this look a metallic liquid dream — we usually discuss wardrobe and from there, share ideas or visions of the overall look."
Look for a foundation that doubles as skincare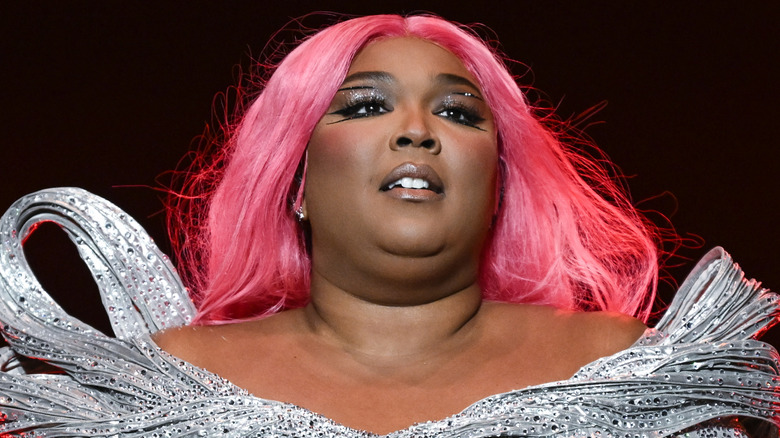 Daniel Zuchnik/Getty Images
After these steps have been followed, it's time to apply the foundation. For Alexx Mayo, it's essential that the product has a skincare-like texture for an ethereal glow. He recalled in a conversation with Byrdie, "I was actually inside of a Boots store in London, and I started playing with the Clinique Even Better Clinical Serum Foundation ($44). I was so fascinated by the texture of it, the coverage, and also knowing that it's skincare as well as makeup." 
Really taken by this particular product, he has made it a staple in most of Lizzo's makeup looks. He loves the product because it's lightweight and also lasts a long time on the skin. Further, its benefits (à la the serum it contains) ensure that the skin is subtly improved when this product is worn. "You don't really see a high-end performance foundation [that can] hold up for the stage and actually offer skin benefits. So that's definitely my cannot-live-without ... It's [Clinique Foundation] really a dream to work with — a little bit goes a very long way," he told Byrdie. 
Layering is an easy way to fabulous skin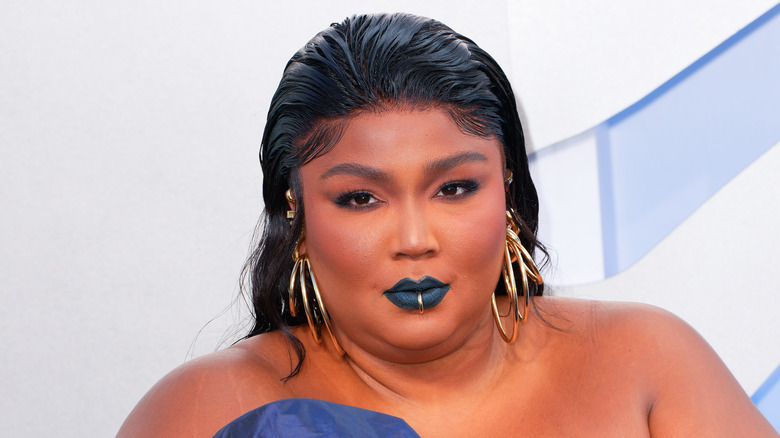 Gotham/Getty Images
Knowing the skincare steps that demonstrate the makeup artist's meticulousness, you may be curious to know the secret behind Lizzo's gorgeous glow and fabulous foundation look. Alexx Mayo shared it with the team at Huda Beauty with candor, saying, "I love layering highlighters. For an extra glow, I use a face oil on the high planes of the face for a finishing touch."
In fact, Mayo believes that layering is a girl's best friend. This is evident from what he shared with Byrdie when speaking about the application method of the foundation: "[I like] building as you go, I like to start in more of a sheer layer and add on top if I need more."
This is also his trick to achieve a trend he's quite keen on at the moment, which is the comeback of the '90s matte skin look. This, according to him, is an easy way to achieve a look that's polished, sophisticated, and classic while also going the extra mile when it comes to longevity of wear. "So seeing that matte skin trend ... I think that that's something we're gonna definitely see more of, which I'm excited for," he shared with Byrdie.
Application tips to elevate the look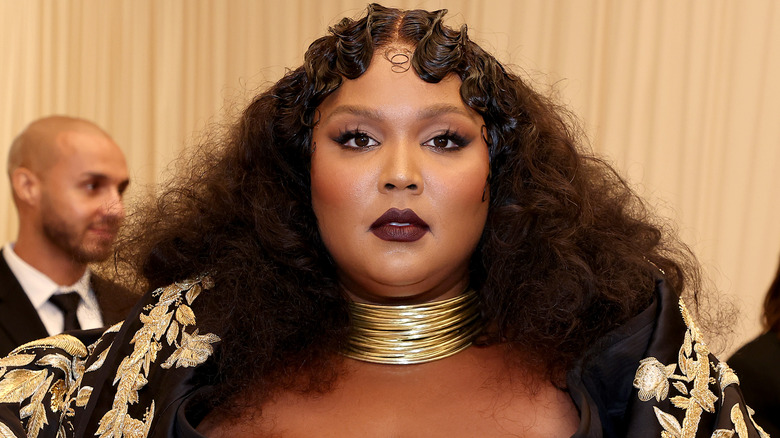 Arturo Holmes/mg22/Getty Images
Alexx Mayo has declared that he favors a brush to apply the foundation in layers to achieve the best kind of soft matte look for Lizzo. "[I like] using more of a fluffy brush! Sometimes I'll use a blush brush or something that has a little bit more of a fluffiness to it and really airbrush the foundation into the skin. I think that that really makes a big difference," he shared with Byrdie.
However, in the past, Mayo has also been known to use the Beauty Blender, such as when he shared with Beauty Bay, "Building a foundation is key. Start off easy and build as you go and always use a beauty sponge to blend." 
Playing with different shades of foundation is another trick Mayo has up his artistic sleeve. When asked about his stage makeup techniques by Beauty Bay, he responded, "It changes completely — the spotlight that's on her is not only so bright that it can wash her out, but it's also a bit yellow, so contrast and shading are really important. The shades and depth on stage are very different than off stage, because they have to be visible in that light." This shading technique applies us to regular makeup lovers too — we can use it to up our selfie game in different lighting and at different times of the day.
Other base products that make the foundation fabulous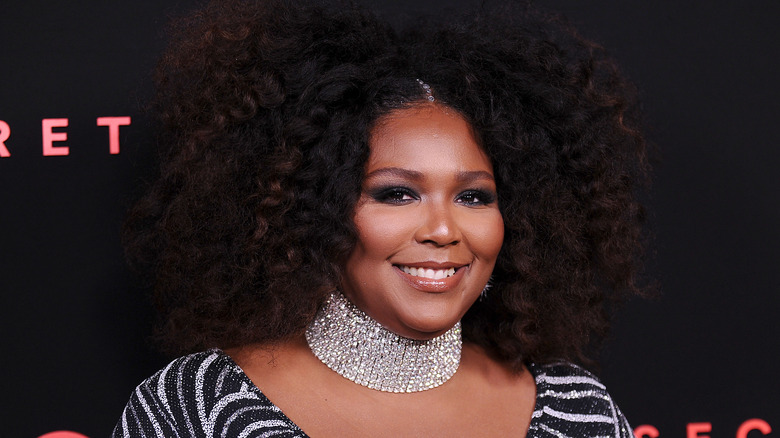 Jason Laveris/Getty Images
Foundation is definitely an important makeup step, but to create a truly fabulous canvas, the combination of base products being used together on the face matters too. Alexx Mayo shared the importance of using the right concealers with Byrdie, saying, "I use those to highlight and contour the face, whether it be for brightening or correcting. As long as your base really has that flawless finish to it. I think that you can rock anything."
Further, in an interview with People, Mayo shared, "One of the main differences between a tour and red carpet look is the amount of time you're wearing makeup." For celebrities, the main event isn't the only time they need to look amazing. The makeup must last through their pre- and post-show photos. For this purpose, Mayo swears by the Blended Face Powder by Clinique in the shade Transparency 5, because "I really love how finely milled this powder is and how well it sets the face makeup and ensures it's locked in all night." He also lists out the Laura Mercier Translucent Loose Setting Powder and the Urban Decay All Nighter Makeup Setting Spray as favorite setting and application products when speaking to Huda Beauty. These product recommendations and tips are great for days we need our makeup to stay put from dawn to dusk, such as those that involve school drop-offs or early work meetings and end late with nights out with friends.