6 Of Our Favorite Primers For Dry Skin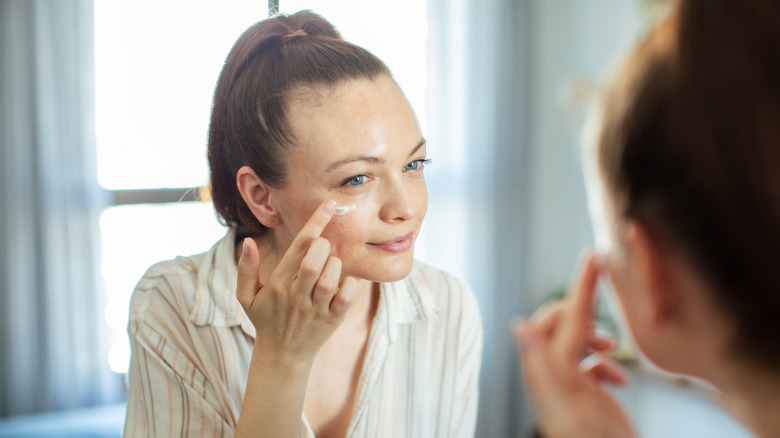 Vorda/Getty Images
We may receive a commission on purchases made from links.
There's nothing more frustrating than staring at dry patches and flaking after spending the better part of an hour applying your makeup. Instead of resigning yourself to your fate, prevent dry skin from ruining your look with the help of a high-quality primer designed to combat creasing and pilling. For those with dry skin, however, picking up any ol' primer can do more harm than good. The key to finding a good primer for dry skin is to look for ingredients that hydrate to achieve an even application on dry, flaky skin. Therefore, any primer that claims to mattify should be avoided, as they tend to focus on absorbing your skin's natural oils (via Makeup.com by L'Oréal).
On that note, beginning your routine with a smooth and hydrating base can make a considerable difference when it comes to applying makeup on dry skin. "Your canvas is the most important factor for beautiful coverage, so skin prep, including adequate exfoliation and moisturization, will always be key to providing the smoothest base for your primer to then do its job," makeup artist Vincent Oquendo explains to Allure. Once you solidify your pre-makeup routine, it's a matter of experimenting with various products to find a primer that helps balance your dry skin. Thankfully, the following makeup primers were created to remedy dry skin and help your makeup last all day.
How we selected products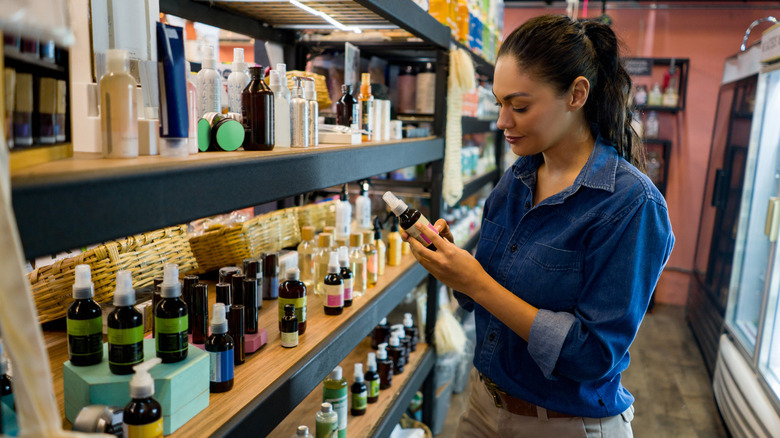 Hispanolistic/Getty Images
These days, you can find a primer for almost any skin concern — but typically not without some trial and error first. As such, when it comes to makeup and skincare, we understand how frustrating it can be to find a product that truly does the job. That's why we've done the research for you by sifting through top-quality options to find the primers that work well for individuals with dry skin.
To help you choose the best primer, we sorted through many contenders by weighing each primer against select criteria, including ingredients, popularity, user ratings, and reviews. For instance, we dissected each product to identify the key ingredients that target dryness, such as hyaluronic acid and skin-replenishing vitamins. Furthermore, we sorted through user reviews from various sources for accuracy and to avoid ratings by incentivized reviewers. Lastly, we handpicked products that belong to a range of price brackets for accessibility. This list makes selecting a high-quality primer easier than ever.
Best overall primer: Bobbi Brown Vitamin Enriched Face Base
Bobbi Brown's Face Base promises to deliver serious hydration thanks to its vitamin-enriched formula and nourishing ingredients. This multitasking primer doubles as a moisturizer and is a fan favorite, as demonstrated by the product's 91.3 million views on TikTok. It's clear why the Bobbi Brown Vitamin Enriched Face Base remains a go-to product for makeup artists, as it features hyaluronic acid, squalene, shea butter, and vitamins B, C, and E. These ingredients help hydrate, plump, and prep the skin for makeup. Plus, it has a subtle and uplifting scent.
MUA @michelsecsln backed up the primer in a TikTok video with close to a million views in which she shares that the primer is "full of vitamins" and "gives an immediate glow." Although hydrating, the price point of this luxurious primer is something to keep in mind, as it sells for $67. Still, if you can afford it, it might be worth it.
Purchase the Bobbi Brown Vitamin Enriched Face Base at Sephora for $67.
Best long-lasting primer: Milk Makeup Hydro Grip Primer
If you prefer a hydrating primer with strong gripping power, try Milk Makeup's Hydro Grip. Similar to Bobbi Brown's Face Base, the Hydro Grip primer offers moisture and helps keep your makeup in place. "It adds incredible hydration with ingredients like hyaluronic acid and uses blue agave to lock in your makeup," celebrity makeup artist Nydia Figueroa told Allure. The aloe vera extract also boosts hydration by sealing in moisture, per Healthline.
According to makeup TikToker @slaybyjess, the best way to use this primer is to pat it on the skin and let it sit for a minute to dry down. Wait for the product to fully absorb before applying foundation to prevent annoying makeup pilling or separation. The Hydro Grip is known for leaving a tacky finish when first applied; however, it shouldn't make your skin feel sticky to the touch. The initial tackiness helps seal in moisture. As Jessica Carrasco said in her video, "If you use this correctly, your makeup will look flawless."
Purchase the Milk Makeup Hydro Grip Primer at Sephora for $38.
Best plumping primer: Nyx Professional Makeup Plump Right Back Primer
The Nyx Plump RIght Back Electrolytes Plumping Primer Serum is another strong gripping primer that contains skin-quenching ingredients. This option functions as a 2-in-1 primer and serum with hyaluronic acid and vitamin E, which help the skin retain moisture by preventing water loss (via the Cleveland Clinic). This primer-serum hybrid also makes use of pro-vitamin b5. "B5 binds to and holds water effectively, moisturizing the skin and helping it maintain softness and elasticity," board-certified dermatologist Suneel Chilukuri, M.D., explained to Byrdie.
The Nyx Plumping Primer also contains electrolytes such as magnesium, which revitalize and strengthens the skin. "Applied topically, magnesium shows promise as an agent for strengthening the skin barrier, regulating cellular regeneration and repair, calming irritation and redness, replenishing moisture and improving skin's overall wellbeing," Mantle co-founder Stina Lönnkvist tells Vogue Scandinavia. However, this primer does have a scent, so it may not be the right fit for those sensitive to fragrances.
Purchase the Nyx Plump RIght Back Electrolytes Plumping Primer Serum at Ulta for $17.
Best budget-friendly primer: e.l.f. Cosmetics Hydrating Primer Serum
The e.l.f. Cosmetics Hydrating Primer Serum is a budget-friendly option that pairs well with dry skin. This primer uses quality ingredients such as hyaluronic acid, aloe vera extract, and snow mushroom to plump the skin and retain moisture, per the brand's website. Youtuber Georgie Palmer shared in a video review of the product that it's perfect for people with dry skin because of its water-like consistency, hydrating effect, and dewy finish. Palmer also mentions that the primer keeps your makeup in place all day like any good primer should.
A reviewer on Influentser also shared her love for the product, saying, "Definitely an underrated product. Feels so lightweight but hydrating on the skin. Ideal for dry skin types! Makes my skin feel smooth and soft, helps my makeup look and apply smoother..." For just $10, this primer is a must-try.
Purchase the e.l.f. Cosmetics Hydrating Primer Serum at Ulta for $10.
Best blurring primer: Fenty Beauty Pro Filt'r Hydrating Primer
Rihanna's Fenty Beauty brand offers generally unbeatable products, and the brand's Pro Filt'r Hydrating Primer is no exception. This primer acts as a balm for dry skin thanks to sodium hyaluronate and grapeseed oil, which combine to "nourish the skin while improving texture," Nydia Figueroa explains to Allure. The smooth, lightweight formula also helps keep your skin hydrated without weighing it down.
"This is such a beautiful primer to smoothen and brighten your base before makeup. It gives you an effortless glow, hydrates, and is so natural on the skin. I am definitely repurchasing," one pleased Sephora reviewer wrote of the product. Furthermore, according to YouTuber Juicyjas, this primer feels similar to a gel moisturizer and features a fast-absorbing formula that doesn't leave behind a greasy finish. However, she warned that it doesn't create a blurring effect for large pores. In this case, she recommends using a second primer in problem areas.
Purchase the Fenty Beauty Pro Filt'r Hydrating Primer at Ulta for $36.
Best fragrance-free primer: Laura Mercier Pure Canvas Primer
Last but certainly not least is Laura Mercier's Pure Canvas Primer, which boasts over 6,000 reviews on Ulta's website. One thrilled reviewer wrote, "This was a game changer for my dry skin. Makeup blends so much better as well!" This award-winning primer helps soothe dry skin with ingredients such as marine hydra botanicals, which lock in moisture and encourage moisture recovery (via Sephora). "It's designed to hydrate with emollient ingredients like glycerin and olive-derived squalene," makeup artist Dani Kimiko Vincent reveals to Allure.
In a TikTok video with over 30,000 views, beauty content creator Alix Kate said, "If you've got dry skin, you are going to absolutely love this." She emphasizes the primer's tacky finish, which is perfect for gripping makeup, and makes note of its silicone- and fragrance-free formula. She also showed how this hydrating primer creates a glowy complexion that remains hydrating underneath makeup. Can you ask for anything more?
Purchase the Laura Mercier Pure Canvas Hydrating Primer at Ulta for $47.