What To Keep In Mind When Searching For A New Facial Serum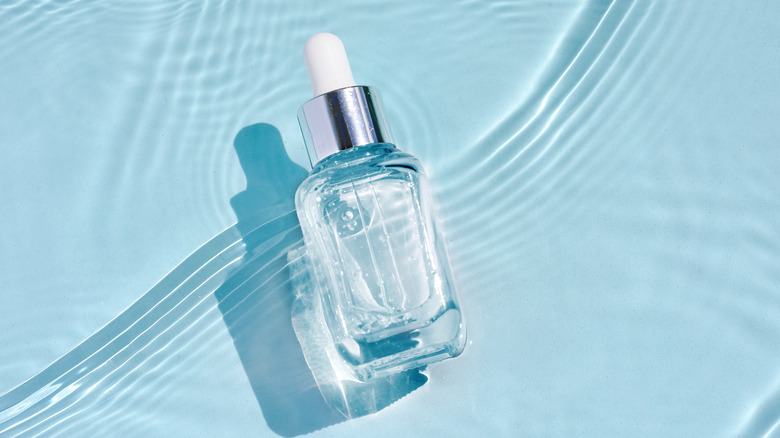 IRA_EVVA/Shutterstock
We may receive a commission on purchases made from links.
There are so many different beauty trends out there, it can be hard to decipher exactly what you need to keep your skin fresh and glowing. But one trend that is not going anywhere is the face serum. According to Harvard Medical School, face serums help to treat a variety of skin issues, specifically those that come with aging, like dark spots and wrinkles.
In short, a facial serum has an oil or water base and is spread on the skin through a dropper. It is lighter than a moisturizer or cleanser and according to Healthline, should be used between the two (after you cleanse your face and before you apply your moisturizer). Adding this step to your nightly skin routine is crucial. While the cleanser obviously cleans your face, it's the serum that will keep your skin looking young, fresh, and glowing. But how do you choose the right facial serum for you?
Look at the ingredients of the facial serum first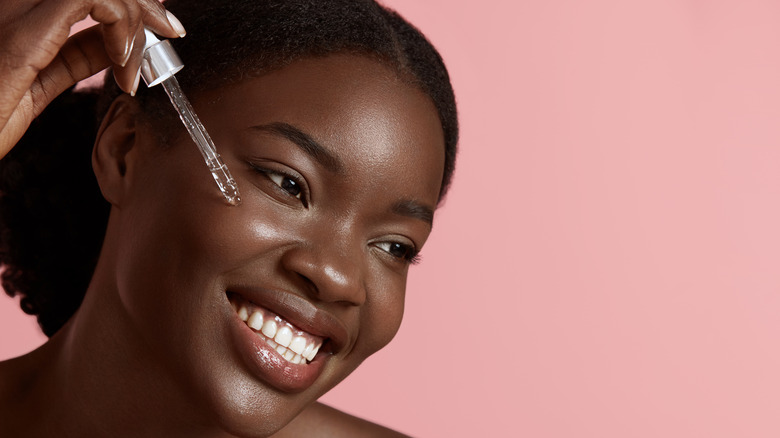 puhhha/Shutterstock
There are a lot of options out there when it comes to serums, so it's important to know what to look for when choosing one that works for you. According to Harvard Medical School, look for ingredients like vitamin C, vitamin E, and ferulic acid. If you are wanting to target things like acne or inflammation, retinol should definitely be high on the ingredient list. As for facial serums that help to reverse aging and lessen wrinkles, always look for a serum containing antioxidants. You should also avoid any ingredient that may irritate your skin, like a perfume, per Pop Sugar.
There are a few different categories of serums, so once you find a few with the right ingredients, narrow it down further by deciding which skin issue you want to target most. According to Healthline, there are serums for brightening, hydrating, anti-aging, repairing, and serums for acne-prone skin, sensitive skin, and serums that work to improve the texture of your skin.
The best facial serums currently on the market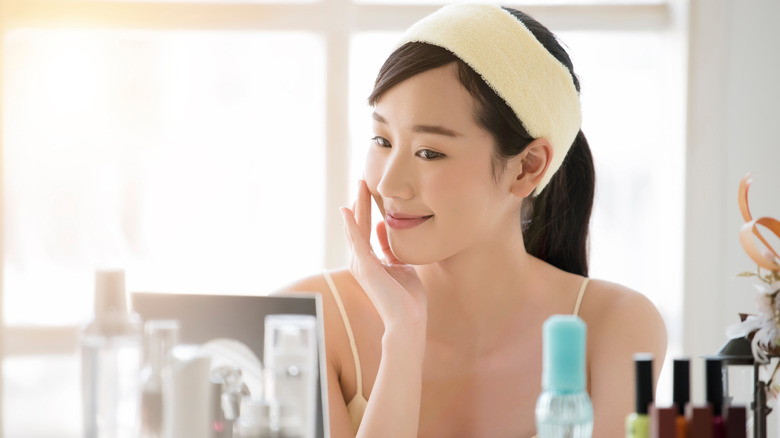 SasinTipchai/Shutterstock
Whether you have been using a facial serum that just isn't cutting it, or have just decided you want to add a serum to your skin routine, it can be hard to choose the best one. If you want to focus on anti-aging (according to Today, women should be using anti-aging products as early as their 20s), consider the First Aid Beauty FAB Skin Lab Retinol Serum, which is the perfect option for serum newbies or those with sensitive skin.
If you have dry skin, Allure recommends the Drunk Elephant B-Hydra Intensive Hydration Serum, which not only targets dryness, but also helps with reducing fine lines and giving your skin a brighter glow. For acne-prone skin, consider the Avène Cleanance Concentrate Blemish Control Serum, per Medical News Today. This is especially great for those with oily skin, as the water-base helps reduce the appearance of excess oils on the skin.
Other great options include the e.l.f Cosmetics Hydrating Serum, filled with jojoba, aloe, and vitamin E, all for a great price (only $12!) and the L'Oreal Paris Skincare 10% Pure Vitamin C Serum, which is also a great price and helps brighten, reduce wrinkles, and even your skin tone. No matter which serum you choose, your skin will thank you!