Why We Can't Wait To Ditch Henna Tattoo Freckles
We may receive a commission on purchases made from links.
The truth about freckles is that they're a beautiful, desirable trait, and many people who don't have them naturally try to go about other ways of getting them. According to Byrdie, some people choose to get freckles tattooed on their faces through machines or needles. Many people have also been putting spots of henna on their faces to achieve a freckled look (via Allure).
Believe it or not, this outlandish beauty trend has been dominating social media for a while. For instance, when you search #hennafreckles on Instagram, thousands of posts featuring henna tattoo freckles pop up, ranging from somewhat subtle looks to more noticeable examples. Furthermore, plenty of people have made TikTok videos devoted to their experiences with using henna to create a freckled effect.
Despite all the attention that henna tattoo freckles have been getting online, we're honestly ready to say goodbye to this strange beauty trend, as it's not always as fun and easy to master as some social media users make it seem.
This trend is risky
Before applying anything to your face, you should always think about whether or not it's safe, even if it seems like everyone's doing it. Although the henna freckle look seems to be a hot trend on social media, Allure explained that it can pose some safety risks to your skin. For example, a dermatologist noted that some hennas are only safe to use on hair, not skin, saying, "Black henna can cause severe skin problems if used for tattooing."
Moreover, the dermatologist explained to Allure that natural hennas that seem safe for the skin still can have unpleasant side effects. "Henna does not rinse off easily, so if a person is sensitized to henna, it could cause a more severe skin problem due to its difficulty of removal and length of exposure," she explained.
In addition to the safety concerns, there's also the risk of the freckles not coming out well. While plenty of beauty fanatics have posted videos sharing their success stories with this trend, the results aren't always pretty. As mentioned earlier, henna isn't easy to take off, so if you don't like the results, it's not like you can instantly get rid of them. When searching "henna freckles fail" on YouTube, an alarming amount of results come up with people sharing their negative experiences. Between the safety risks and the bad experiences people have had with attempting this look, we think henna freckles seem to be more trouble than they're worth.
Beauty trends to try instead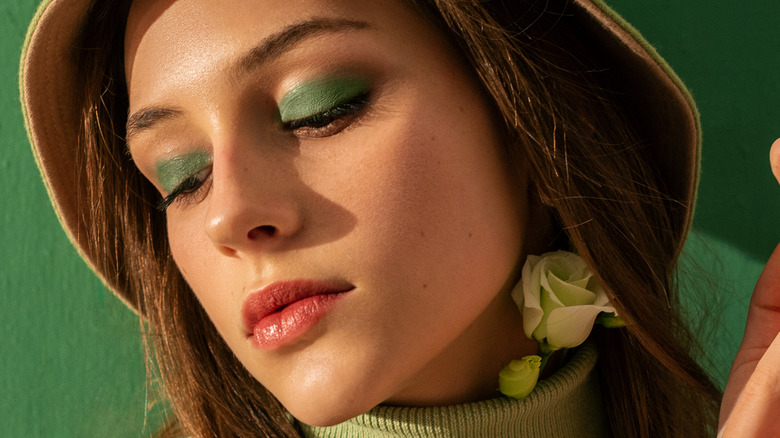 Victoria Chudinova/Shutterstock
Although we can't wait for henna tattoo freckles to hit the decline and eventually fade away (pun intended!), there are some other beauty trends that we think everyone should try. For instance, PureWow explained that adding face gems to your makeup routine is a dazzling beauty trend. Rocking this look can help you turn heads without using henna, and you can take gem makeup off right away if you don't like it, unlike henna tattoo freckles. You can find a plethora of face jewels on Amazon, whether you want to add a tiny bit of sparkle to your makeup or look like you just jumped out of an episode of "Euphoria."
According to Fashionista, in addition to face jewels, green hues are everywhere in the fashion and beauty worlds at the time of writing. Are you looking for examples of how to flaunt some green makeup? If so, Instagram is serving all the inspiration you'll need to start rocking this look, including both dramatic and more lowkey looks.