Here's How To Get In On The Copper-Colored Hair Trend At Home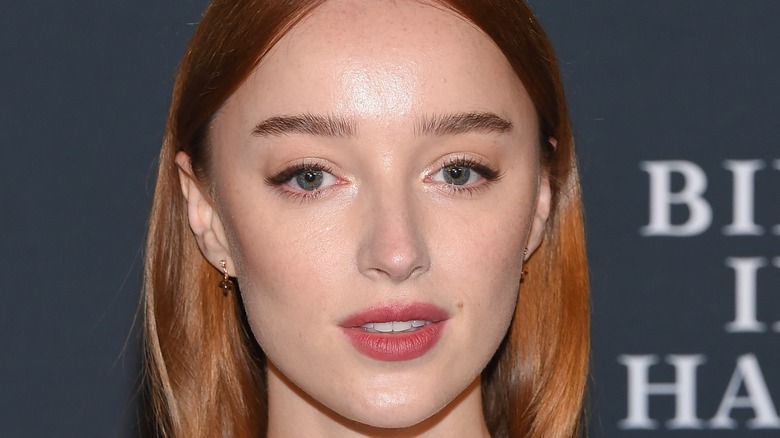 DFree/Shutterstock
We may receive a commission on purchases made from links.
When you think of natural hair colors, you probably think of blondes, brunettes, and redheads — and each color is beautiful in its own unique way. According to Healthline, dark hair is the most common hair color, and that includes black and brown; next up, we have blonde hair, and the rarest of them all is red hair. Natural redheads comprise only 1-2% of the entire population, which is entirely based on genetics. While people who have descended from Western Europe are most likely to have red hair, people of any ethnicity can have red hair. However, Scotland has the largest number of natural redheads in the world (via Cosmopolitan). Of course, if you weren't born with fiery red hair, you always have the option to color it.
There are so many shades to choose from when it comes to red hair, and the range is actually pretty broad. There is auburn, burgundy, or cherry red, and the list goes on. Cassondra Kaeding, Redken brand ambassador, told Hair.com, "I've seen a huge influx in redheads in the past three years, which is amazing because it's such a beautiful color if you execute it correctly ... Redheads are kind of coming back in."
According to Byrdie, the copper hue was "one of 2021's most easily identifiable color trends," with A-list celebs like Kendall Jenner and Phoebe Dynevor choosing this reddish-brown color inspired by the metal itself. It was only a matter of time till copper became the most in-demand and hottest hair trend.
Copper hair looks amazing on everyone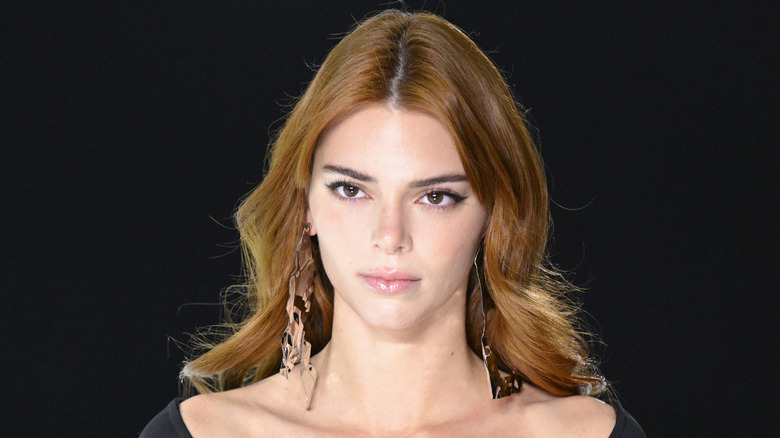 Peter White/Getty Images
When choosing a hair color, it is crucial to consider your skin tone, but that's not the case with copper. According to Allure, this metallic shade "looks good on just about anyone," making it a great color idea for anyone who wants to go a little ginger. New York City-based colorist Amanda Moore told the outlet, "Most skin tones are going to do well with copper because copper can swing in different directions," which is probably why #copperhair on Instagram has over 1.1 million posts. There isn't exactly one shade of copper, which is why it can be customized to suit each individual. Celebrity hair colorist Jeremy Tardo recommends choosing "a more strawberry or copper take" on this versatile color if you have lighter skin and "a warm terra cotta or rich sienna hue" if you have a deeper skin tone, per Byrdie. 
The popularity of the "sunset red" #copperhair had 88.6 million views on TikTok by March 2022 (via Bustle). Alex Brownsell, co-founder of Bleach London, told Bustle, "Warm, coppery tones are popular because they're universally flattering, and the wide range of copper shades to explore means there's something for everyone." She also added that the color has been quite in-demand at her salon. This rich shade of red is easier to achieve, but to maintain the color's vibrancy and health, avoid hot tools, invest in a color-depositing conditioner, and only use products made for colored hair (via L'Oreal Paris).
Best copper hair dyes to get the look
People are going copper everywhere. You can always make a trip to the salon to get this gorgeous shade of copper, but if you aren't ready to indulge, you can achieve the look at home too. Byrdie recommends the Clairol Natural Instincts 6R Spiced Tea Light Auburn because "it's gentle and hydrating with no ammonia." According to Clairol, this hair color has 80% naturally derived ingredients and can enrich your natural hair color. Style Craze loves Garnier Nutrisse Nourishing Color Crème in Ginger Snaps, a light natural copper, because this dye is formulated with avocado, olive, and shea oils. It comes with a color-boost technology, so it lasts a long time, is super affordable, and even shows on dark hair. That is often a struggle.
If you want a more intense shade of copper, you need to try L'Oreal Paris Feria Multi-Faceted Shimmering Permanent Hair Color in Intense Copper as chosen by Top10Best. According to L'Oreal Paris, the Feria line offers "a multi-tonal, shimmering color" that is super edgy and on-trend. Hair Every Day's favorite pick is Vidal Sassoon Pro Series Permanent Hair Dye, 6RC Bold Copper, because it makes your hair "super soft" and "shiny" without the harmful effects of ammonia. It is super easy to use at home, but it might need extra care to prevent fading. With these at-home hair dyes, you are ready for the it-girl hair color of the year.