Keep Your Lip Color On All Day By Applying Your Products In This Order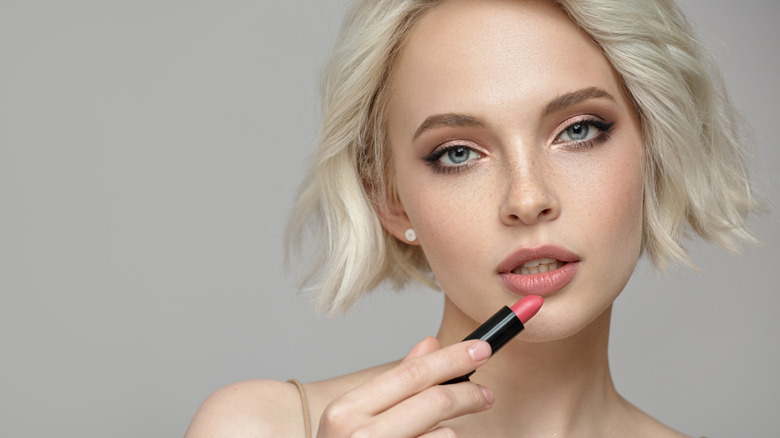 YuriyZhuravov/Shutterstock
Whether you're in a meeting, on a date or just enjoying a day out with friends, there's nothing worse than being out and realizing to your horror, that your lipstick has ended up smudged or caked across your face.
Naturally, if you're applying color to your lips, you want to ensure it stays locked in place for as long as possible, avoiding smudging, cracking, and caking. But the reality is that keeping your lip tint of choice in place isn't always as simple as you would assume.
A common misconception is that of all the makeup in our arsenal, lipstick is the easiest to master, and that all it takes is a quick swipe across your lips and that's your lip color of choice set in place for the day. But, in order to keep your lip look locked in place it takes a lot more than that.
As per Mind Body Green Lifestyle, in order to achieve a lip look that stands the test of time, it requires more than a quick wash of your go-to product. Instead, the key to success is layering your products in the perfect order, as well as careful lip prep.
But what is the right order to apply your lip products, and how should you prep your lips, to ensure that your lipstick stays in place all day long?
Start by prepping your lips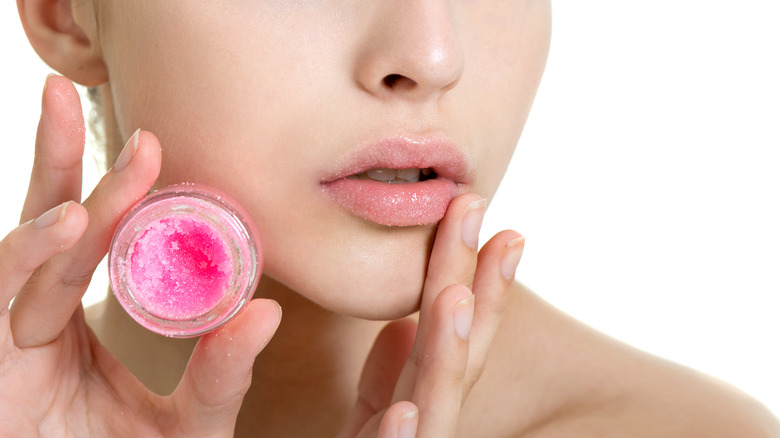 Juta/Shutterstock
The first step to making it easier to keep your lipstick in place is to prepare your lips properly. It's easy to assume that lips don't require the same level of care as the rest of our skin for makeup application, but that isn't the case. Your lips need just as much TLC.
As per Mind Body Green Lifestyle, a smart place to start is with exfoliation to buff away dry, dead skin cells, while also smoothing out any areas that have creases. The process also boosts blood flow, which encourages collagen production and ensures that your lips look as full as possible. Board-certified dermatologist Loretta Ciraldo, explains: "Exfoliating your lips can be helpful if you're starting to see some lip lines." Into the Gloss recommends using a sugar lip scrub or a soft toothbrush to buff dead, dry skin off of lips, leaving a smooth surface for makeup application.
The next step to prepping your lips is to apply balm. Applying lip balm to your lips masks any small cracks in your lips, so that your tint of choice doesn't linger in them. 
Another handy tip is to pick a tinted lip balm that matches your lipstick color, as this should help to give your lipstick a color boost. FYI, for best results, allow the lip balm to soak completely into your lips before starting to apply products on top of it.
Follow up by layering your products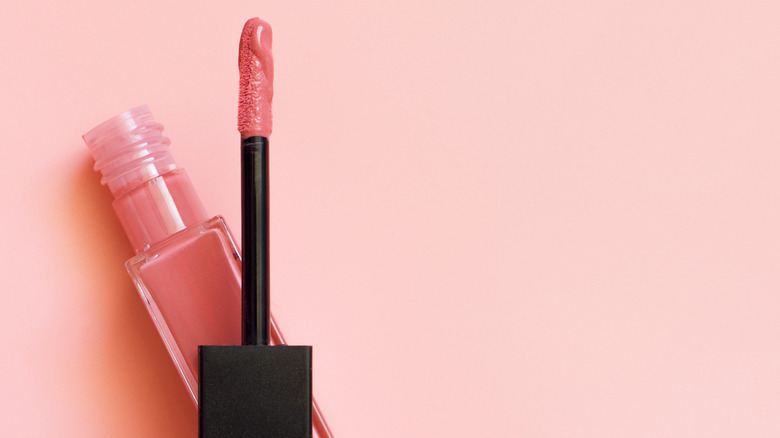 Kat Ka/Shutterstock
The next step to ensuring that your lipstick stays on all day is to layer your products, starting with a lip liner the same shade (or as close as possible) as your lip tint. Mind Body Green Lifestyle advises that you start by lining your lips to create an outline and then coat each lip in lip liner to give your lipstick a solid base to adhere to.
Into the Gloss also explains that lip liner acts as an extra level of primer and can work well when applied on top of your lip primer of choice. Applying lip liner also means, if your lipstick does rub off there is a similar hued base beneath it, so your lips won't look completely naked.
Makeup artist Nechelle Turner explained to Mind Body Green that it's best to apply lip color in layers. She explains that it's best to, "apply lipstick, blot with a tissue, and reapply lipstick". Her reason for this is genius — when you blot the initial layer, you press the formula into the liner (which usually has a waxy base formula) which makes it stay in place more easily.
To finish the look off, coat your lipstick with a slick of gloss. This will further set the lipstick in place and add an extra layer of protection.