How To Find The Perfect Nude Lipstick For Your Skin Tone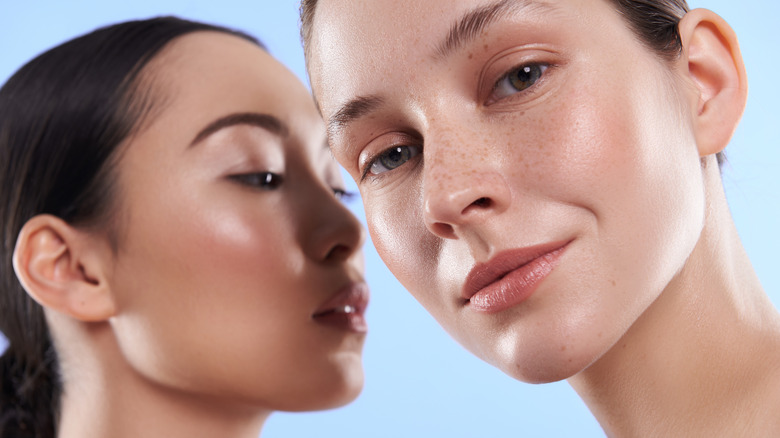 Olena Yakobchuk/Shutterstock
We may receive a commission on purchases made from links.
There is an undeniable power to wearing a bold red lip, but it can be a little extra for an everyday look for some. That's why nude lipsticks are so popular: They are lowkey yet glamourous and make you feel more put together. While there are countless options for nude lipsticks in the beauty aisle, it can be quite a challenge to find one that is perfect for you because what is an ideal nude on one person might look too light or dark on another, and all of that depends on your skin tone and your natural lip color. 
However, once you find the perfect shade, life becomes much easier. In fact, Los Angeles-based makeup artist Nikki DeRoest told Women's Wear Daily, "The beauty of a nude lipstick is that you don't have to be too exact, and it's also easy to apply without a mirror." Furthermore, the outlet considers a nude lipstick to be "highly personal" because you can choose a shade with either warm, neutral, or cool undertones.
You might have fallen in love with Kim Kardashian's nude lips, but they might not look as flattering unless you have the same skin tone as her. On this, Aleena Khan, the cofounder of Ctzn Cosmetics, told Vogue, "The most popular industry definition for a nude lip is one shade above your natural lip tone; this is how you avoid looking washed-out and choosing a shade that is too pale for you." Here, we make the tedious task much easier with some amazing picks.
The best nude lipstick shades based on your skin tone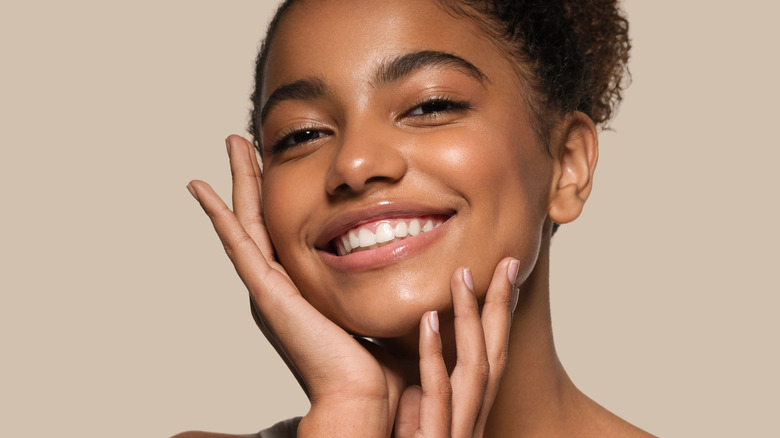 Irina Bg/Shutterstock
Nude lipstick is not a one-size-fits-all product. Whether you have fair, medium or dark skin, you can find your perfect lipstick by paying attention to a few details and keeping in mind that nudes can range from pinks to browns. According to Vogue, If you have fair skin, the perfect nude lip color for you are soft pinks and light rose shades. Think "Euphoria" star Sydney Sweeney at The Met Gala. If your skin is lighter, you can rock a little medium-toned pink or go a bit rosier. Vogue's recommendations are Nars Audacious Lipstick in Barbara or Gucci Rouge à Lèvres Satin Lipstick in Carol Beige.
For medium skin tones, try a peachy-tan, warm beige nude, or a deep rose shade to compliment your complexion, per Allure. Try Nudestix Magnetic Matte Lip Color in Boho for staying power or Maybelline New York Color Sensational Creamy Matte Lip Color in Daringly Nude for a more affordable pick. You don't want your nude lipstick to look too light against your skin, or it will give a concealer vibe. 
If you have dark skin, your best bet is to choose a soft chocolate brown, peachy-nude, or a coral plum to accentuate your lips while flattering your skin tone. Women's Health loves Mented Liquid Lipstick in Hot Date and Yves Saint Laurent Rouge Volupté Shine Lipstick Balm in Nude Lingerie. Show off your pout with these perfect nudes for your skin tone, and you'll never have to second-guess your drugstore trip again. Plus, don't forget that you can keep your lip color on all day by applying products in a specific order!