Tinted Moisturizer Vs. Skin Tint: What's The Difference?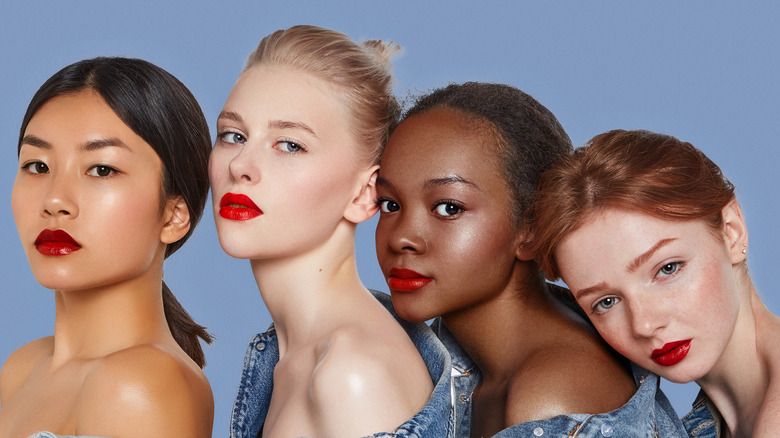 Red Umbrella and Donkey/Shutterstock
We may receive a commission on purchases made from links.
A full face of makeup can be fun and gorgeous, but when the days get too hot and humid, it can be a pain because no one wants their makeup to melt off of their face. Thankfully, for those moments or when you're running short on time and still want your skin to look even and glowy, you have tinted moisturizers and skin tints.
Byrdie describes tinted moisturizers as "a hybrid between a lightweight foundation and a cream," where it has colored pigments to provide sheer to medium coverage to give you a more even-toned complexion with the bonus of moisturizing your skin. Depending on your preference, you can choose a matte or dewy tinted moisturizer, which often comes with sun protection. They can "enhance" your appearance but can't do the best job covering "prominent blemishes or imperfections." 
On the other hand, skin tints are described as "the sister product of a tinted moisturizer," per Women's Wear Daily. Cosmetic chemist and founder of FanLoveBeauty Ginger King told the outlet, "It is the most natural-looking way to even out skin tone without perceivable product on face." Skin tints are super lightweight and give sheer coverage to conceal minor imperfections without the heavy feel of a foundation.
Both tinted moisturizers and skin tints give you dewy skin with minimal coverage and are great for those who're fans of natural-looking skin. While they might be pretty similar when you apply them to your skin, they aren't twins.
Tinted moisturizers hydrate your skin, but skin tints may not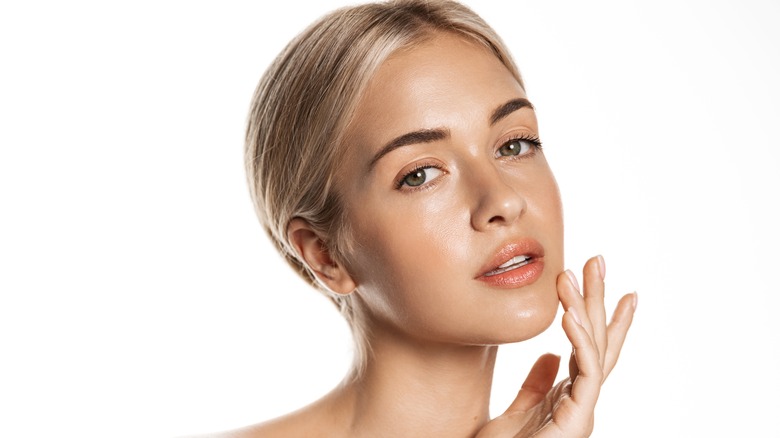 Lyubov Levitskaya/Shutterstock
Tinted moisturizers and skin tints are an easy route to getting even-toned skin with a little glow and are perfect for the no-makeup makeup look, but they have one major difference.
Bob Zonis, the senior formulating chemist at Beaumont Products and a cosmetic chemist, told Racked, "If someone sells a 'tinted moisturizer,' they still have to prove that it moisturizes," adding that they are violating the terms of both the Food and Drug Administration and the Federal Trade Commission if a tinted moisturizer doesn't actually moisturize the skin. There are skin tints with hydrating ingredients, but to be called a tinted moisturizer, it needs to hydrate your skin. So, if you're looking for natural-looking coverage with guaranteed hydration, you should choose a tinted moisturizer. Nowadays, most skin tints claim to be "hydrating," but it's hard to know for sure.
Byrdie's pick for the best-tinted moisturizer is NARS Pure Radiant Tinted Moisturizer SPF 30 because it gives you flawless skin with light coverage and has vitamin C and mineral-rich seawater for extra brightening and hydrating benefits. If you're looking for a skin tint that provides hydration, you should try Ilia Super Serum Skin Tint SPF 40. Finally, Women's Wear Daily is a fan because it is infused with hyaluronic acid, niacinamide, and squalane that have uber hydrating properties. In fact, cosmetic chemist Ni'Kita Wilson told the outlet, "It's an SPF 40, applies evenly, and leaves my skin feeling smoother," and its one of her favorites.
Now, go forth and have a good summer with the perfect lightweight product for you!