What's The Best Age To Start Using Retinol On Your Skin?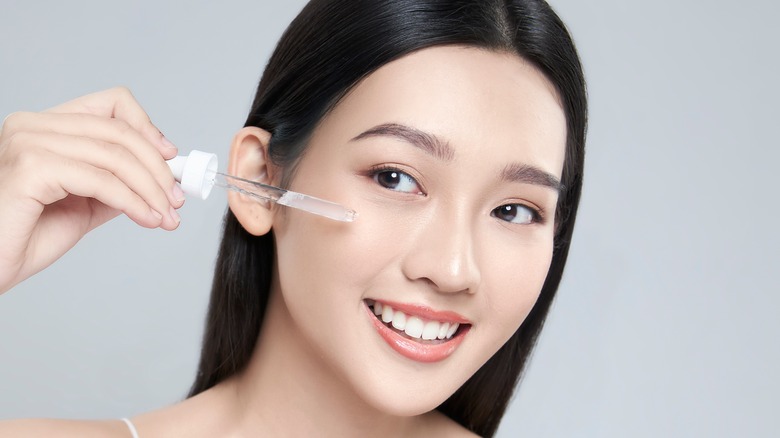 Minh Mi Goi/Shutterstock
We may receive a commission on purchases made from links.
The beauty world is always coming up with magical ingredients to turn back the hands of time, but few rockstars have stood the test of time themselves. While new anti-aging ingredients promise miracles, many still need more studies to prove they actually work. One of them is almost always included in the most important and best anti-aging products on most lists: broad-spectrum sunscreen. Dermatologist Rita Linkner, M.D., of RVL Skincare in New York City told Real Simple, "A broad-spectrum sunscreen blocks both UVA rays, which cause aging, and UVB rays, which cause burning." 
Sunscreen is important because it protects you from skin cancer and can help prevent premature signs of aging such as fine lines and hyperpigmentation. Everyone needs to wear sunscreen every day. According to the Skin Cancer Foundation, everyone older than six months should wear sunscreen daily, regardless of skin tone or ethnicity.
Another tried-and-true anti-aging ingredient is retinol. On this, board-certified dermatologist Dr. Corey L. Hartman, founder of Skin Wellness Dermatology in Birmingham, Alabama, told Marie Claire, "Retinoids are vitamin A derivatives that ultimately get converted into retinoic acid, the active form of the molecule." Retinol is the over-the-counter version of retinoids. Adding retinol to your routine can help fight wrinkles, brighten your skin and diminish hyperpigmentation because it helps "stimulate cell turnover, which increases collagen and elastin production." 
It's a great addition to your everyday skincare routine, but how early in your life should you start using retinol?
This is the best age to start using retinol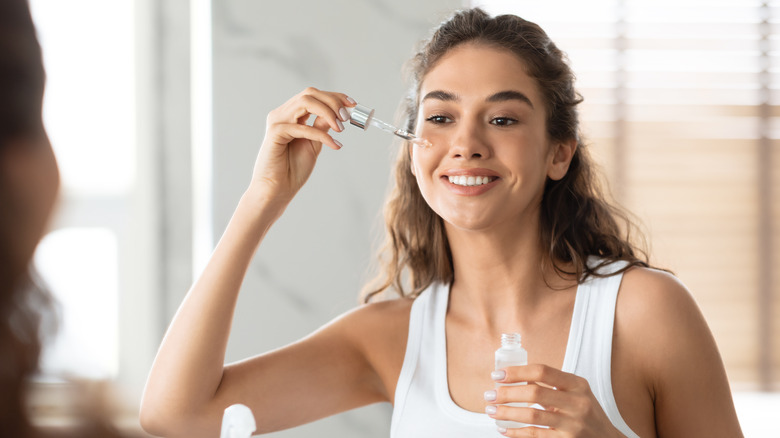 Prostock-studio/Shutterstock
Explaining retinol, Dr. Allison Arthur, M.D., told MarthaStewart.com, "The production of collagen fibers starts to decline in our 20s." Dr. Arthur added that collagen keeps your skin looking tout and firm, and less collagen means more "wrinkles and sagging." Retinol helps stimulate collagen production; therefore, adding it to your skincare routine can help treat signs of aging before they start. Meanwhile, board-certified dermatologist Julie Russak recommends starting retinol in your 20s to "boost your regeneration potential while it's still high." It's a bad thing to start it later in life, but it's smarter to use it as a "pre-aging than anti-aging" ingredient (via MarthaStewart.com).
Furthermore, New York City-based, board-certified dermatologist Joshua Zeichner told L'Oréal Paris, "I love when my younger patients in their 20s are using retinol." Dr. Zeichner added that using it as a preventative measure from an early age reduces the possibility of getting wrinkles.
Byrdie recommends starting retinol at age 25 if you want a specific age to start because that is when your body starts producing less elastin. If you take a look at your skin and notice dynamic wrinkles on your forehead and around your eyes and mouth, it's a sign that you should use retinol to treat them. The outlet's pick for a great retinol product is Estée Lauder Advanced Night Repair Synchronized Multi-Recovery Complex Serum. For an affordable option, try RoC Retinol Correxion Anti-Aging + Firming Night Face Moisturizer. Then, as you age, you could decide whether retinol or tretinoin is best for you.