Do Jade Rollers Actually Do Anything?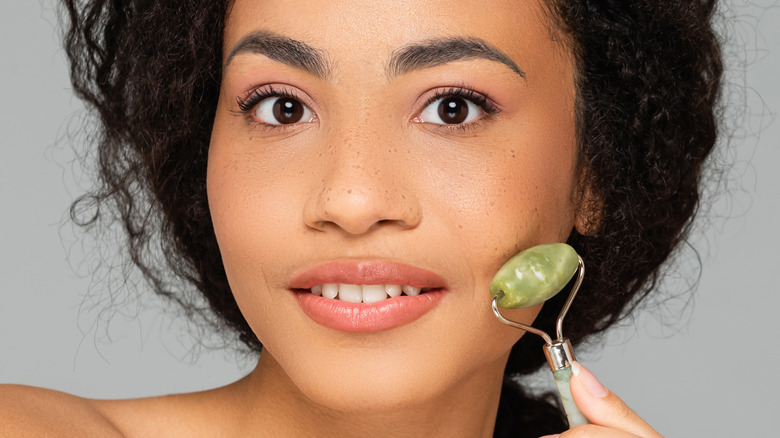 LightField Studios/Shutterstock
The desire to have glowing, youthful-looking skin is never-ending. What won't we do for that? We buy skincare products and invest in expensive in-office treatments to have the best skin possible. While getting professional treatments can help our skin, they can be pricey, and it is not always possible for us mere mortals. Thankfully, effective beauty tools are available on the market so that we can give our skin a little professional-grade TLC at home.
Jennifer Aniston is a huge fan of Jillian Dempsey's Gold Sculpting Bar, for instance, with the legendary actor telling InStyle, "It feels so damn good to put oil on your face and just roll." It's literally made of 24-karat gold and has mini vibrations to "relieve any tension in your face and aid with lymphatic drainage," per Allure. The results are smoother, less puffy, and touter skin. The art of facial massaging for better skin is older than you would think. Moreover, Cecilia Wong, the founder of Cecilia Wong Skincare, told Allure, Gua sha is one the oldest recorded forms of traditional Chinese medicine for energy flow and blood circulation." It is supposed to help with lymphatic drainage with its energy and give you younger-looking skin.
Another popular facial massaging tool is the jade roller. According to Healthline, jade is believed to help with "increasing fortune, grounding, and enhancing maturity in relationships" because it radiates powerful energy and has been popular in China for centuries. But do jade rollers do what they claim?
This is what jade rollers actually help with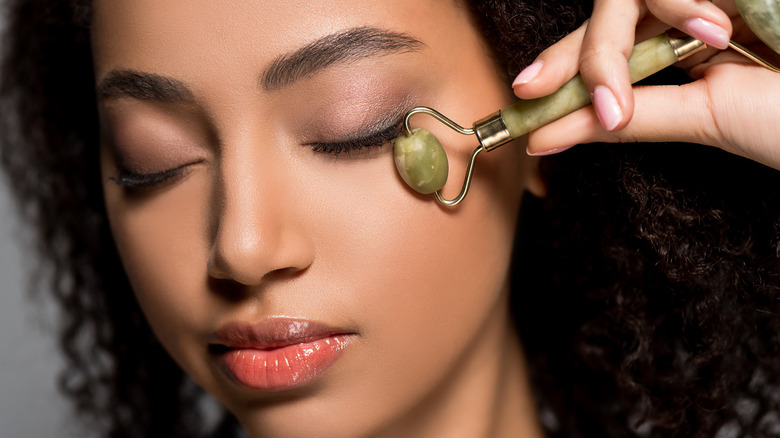 LightField Studios/Shutterstock
We often hear how jade rollers can improve your skin, and some people even chill it in the fridge for a cooling effect. New York City-based dermatologist Melissa Kanchanapoomi Levin told Allure, "Jade facial rollers have been used to massage the skin since the 17th century in China." They are trendy because they claim to "remove toxins from the skin, smooth fine lines, decrease dark circles and under-eye bags, ease tension headaches, calm inflammation, heal breakouts, brighten skin, and create an overall feeling of 'zen'." That is a lot of benefits for one little at-home beauty tool, but does it do it all? Regarding what it actually does, Dr. Levin shared that it "can help to temporarily address puffy eyes and also is a relaxing addition to your self-care routine," per The Daily Front Row.
Using a jade roller is a great way to show your skin some love, but it might not be as magical as it claims. Esthetician Renée Rouleau likes how they can massage your face to increase blood flow, which is helpful as you get older, but she isn't "convinced" if it can really tighten face muscles or reduce puffiness because of how it's built (via Byrdie). It feels nice against your skin, but you might need medical procedures to truly sculpt your face. Furthermore, Healthline shared that there is "limited scientific evidence" that jade's properties really heal. While there are plenty of non-believers, some people do "swear by their powers."