This Is The Most Important Place To Use Sunscreen And You're Probably Missing It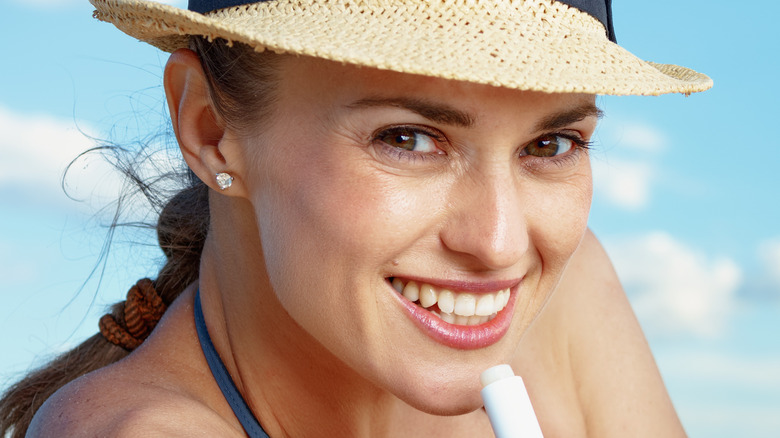 Alliance Images/Shutterstock
We may receive a commission on purchases made from links.
Who needs to wear sunscreen? Everyone. When do you need sunscreen? Every day, unless you live in a cave. In fact, Mona Gohara, M.D., associate clinical professor of dermatology at Yale University, told Women's Health, "Many people assume you only need to wear sunscreen on sunny summer days, though it really should be applied year-round." That is because the sun's UV rays are still present on cloudy days, and wearing sunscreen can protect you from premature aging, burning, and skin cancer. Most people only wear sunscreen when they go outdoors, but it's also essential to wear it when you don't leave your house.
According to the American Academy of Dermatology Association (AAD), you should look for a sunscreen that provides broad-spectrum protection, has an SPF of 30 or higher, and is water-resistant. Broad-spectrum protection protects you from both UVA (causes aging) and UVB (causes burning) rays. Also, make sure to apply it 15 minutes before you go outside and reapply every two hours if you are outdoors longer. While most people are pretty diligent about applying sunscreen on their face, they often forget other exposed areas of the body like your neck, chest, and ears, which also need sun protection because those areas are also prone to premature aging, burning, and skin cancer. When applying sunscreen to our faces, we often forget an area that is our lips. However, the lips need to be protected, too. 
Why your lips need sun protection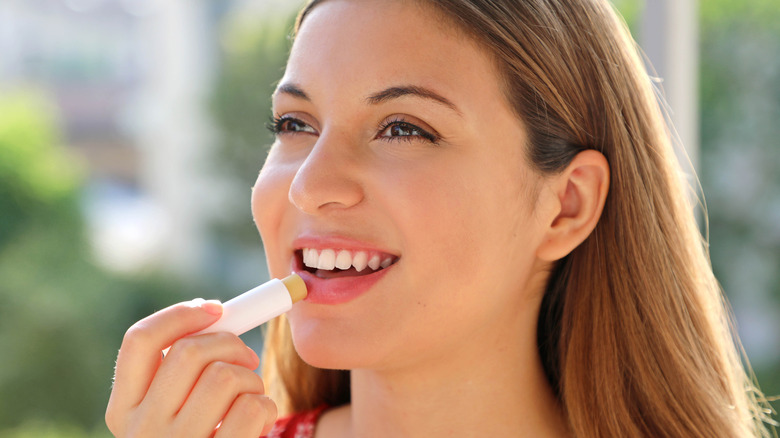 Zigres/Shutterstock
Most of us think of lipsticks or lip balms when it comes to lip products, but sunscreen isn't often one of them. According to Verywell Health, lip skin is incredibly thin and needs protection from the sun and harsh weather, like the skin on the rest of our body. With age and sun exposure, we lose collagen on our lips, too, making them thinner. People use hydrating products on their lips to moisturize them but don't often consider sunscreen a top priority for that body part.
Elizabeth Tanzi, founder and director of Capital Laser & Skin Care, simply told Allure, "People forget to protect their lips." Tanzi added that getting skin cancer on your lips is "particularly dangerous," and it's the top body part where people do not use sunscreen. According to the Skin Cancer Foundation, the sun's UV rays are the main cause of lip cancer, closely followed by "smoking, alcohol consumption, and having a suppressed immune system." That's why it's so important to use an SPF-infused lip balm during the day to keep them hydrated, healthy, and protected. 
According to Byrdie, Sun Bum Lip Balm is one of the best SPF-infused lip balms because it has SPF 30, hydrating ingredients like aloe and cocoa butter, and is extremely affordable. For a hint of color, choose MDSolarSciences Hydrating Sheer Lip Balm SPF 30, which comes in five gorgeous tints and is enriched with avocado oil, per Healthline.