Why More People Are Turning To CBD Massages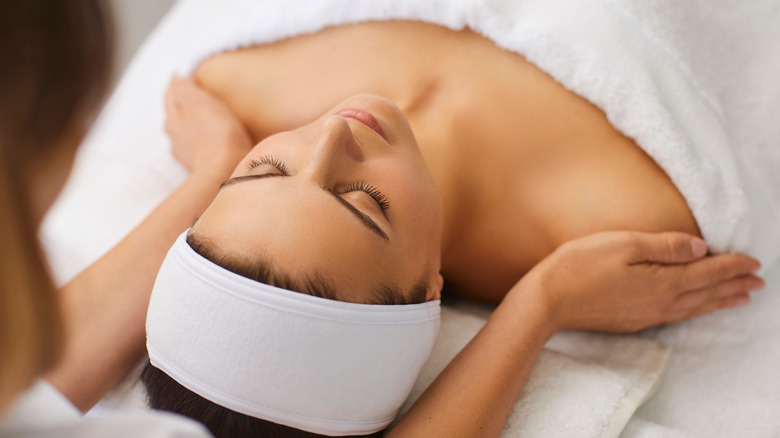 Studio Romantic/Shutterstock
CBD has been very popular for a while now, and it's not going to be fading away any time soon. So, what exactly is it? According to WebMD, CBD comes from hemp, which itself comes from the Cannabis sativa plant. This plant contains very small amounts of THC, which is what gets you high when smoking marijuana. Essentially, while CBD is found in marijuana, it's not the part of the drug that makes you high.
Advertisement
Many people enjoy using CBD because it has a soothing effect and helps them calm down physically and emotionally, and it can even be good for the heart (via Healthline). Although more people seem to experience positive effects than negative ones, CBD doesn't agree with everyone. For instance, it could result in stomach issues, alter your weight, and/or make you feel tired and weak.
For people who do have pleasant reactions to CBD, there are many ways to experience it, such as taking it through oil, wearing creams, swallowing pills, eating gummies, vaping it (via Healthline), and now even through massages.
It should help you relax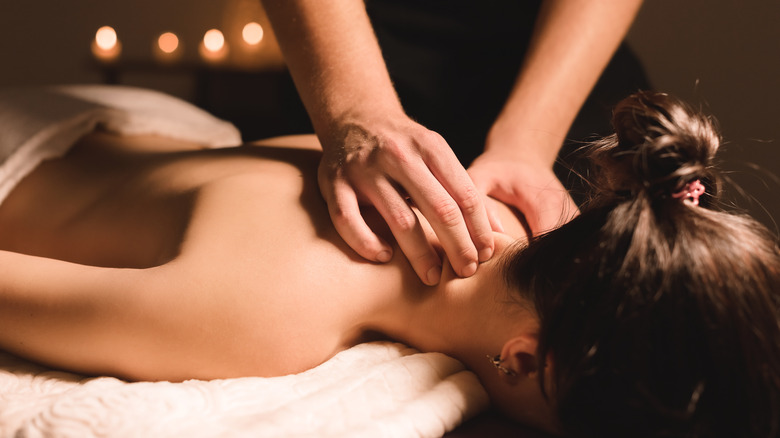 yanik88/Shutterstock
If you already use CBD in any form and react well to the chemical, you will probably enjoy a CBD massage. Getting a massage that incorporates CBD lotions or oils into the process not only feels good but can help with inflammation, make you feel less tense or stressed, and even help get rid of chronic pain (via Byrdie). Plus, the calm feeling shouldn't go away immediately after the massage is over; you should feel more relaxed for the remainder of your day, thanks to the CBD-infused process.
Advertisement
Anyone considering getting their first CBD massage but isn't 100% sure about it may want to invest in their own CBD massage oil to try at home before committing to an hour-long process at a spa. If you're considering trying a CBD massage oil from the comfort of your home, Healthline rounded up some excellent options. For instance, if you want a convenient spray option, Healthline suggests the Lazarus Naturals CBD Massage Oil, which is beneficial for your skin in addition to its soothing effect. Available for $12, this full-spectrum CBD massage oil has a rating of more than 4.5 out of 5 stars. 
Or, if you prefer an organic option, Healthline recommends the Juna Ease Functional Body Oil, which has a pump design. This full-spectrum massage oil also features other oils such as lavender but doesn't have any gluten or GMOs in it. Selling for $48, this healthy massage oil has a near-perfect rating.
Advertisement