How To Find A Stylish Raincoat That You Will Love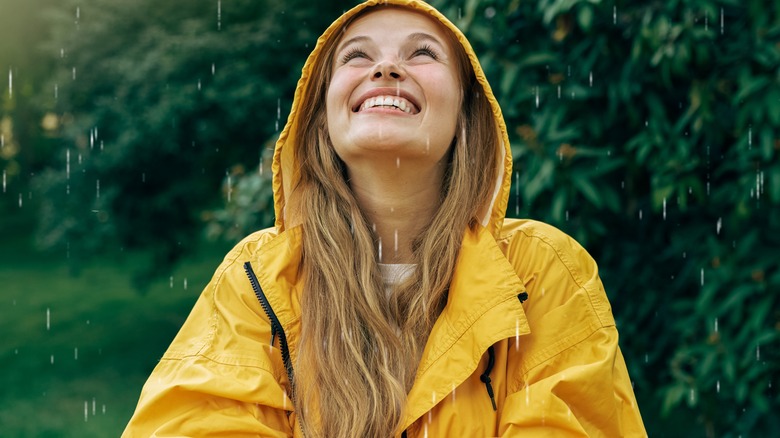 Yuricazac/Shutterstock
We may receive a commission on purchases made from links.
Learning how to style your favorite oversized hoodies and sweatshirts is an excellent way to prepare your next rainy day outfit. Of course, you'll additionally need a raincoat if you plan to leave your home while it's raining. We couldn't imagine braving the rain without our raincoats! Regarding this garment, did you know that a raincoat is also called a macintosh? According to Britannica, this is because a scientist named Charles Macintosh originated the material used for raincoats in around 1823.
Like any other article of clothing, raincoats have evolved since their origins and have become more fashionable with variations. For instance, when you search #raincoat on Instagram, you'll see a plethora of posts featuring people rocking this protective item. If you're on the hunt for a stylish new raincoat but don't know where to start, we know what you should be looking for in the perfect macintosh for your wardrobe.
Choose a raincoat that suits your style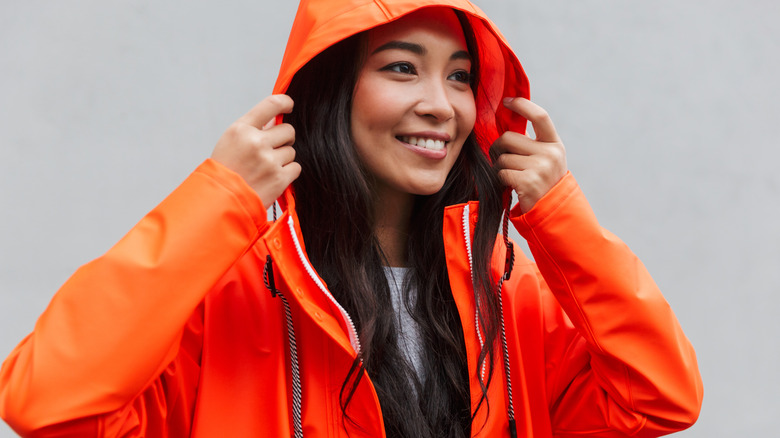 Dean Drobot/Shutterstock
When shopping for your new raincoat, you should think about your unique style and find an option that complements your outfits. For example, if you like a bold look, you should opt for a statement raincoat with a lively hue or silhouette (via Tdclubs.ru). Furthermore, while raincoats typically don't have the most attractive shapes, you can try to find one that fits your body well to avoid getting lost in the garment. You usually can't go wrong with a traditional trench raincoat design, so this is always a solid choice if you're not feeling too adventurous or want a more flattering look — at least as flattering as raincoats can get.
Marie Claire rounded up some of their favorite raincoats, and we can't get enough of these practical yet stylish pieces. To start, Everlane's The ReNew Anorak raincoat is an excellent choice for sustainable shoppers because it's created with fully recycled polyester. Available at Everlane for $118, this sustainable raincoat has over 4 out of 5 stars.
For those who like a shiny look, Marie Claire recommends the High-Shine Rain Slicker by Jane Post, which comes with a hood that you can take off. Selling for $345 at Saks Fifth Avenue, it's also easy to clean. Or, if you're hoping to add some sunshine to a rainy day, the Hunter Women's Lightweight Waterproof Jacket is available for $195 at Hunter and comes in a vibrant yellow, as well as other colors.