Everything You Need To Know Before Getting A 'Lip Blushing' Tattoo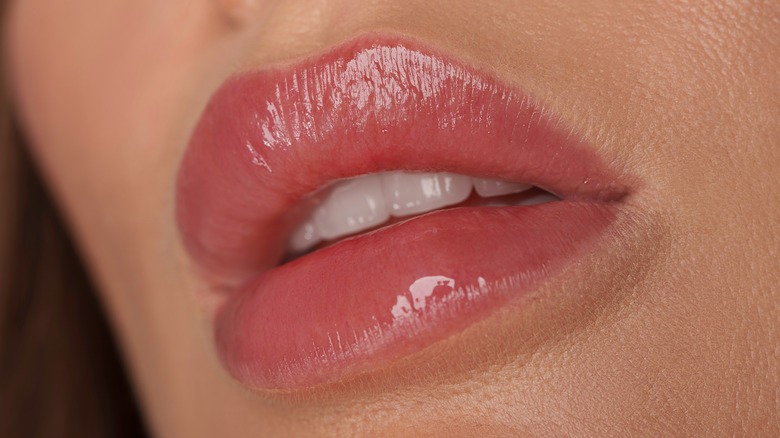 Beauty Works/Shutterstock
A little color on the lips can liven up your entire look. Perhaps that's one of the reasons red lips are so hot. According to Psychology Today, men are drawn toward women with red lips because the color contrast "enhances perceived femininity and attractiveness." The outlet further shared a 2012 study published in the International Journal of Psychological Studies in which women wearing red, brown, pink, and no lipstick at a bar found that women wearing red were approached the most. As lovely as wearing lipstick is, reapplying it to make it look perfect all the time can be burdensome. There are long-lasting lipsticks and lip tints that last longer than a regular lipstick, but even those fade within a few hours. That's where permanent makeup comes in, and it's more common than you'd think.
One of the most popular permanent makeup procedures is microblading, which is basically adding semi-permanent ink to shape and fill your eyebrows to make them look fuller (via Allure). It can save you a ton of time while doing your makeup, after all. Lip blushing to lips is similar to what microblading is to your eyebrows. On this, Melissa Pruett, founder of Melt By Melissa in Scottsdale, Arizona, told Allure, "This super-natural, semi-permanent cosmetic tattoo builds consistent color and defines your shape for fuller lips without filler and a more polished pout." It's also known as lip tinting or a lip tattoo.
Important facts to learn before trying the lip blushing tattoo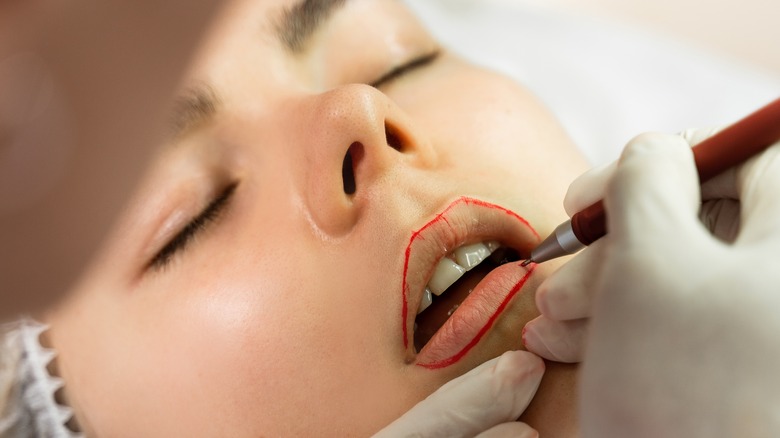 BLACKDAY/Shutterstock
If you want to wake up every day with lips that look lightly bitten, you need to try lip blushing. In addition to adding color and redefining your lips, lip blushing can also cover up scars or hyperpigmentation that you want to conceal (via PopSugar). New York City-based lip blushing master artist Savannah Kondratyev told the outlet, "We lose collagen and elasticity in our skin," meaning your lips can look thinner over time. Therefore, lip blushing can also make your lips look bigger.
Like a tattoo, artists use a mechanical needle to deposit colored ink into the lips in a series of dots rather than drawing straight lines, and the result is a subtle flush of color like you are wearing a lip tint, per Byrdie. It works on all skin tones and lip colors and lasts two to three years. Though it looks beautiful on its own, you can also apply lipstick and other lip products after. Shaughnessy Otsuji, a cosmetic tattoo artist, doesn't recommend it for people who are pregnant or nursing, taking blood thinners, are on steroids, or are prone to cold sores.
Cosmopolitan notes that lip blushing typically costs between $450 and $1,500, depending on your city and the artist. It's pretty pricey, and touch-ups can cost up to $400. It hurts a tiny bit, so they add a numbing cream to alleviate the pain. It takes a few weeks to heal completely, and you might notice some scabbing, so keep a moisturizing balm around.