How To Style A Beanie For A Cool Everyday Look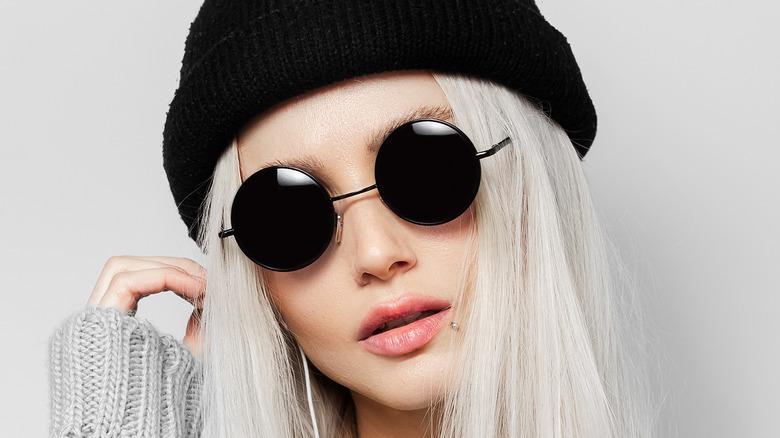 Lalandrew/Shutterstock
We love to upgrade our wardrobes with statement accessories such as glamorous necklaces, bold purses, and stylish hats. For instance, beanies can be super fashionable, and we adore their cozy, soft texture. A beanie is an excellent choice if you want to invest in a new hat because it will help warm you up on chilly days and is easy to store anywhere you want because of its foldable design (via Woman & Home). Plus, there are plenty of different designs and colors to choose from based on your unique style, and all the various options can fit different budgets.
When we searched #beanie on Instagram, more than four million posts popped up, so there's no doubt that people enjoy flaunting their beanies on social media. Checking out all these different posts is a great way to find inspiration for how to style these knit hats. For example, a sleek gray beanie paired with sunglasses and a crop top looks cool and edgy, while a thicker beanie with a playful pom-pom can add a more cutesy touch to a wintery outfit with a coat and scarf. There are so many ways to style a beanie!
Here's how to rock a beanie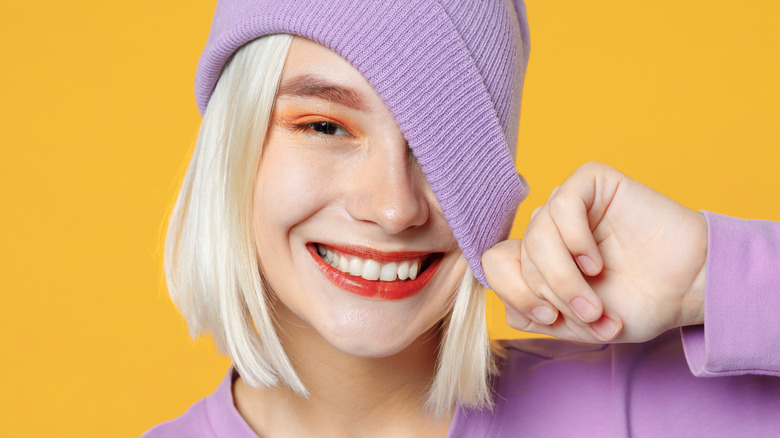 ViDI Studio/Shutterstock
Whether you consider your style girly, edgy, or anything in between, there are plenty of ways to work a beanie into your outfits. For instance, you can never go wrong with a black beanie paired with a monochromatic black look for a cohesive presence or a neutral look with a neon beanie to elevate the outfit and add some fun contrast, per Woman & Home. Furthermore, if you want a streetwear-inspired look, try wearing beanies with your favorite oversized hoodies and sweatshirts. Or, if you're all about dopamine dressing, try wearing a colorful outfit with an equally radiant beanie to boost your mood — and your look.
As mentioned earlier, one wonderful aspect of wearing beanies is that there's a wide variety of options. For example, if you have a glamorous style, the light purple Embellished Beanie by Steve Madden features shiny details and is available at DSW for just below $25. Meanwhile, if you're on the hunt for a classic black beanie, you should check out the Cozy Knit Beanie in Onyx. Selling at Skims for $28, this beanie is made of 97% polyester and 3% spandex and has nearly five out of five stars. Or, if you're looking for something edgy yet vibrant that people of all genders would look great in, you should look into the Knit Hat – Rose With White Logo by Cult of Individuality, an elevated streetwear brand. This beanie is available for $40 and exudes edginess.