Your Ultimate Guide To Cleaning White Leather Shoes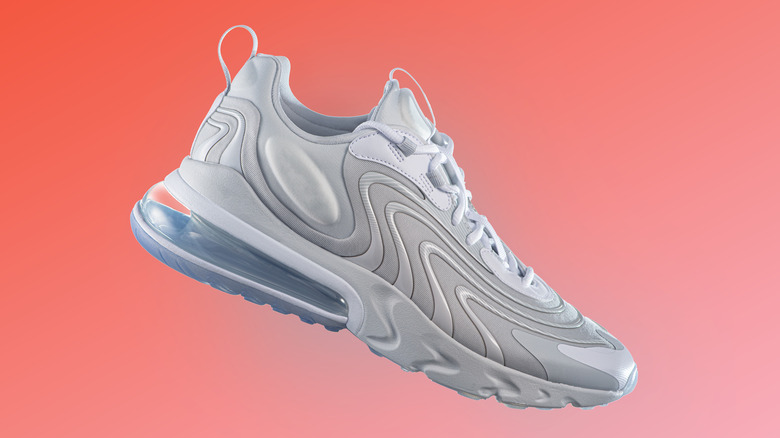 David Peperkamp/Shutterstock
White sneakers are a fashion go-to regardless of one's style. After all, nothing is quite as chic as pairing a cute casual look with some white shoes, whether it's sneakers or heels. Despite the variations the white leather sneaker has gone through, it remains a key wardrobe essential across the board. You can dress them down like supermodel Gigi Hadid, who's regularly captured wearing the classic kicks. Or take a cue from Tracee Ellis Ross, who's been seen dressing them up for a chic but comfy night out (via Harper's Bazaar).
The problem is that, even though they're very cute, they're also very difficult to keep clean. Especially when it comes to leather, ensuring that your sneakers stay white, crisp, and clean can be challenging and taxing.
In fact, that might be the reason why you might be deterred from purchasing them. If you consider yourself someone prone to getting things dirty or you simply are looking for a way to extend the life of your favorite white leather shoes, there are some ways to clean them up and prevent them from even getting dirty in the first place. Thankfully, either way, the task isn't anything that will take more than a few minutes.
How to clean white leather shoes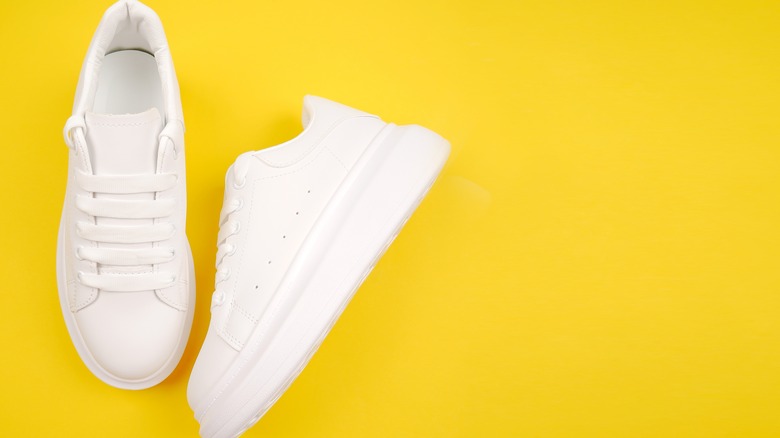 Mila_22 79/Shutterstock
One of the best ways to avoid cleaning white leather shoes is actually by protecting your white leather shoes. According to Who What Wear, one of the most simple ways is using a waterproof spray that will help keep dirt from staying off of your shoes. You can simply spray the products all around the shoe prior to wearing, let them air out and dry, and you are all set to go. These sprays are a foolproof method as leather doesn't absorb water as much as other fabrics, meaning they won't get ruined by any of these sprays. In case it is too late to take this measure, don't fret, as cleaning them isn't as daunting as it seems.
According to Real Simple, all you need to do is grab a few materials, clean and let dry and you are set. Begin by wetting a paper towel, squeezing out any extra water, and swiping it over your shoe until the majority of the dirt is gone. This is simply to get any dirt that has yet to settle into the leather. If you have a stain or dirt that is more settled, gather a small towel and lather it up with a gentle soap and water. Really dig into the dirt, and then use the same rag get rid of any excess soap that may stay on your shoe.
Afterward, you just repeat the previous step or let them dry. With this in mind, your white shoes will stay white forever.