Everything You Need To Know Before You Do LED Light Therapy For Your Skin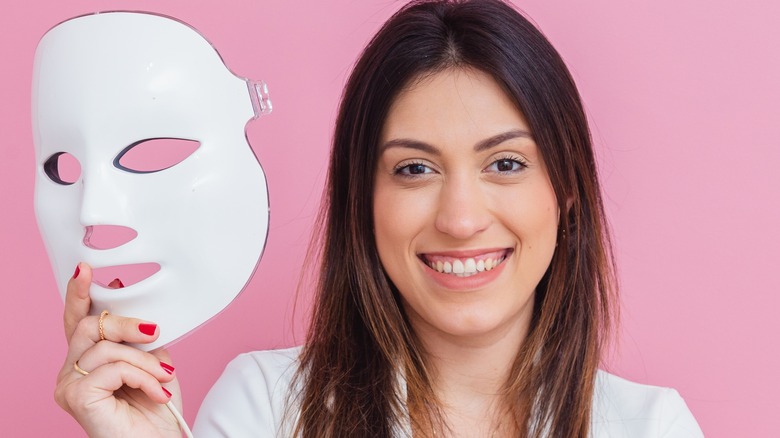 Pedro Ignacio/Shutterstock
Have you noticed more fine lines around your eyes and forehead when you look at yourself in the mirror? Do you see some subtle sagging around the jawline? Those are all signs of inevitable aging. Our never-ending quest to hold on to eternal youth has us investing in expensive creams and in-office treatments like microneedling. Still, a little trip to the dermatologist can be pricey, and nowadays, at-home skincare tools promise younger and touter skin from the comforts of your home. 
One of the popular ones is the NuFACE Facial Toning Device. On these devices, Francesca Fusco, M.D., an assistant clinical professor of dermatology at Mount Sinai in New York City, told Glamour, "Microcurrent units stimulate muscles and tighten skin, giving a lifted effect to brows, eyes, jawline, cheeks, and neck," adding that it works by stimulating "collagen, circulation, and wound healing." Talk about high-tech beauty. Jade rollers are insanely popular because they claim to depuff and detox your skin, per Well + Good. Miami-based board-certified dermatologist Stacy Chimento, M.D., explained that this ancient Chinese beauty tool can also "calm irritation, tighten pores, and reduce the appearance of fine lines and wrinkles."
If you're a beauty fanatic, you might've seen the futuristic sci-fi-looking masks all over Instagram that promise you dermatological results at home. That's LED light therapy for you. LED stands for light-emitting diode. "It works by emitting infrared lights (causing heat) in different wavelengths/spectrums, which have different skincare benefits," board-certified dermatologist Dendy Engelman explained to Byrdie.
Learn these facts before investing in LED light therapy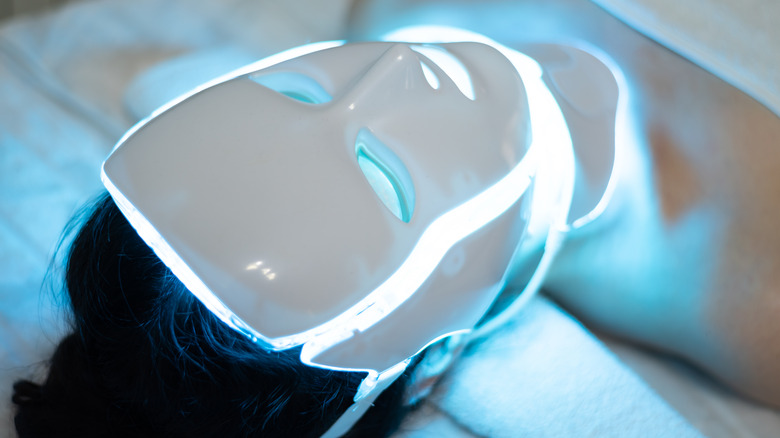 as-artmedia/Shutterstock
LED light therapy is thought to be synonymous with younger and flawless skin, but it was actually originally used by NASA to help astronauts repair their wounds "by helping cells and tissues grow" in the 1990s (via the Cleveland Clinic). It's a non-invasive treatment where light goes deep into the skin to improve skin conditions like sun damage, wrinkles, and eczema. Moreover, it's essential to stay away from direct sunlight for 48 hours and wear SPF religiously after using it, per Elle. Though you will notice results after one use, skincare expert Natali Kelly recommends using it a minimum of six times and up to 12 times if your skin needs a little extra help. It's possible to experience some inflammation, redness, and irritation after use.
Depending on the color of the light, they work on various skin conditions by the light waves entering the skin layers. "Amber light stimulates collagen and elastin. Red light is most commonly used to promote circulation. White light penetrates the deepest and works to tighten and reduce inflammation. Blue light kills bacteria," Dr. Dendy Engelman explained to Byrdie. Blue light also helps with cystic acne. Each color activates a different cellular reaction based on your needs to repair and rejuvenate your skin. Depending on your location and medical professional, in-office treatment can cost between $150 and $300. You can also purchase your own, like Dr. Dennis Gross Skincare's DRx SpectraLite FaceWare Pro, with red and blue light modes to use at home.