How To Style Your Leggings For A Day Outside The Gym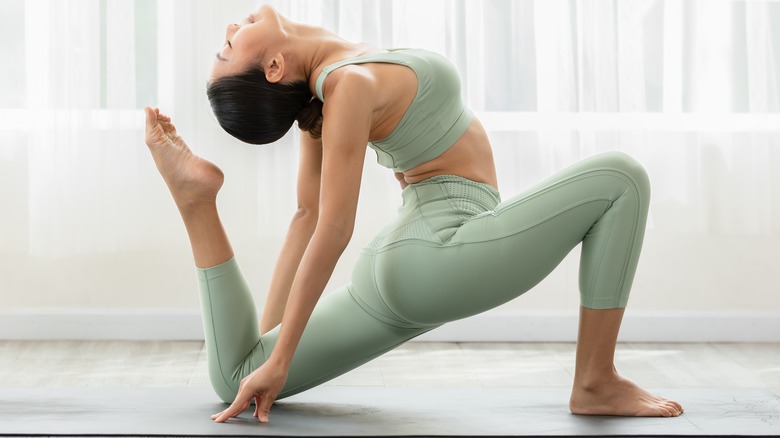 220 Selfmade studio/Shutterstock
The experience of working out has evolved significantly over the years; nowadays, some people have even found that smoking weed makes their workouts better! Plus, many gym-goers are now aspiring to look cute while exercising by rocking all the hottest athleisure trends. Some of 2022's most significant activewear trends include stylish monochromatic looks, pieces with ribbed textures, and inspiration from the early 2000s, per The Zoe Report.
Of course, leggings are a beloved athleisure staple that will never fade out. After all, their super stretchy feeling makes them comfortable and convenient for jogging on the treadmill, doing your squats, or any other type of workout. It also doesn't hurt that the figure-hugging design flatters all body types. Considering that more than 11 million posts popped up when we searched #leggings on Instagram, it's safe to assume that almost everyone who's ever been to a gym has at least one pair. However, leggings don't have to be for athleisure only.
Leggings can be stylish outside the gym, too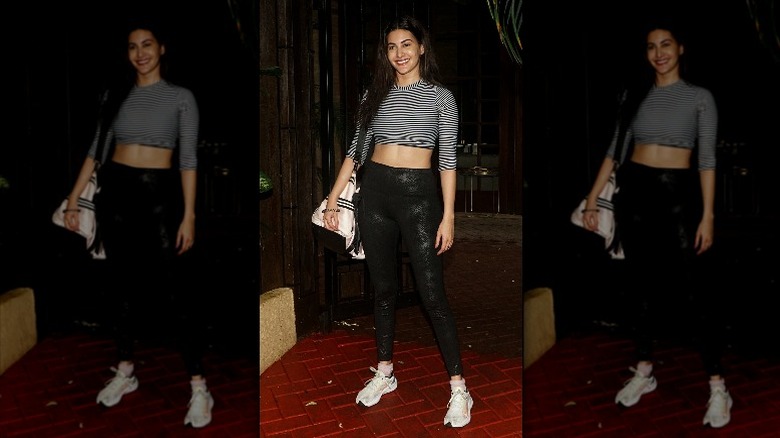 Prodip Guha/Getty Images
Everyone knows that leggings are excellent to wear when working out, but not everyone may know that successful styling can make them look just as fashionable for non-athletic activities. For instance, wearing your leggings with cropped pieces like shorter-than-usual hoodies or crop tops will look sleek and sexy for an effortless cool-girl vibe (via Paragon Fitness). On the flip side, leggings pair just as well with oversized items for a casual vibe on chillier days. For instance, you can never go wrong with wearing black leggings with your favorite oversized hoodies and sweatshirts for a minimalistic, low-maintenance outfit.
Furthermore, you can easily make your leggings look edgy by styling them with a T-shirt and a leather or faux leather jacket, per PopSugar. Or, if you're going for a more sophisticated or girly vibe, try wearing leggings with a nice blouse or a long, fitted coat. Meanwhile, if you're going to a music festival or want to exude a ravey vibe, you should have fun experimenting with sparkly leggings or a pair with sexy lace-up details.
The bottom line is that wearing leggings will always be a great option for working out, but they don't have to be reserved for workouts if you're willing to get creative. So, who's ready to flaunt their favorite leggings outside the gym?