How To Find The Perfect Cleanser For Your Skin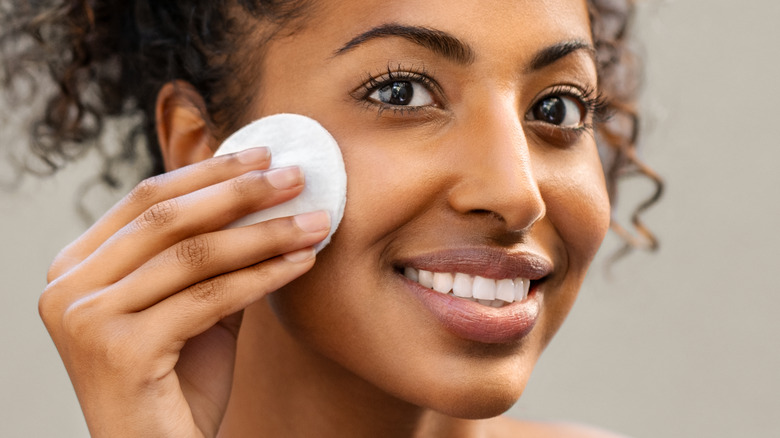 Rido/Shutterstock
No matter how long your skincare routine is, the most important step will always be cleansing your face. As the first step, it sets the pace for the rest of your routine. Without a clean face, the rest of your skincare will not be as effective. No matter what skin type you have, cleansing is a key step to getting that fresh, clean face you want. Finding your perfect cleanser will depend on a few key factors, though.
As Dr. Josh Zeichner states, a good cleanser is supposed to clean dirt, oil, and makeup from your skin without hurting or damaging its outermost layer. It's important to pay attention to what your specific skin needs are to not choose one that will end up compromising the function of your skin. He notes that one of the best things you can do for your skin is to cleanse it in the best way possible. This sets the foundation for whether the rest of your skincare routine will work optimally (via The Zoe Report).
To find your perfect cleanser, you first need to establish what type of skin you have. Generally, your skin will fall into either sensitive, dry, normal, combination, or oily skin types.
How to find the right cleanser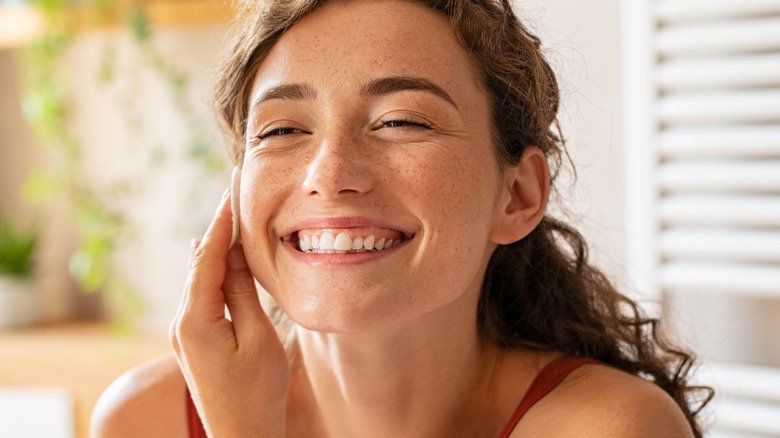 Rido/Shutterstock
According to Cosmopolitan, sensitive skin types are those that are easily irritated by products and produce reactions to triggers. Dry skin types are those whose skin tends to feel tight in places with a lack of moisture. Those with normal skin have a balance of oil in the skin and can use a majority of products with no issue. Meanwhile, combination skin describes those who have both oily patches and dry patches on the skin, and oily types tend to constantly wash and cleanse their face from extra sebum that accumulates on the skin, which leaves a greasy look. After determining your skin type, you can find what face cleanser would best suit your skin's needs.
Those with sensitive skin will need a cleanser that has the least amount of chemicals or non-natural ingredients to lower the possibility of triggers. Because sensitive skins find themselves prone to skin reactions, they will need to use a cleanser that does not aggravate this while still adding protection to outside triggers such as pollution (via Refinery29).
With dry skin types, the best cleanser is one that adds an extra layer of hydration without being too heavy. According to Vogue India, dry skin types need to steer clear of cleansers that contain any types of fragrances or chemicals that may further dehydrate or irritate the skin. The optimal cleanser will not contain any type of acid, including salicylic or glycolic acids, which are drying acids.
Best cleansers for normal, combination, and oily skin types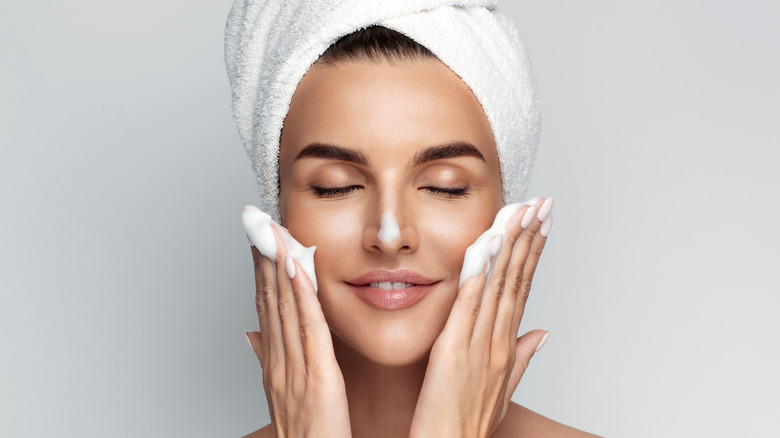 BeautyStars/Shutterstock
Normal skin types will have a better time finding their right cleanser as they have no risk to be aware of. People with normal skin types can use any type of cleanser that suits their specific needs. For example, they can use something more hydrating in the winter or a cleanser targeting acne/oil in the summer (via Birchbox).
Those with combination skin will have to do a bit more trial and error with their cleansers. According to Dermcollective, depending on where their dry and oily patches are located, most people with the combination skin type will need a mild cleanser that contains no oil. They will have to look out for cleansers that lock in moisture without being overly hydrating.
According to MarthaStewart.com, those with oily skin will need to use the most intense cleansers of all. They will need to look out for something ideally in a gel or foam form. Furthermore, they should also contain multiple types of acids such as salicylic or lactic acid that will help remove some of the dirt and oil that clogs pores. Although they do require more intense cleansers, those with oily skin should refrain from being too aggressive in their cleansing as any overdrying can cause even more oil production.