What Exactly Is Orange Wine?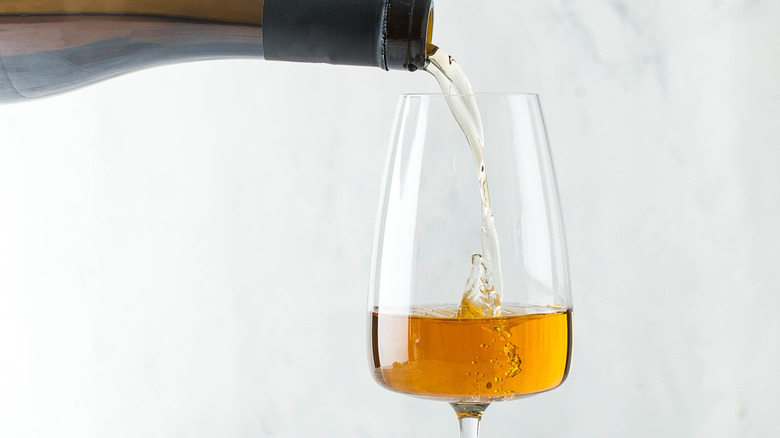 Kabachki.photo/Shutterstock
Wine will always be a beloved drink whether you're at a work party, a bar with friends, or a trendy new nightclub, so it's a good idea to learn some quick tips on how to sound like you know more about wine before your next night out. Typically, whenever someone brings up wine in a large group of people, members of the group start debating whether red or white wine is better. Though both options are quite popular, which is "better" depends on personal preference. 
Advertisement
These two types of wine taste very different, as white wine is typically lighter with a more fruity vibe while red wine is often heavier and isn't as sweet (via Napa Cabs). The difference in taste comes from how these wines are created because, unlike white wines, red wines use the grape's seeds and skins. Plus, dark grapes are commonly used in red wines, and light grapes are frequently used in white wines.
While the red vs. white wine debate will probably last until the end of time, it looks like a new competitor is emerging: orange wine. According to Chatelaine, orange wine is a trendy third option to consider next time you go out for drinks.
It's not actually made with oranges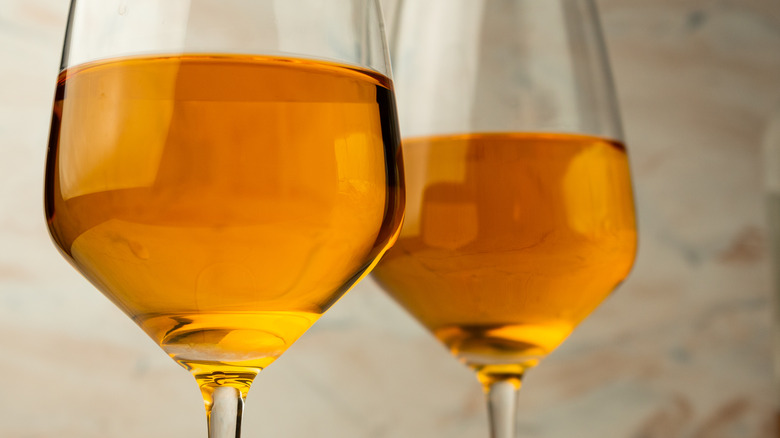 Olesia Teteria/Shutterstock
Believe it or not, orange wine doesn't feature any oranges, but its unique color is genuine, per Usual Wines. Orange wine is different from red and white wines because it uses white grapes, and unlike white wine, the skins stay while the wine is being created. These grapes are often fermented from days to a year or even more (via Wine Folly). Although we're just starting to hear about this wine becoming popular, Usual Wines notes that it goes back to 6000 B.C.!
Advertisement
According to Wine Folly, orange wine is very bold and heavy in taste with a sour, nutty flavor profile. Since orange wine is so flavorful, it might overpower lighter, snacky foods. Thus, it's a better idea to eat heavier meals with this wine, including beef dishes or Ethiopian foods. So, are you feeling bold enough to try a glass of orange wine?
The best orange wines
Why not invest in a bottle of orange wine for the next time you host a get-together with your friends or family if you're feeling dauntless? If you're looking for a carefully crafted, high-quality orange wine, Food & Wine recommends the 2017 Heinrich Graue Freyheit. Meanwhile, if you prefer to enjoy wines without overly intense smells, the outlet suggests trying the 2018 Pepe Mendoza Casa Agricola Pureza Muscat. Moreover, anyone looking for an orange wine featuring some fun fizz should look into the NV Corci Campedello Bianco Frizzante.
Advertisement
Additionally, The Spruce Eats named Field Recordings 2019 SKINS Orange Wine as the best overall orange wine, as it has a delicious taste with some floral, honey, and apricot flavors. The Spruce Eats also suggests the Donkey & Goat 2018 Ramato Filigreen Farm Pino Gris, which has a tasty citrus kick. Or, if you're on the hunt for the perfect bottle to break out on a hot summer day, the Yetti & the Kokonut Fruit Basket Block is the best bet since it has a super fruity flavor, featuring hints of fruits like tangerine and pineapple.
So, which orange wine will you buy first?