What You Need To Know About Adding A Facial Steamer To Your Skincare Routine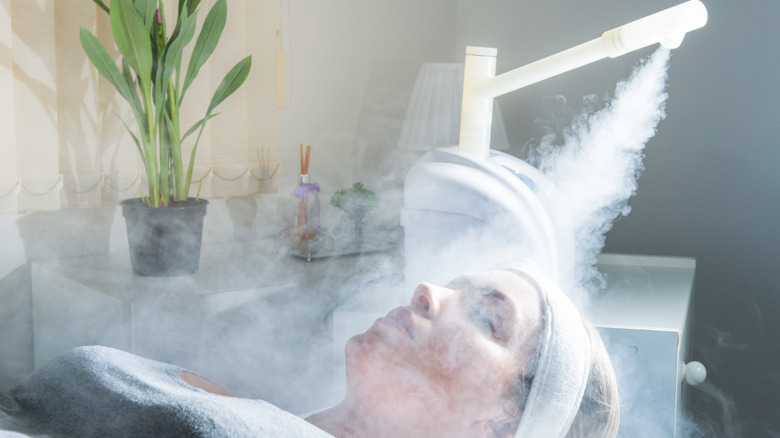 Julio Ricco/Shutterstock
There's no feeling quite as luxurious as stepping into a spa and getting a nice, relaxing facial. To top it off, facial steaming can help cleanse away all of your stress. With the average facial ranging between $35 and $120, it's also quite the luxury expense (via Thervo). Thankfully, facial steamers have become more accessible to people with more at-home facial steamers being sold to add to your skincare routine for a lower cost. These facial tools are so popular that L'Oreal Paris previously named them in its future top trending tools in 2020.
These steamers have become so popular that they now come in a variety of sizes for different purposes. Whether you are looking for a more targeted steam or overall facial steam, there's one out there you can take home with you. Because facial steamers have become more available for at-home use, it's essential to ask if it's actually necessary or even safe to use at home on an everyday basis. Plus, if we go to spas to get this treatment, doesn't that mean we need to be professionals to do this? 
The benefits of a facial steamer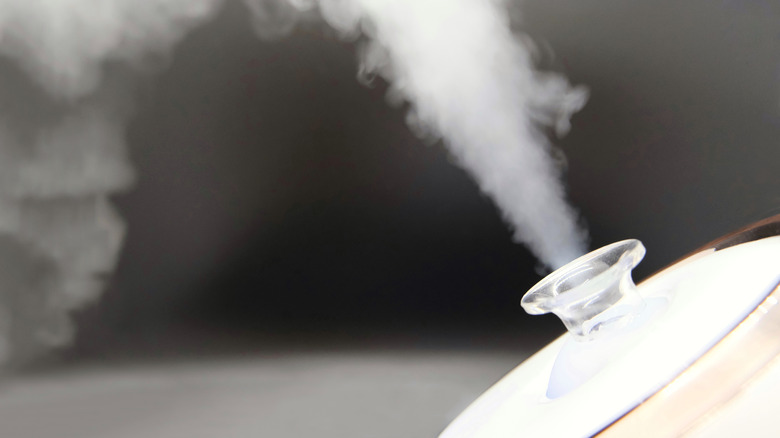 Brookie Cookie/Shutterstock
If you've ever gone to receive a facial with the addition of a facial steamer, you know that steamers are one of the best ways to open up your pores and add some hydration to your face. According to Elle, facial steamers help by increasing the skin's internal temperature, which in turn increases blood circulation. This increased blood circulation helps absorb the rest of the skincare products in your routine a lot better.
In order to make sure you are getting all the right nutrients into your skin, you will first want to make sure that your face is entirely clean. Dr. Dennis Gross recommends having your face thoroughly cleansed before using any type of steamer to make sure you have no makeup, oil, or dirt still on the skin. Make sure to steam before your remaining routine in order for your pores to be fully open when you are applying your products.
How to properly use a facial steamer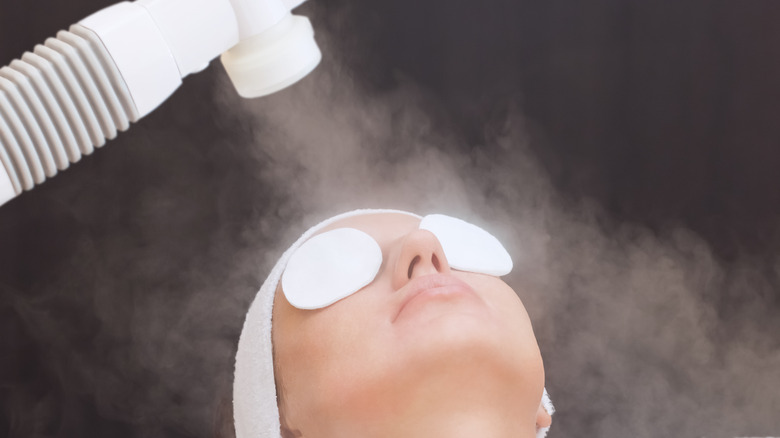 dimid_86/Shutterstock
Before setting off to grab your new facial steamer, be sure to double-check if it is right for you. As Women's Health states, not every skin type would benefit from using a facial steamer. In fact, only oily and acne-prone skins are optimal for facial steamers as the heat will help get rid of the extra sebum quicker. Sensitive skin or those with conditions such as eczema could be further triggered by the amount of heat that comes from a facial steamer. Your skin type will also determine which type of facial steamer you should purchase. Facial steamers can average between $10 to $200, depending on if you want targeted or general facial steam (via Good Housekeeping).
Now that you have decided to grab your next facial steamer, be sure to keep the use of the steamer to a minimum. According to the Cleveland Clinic, if your skin is on the oily side, you may be able to steam two to three times a week. People with normal to dry skin should stick to a maximum of once a week to prevent any further drying.