Ombré Brow Shading Vs. Microblading: What's The Difference?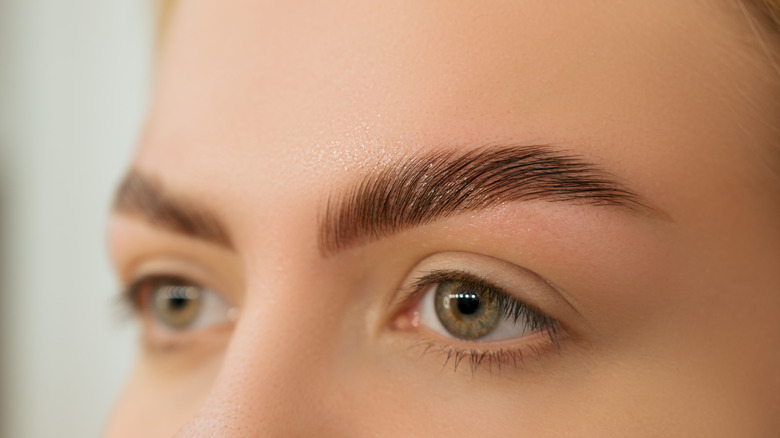 Pazyuk/Shutterstock
If there is one part of the body that has seen consistent change over the generations, it's the eyebrows. Our eyebrows have seen the shift of trends from razor-thin to full and bushy in only a short period. Now that we are entering a new era, we have two new eyebrow trends: ombré brow shading and microblading.
Both of these eyebrow trends have captured the eyes of many who are looking to add a little something extra to their regular everyday look. Like any trend, fans of both techniques include some high-profile names. Some examples of microblading fans include Dame Helen Mirren, Madonna, and Serena Williams (via Marie Claire). Meanwhile, a few of the ombré shading fans include Jodie Sweetin, Becca Tilley, and Scheana Shay (via ET Online).
While both of these semi-permanent eyebrow styles are having their moments, you should still consider the differences before deciding which one is best for them.
What is ombré shading?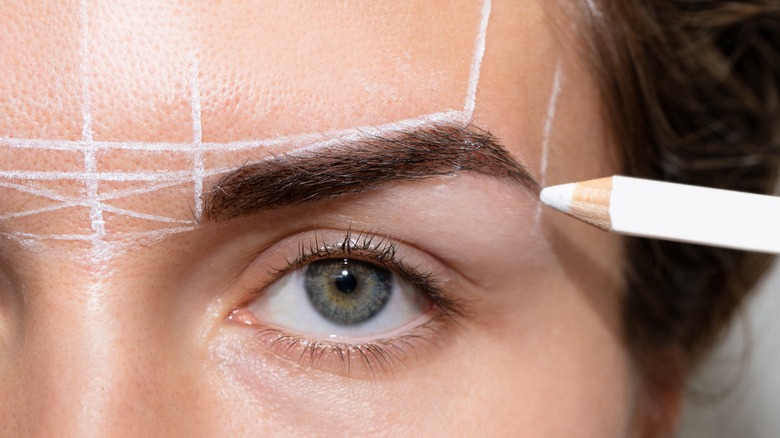 BLACKDAY/Shutterstock
Ombré shading is the process by which a small machine is used to place extremely thin dots of pigment along the brows to create the illusion of definition and depth. While it is still placing dots of pigments, the benefit of ombre shading is that it is done in a way that looks like naturally filled-in brows (via Byrdie). As it's done with the help of a machine, this technique last longers than other eyebrow processes and only requires a few touch-up appointments. The average lifespan of this technique stands around two to three years.
Brows by Jenny owner Jenny Sanchez adds that the most significant point to note about ombré shading is that it is open for anyone to get. As opposed to other techniques, ombré shading is perfect for any age, skin, or hair type as it's a less invasive process. Since this technique is new, it's important to signal that there is very little evidence of any dangerous side effects (via Who What Wear).
What is microblading?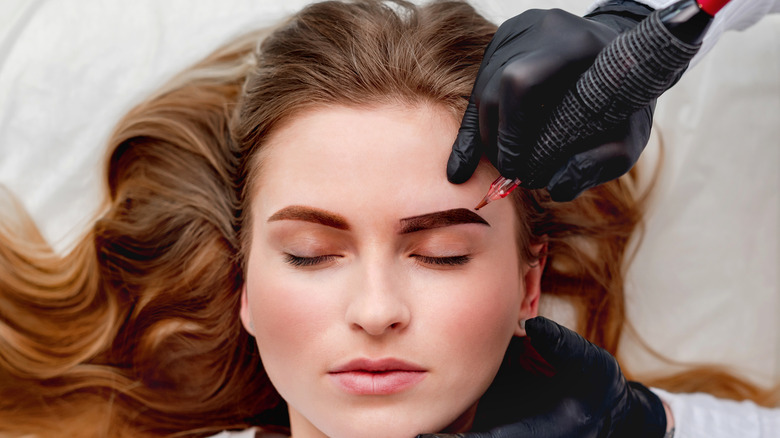 Tatyana Vyc/Shutterstock
Microblading is a permanent makeup process that uses a thin, handheld needle to create very lifelike hair strokes. Because microblading uses a handheld needle as opposed to a machine, this opens up a variety of options that you can create (via HD Brows). This method lets you create the eyebrow shape and fullness that you want as opposed to only concentrating on color and depth. With microblading, you are mostly focusing on filling in your eyebrows in a permanent matter.
Although microblading is a more versatile method, it is also not optimal for every skin type. Oily and acne-prone skin will have a tougher time getting a cleaner look with microblading as the small incisions this method causes may trigger these conditions. Because of these same incisions, it's possible that bleeding may occur during microblading, too. After all, the process involves making small cuts that appear to look like hair. However, since microblading has been around for a lot longer than ombré shading, there is more research and precaution around the potential side effects each skin type may have because of the process. According to Medical News Today, most risks are common ones related to incisions, such as you being at risk for bacterial infections. Outside of this, it's a relatively safe procedure.