Why You Should Consider Getting A Skincare Fridge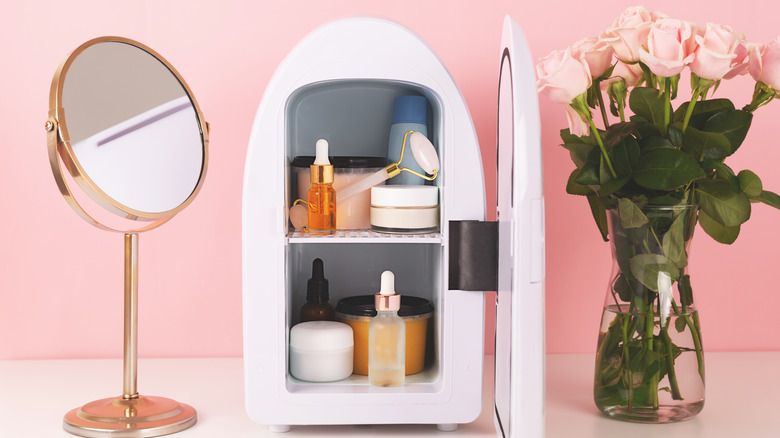 YuliaLisitsa/Shutterstock
It's the newest skincare product to take over your social media feeds. The skincare fridge is the new "it" item, thanks to hashtags such as #shelfie and #skincarefridge, that displays all your favorite skincare products. According to Sunday Riley, the skincare fridge began in the Korean beauty industry, where it slowly picked up steam on social media. Much of its popularity is due to these posts that showcase how one can beautifully organize their products inside.
Advertisement
The skincare fridge is exactly what its name suggests: a miniature fridge that can hold your skincare products at a lower temperature. This fridge is specific to your skincare, saving you from storing your skincare with your food in a regular fridge. These fridges fit almost any budget as they are now widely available from affordable sites and luxury brands alike. While it may seem like they're an unnecessary luxury, the skincare fridge does have its benefits.
Why you need a skincare fridge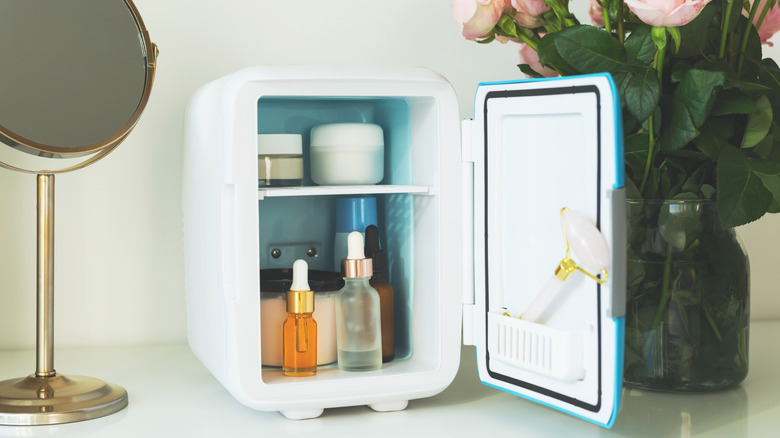 YuliaLisitsa/Shutterstock
While a skincare fridge can't increase the efficiency of a product, there are many benefits to these mini-fridges. According to Vogue, skincare fridges can help extend the shelf life of certain products. Keeping natural products in a mini-fridge can help extend the shelf life and preserve the product as much as possible. These products don't contain preservatives, making the shelf life shorter than other products. Skincare fridges can also help when handling unstable ingredients that break down under heat. These ingredients — like retinol, vitamin C, and benzoyl peroxide — are naturally unstable and can be ruined by heat and light.
Advertisement
Besides helping extend their shelf life, skincare fridges can also help improve your beauty tools and masks. Products like masks and jade rollers are made to help with depuffing the face and provide relief. Putting these products in a skincare fridge cools them, which helps them depuff your target areas quicker (via Fashionista).
Things to keep in mind about your skincare fridge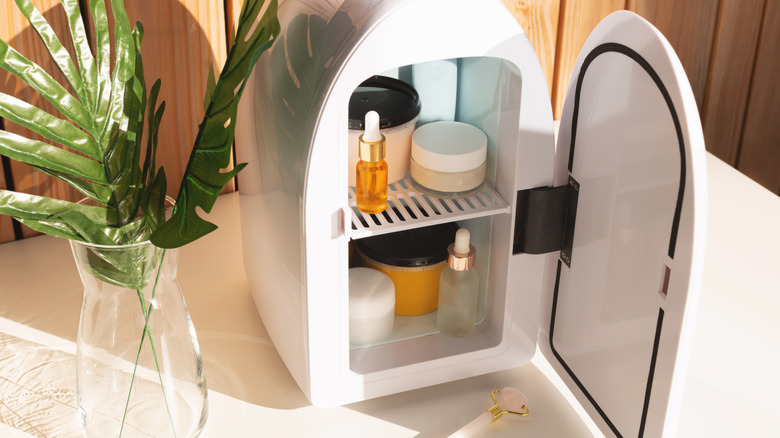 YuliaLisitsa/Shutterstock
Before setting off to purchase a skincare fridge, there are a few things to remember about their usage. Although they can help with depuffing and circulation, you should never have your fridge set at a freezing temperature. If you attempt to apply a beauty tool that has frozen onto your skin, you can cause an ice burn instead. The areas to keep especially in mind is around the eyes, which are more sensitive to these types of damages. That is why experts suggest that you put eye masks or products in a fridge for only a few minutes rather than long-term (via Beauty Crew).
Advertisement
According to 21 Oak, you also want to keep an eye out for any product you place in a fridge for signs of mold or bacteria. Whenever you place a product into a refrigerated area, developing mold and growing bacteria are possibilities, and they can attack your skincare products, too. You also want to avoid putting any makeup product into a fridge as they work best at room temperatures. Being cold will only make them harder to spread. This non-refridgeration rule applies to other non-skincare products such as nail polishes and perfumes, too.